Because of unfavorable weather, the value of Napa County's grape harvest declined 24.5 percent in 2015, from $706 million in 2014 to $533 million.

The building that will occupy one of the last vacant lots in downtown Yountville will offer wine tastings – and more.
Kevin Courtney
Allen Balik
Paul Franson
Health Insurance Guys
Lenore Hirsch
Jennifer Huffman
Randy Martinsen
Betty Rhodes
Sean Scully
Betty Teller
Rebecca Yerger
Weeklies
St. Helena Star
The Weekly Calistogan
The American Canyon Eagle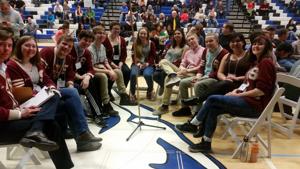 St. Helena High School's Academic Decathlon team made another strong showing this weekend, setting a new school record for total points and beating its perpetual rival.
Virtual Newsroom
What would you like to send us?
Follow the Napa Valley Register
Special Issues
Vote! Today's Poll
Loading…
What is the most important issue for you in the 2016 Presidential Election?