St. Helenan walks from Selma to Montgomery in honor of historic civil rights march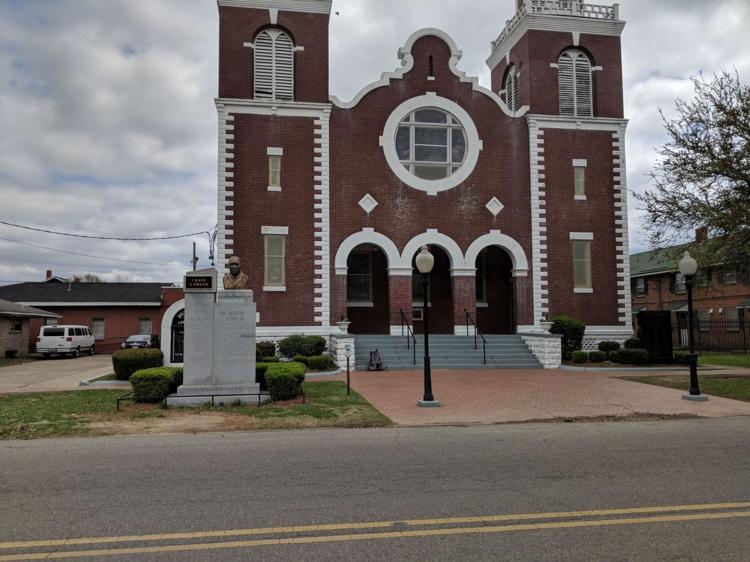 In 1965 thousands of civil rights activists marched 54 miles from Selma to Montgomery, Alabama, through the heart of the Jim Crow South, to protest racist legal obstacles that were preventing blacks from exercising their right to vote.
Fifty-three years later, John Milliken of St. Helena decided to follow in their footsteps.
Milliken spent three days in March walking the historic route. He went by himself, with a backpack, two trekking poles and 4G-equipped cell phone to guide him and keep his mind occupied.
Walking along the path of the march, which contributed to the passage of the Voting Rights Act a few months later, gave Milliken a new insight into the courage and tenacity of peaceful activists who risked their lives to fight injustice.
"The things that occurred to me were, one, how brave these people were," he said. "And two, how physically challenging this must have been."
It was the latest in a series of long, historically resonant hikes Milliken has undertaken. He's previously hiked to the lost city of Ciudad Perdida in Colombia and taken the Coast to Coast Walk across Northern England, and he hopes to travel to the Philippines this fall to trace the route of the Bataan Death March of World War II.
Milliken was inspired to walk from Selma to Montgomery by watching the movie "Selma," reflecting on the march's 50th anniversary in 2015, and admiring the work of Dr. Martin Luther King Jr., who helped lead the march.
Milliken decided the time was right this year when his wife, Beth Novak Milliken of Spottswoode, had to travel to Tennessee on business in March, neatly coinciding with the dates of the march.
Starting in Selma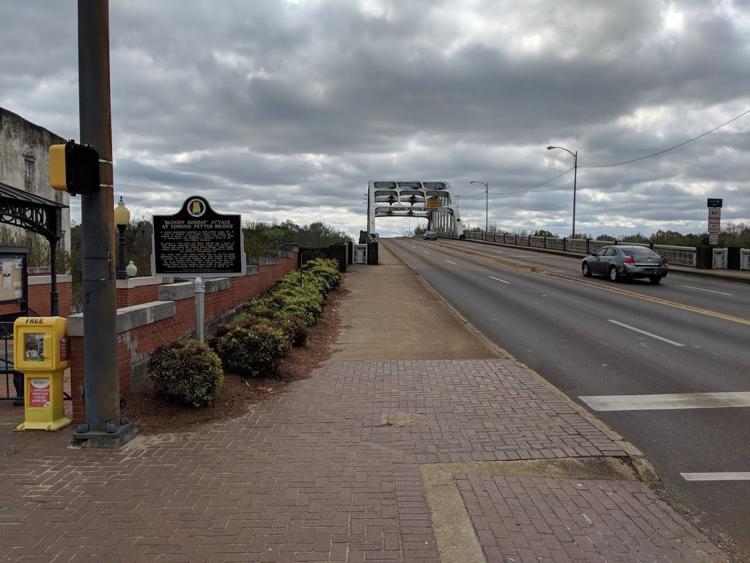 Milliken started by taking an Uber from Montgomery to Selma to get a feel for the route. After arriving in Selma, he started walking east, crossing the Edmund Pettus Bridge where the unarmed, non-violent marchers were brutally attacked by state troopers and locals on what became known as Bloody Sunday.
Most historical visits end just past the bridge, but Milliken pressed on for 21 miles along U.S. Route 80 before making camp at Prairie Creek State Park. Somehow – maybe through the Uber driver – word had gotten around that a Californian was recreating the Selma-to-Montgomery march, and he was apparently mentioned on the radio.
It became clear that Milliken was an "under-the-radar minor celebrity" when a black man pulling out of his driveway yelled out, "You're the guy!" Milliken confirmed that yes, he was the guy, and they struck up a friendly conversation that demonstrated the crucial role religion plays in Alabama, regardless of race.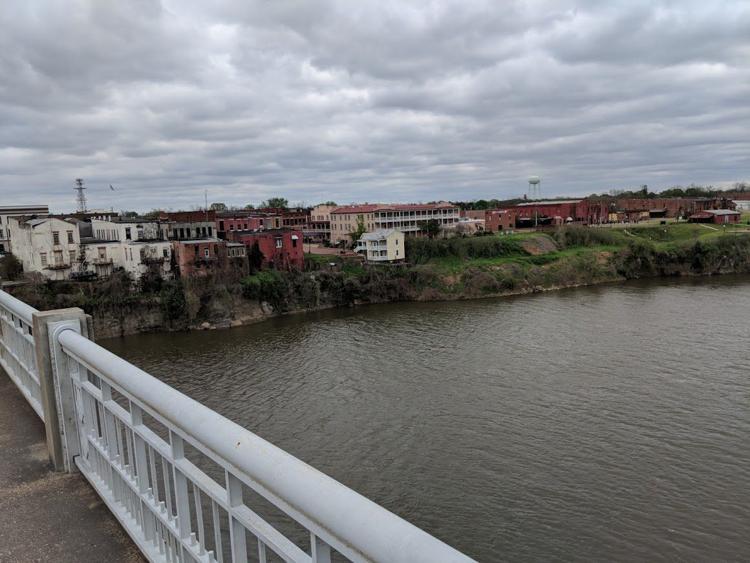 "Everybody down there belongs to a church, and he started asking me if I believed in the Lord," Milliken recalled. "I told him I share Christian values but I'm not really a religious guy."
Southern hospitality
Alabama remains a conservative state with a complicated relationship to its own history, so Milliken wasn't sure how locals would react to him. Fortunately, he encountered nothing but polite southern hospitality and friendly waves.
"One of the concerns was what was I going to run into down there? You know, good old boys, the rebel flag," Milliken said. "As it turned out, that was the least of my problems. … Everybody just said, 'This is a good thing you're doing.'"
At the end of the first day, the host of the campground where he planned to stay drove down in a Jeep and offered to give him a ride the rest of the way. Tired, tempted but determined to stay on foot, Milliken politely declined, trudging along for another half an hour.
The host shared his own vivid memories of the 1965 march, and of seeing marchers camping out in muddy fields along Route 80.
It was a road that Milliken got to know all too well. What used to be a two-lane road in 1965 is now a noisy, trash-strewn four-lane freeway with no pedestrian accommodations.
"There are all these empty beer bottles and vodka bottles," he said. "I'm thinking wow, people here drink a lot. Then I realize I'm walking on a highway where these people are chucking these things out their windows. That means they just finished drinking – probably as they're driving down the highway."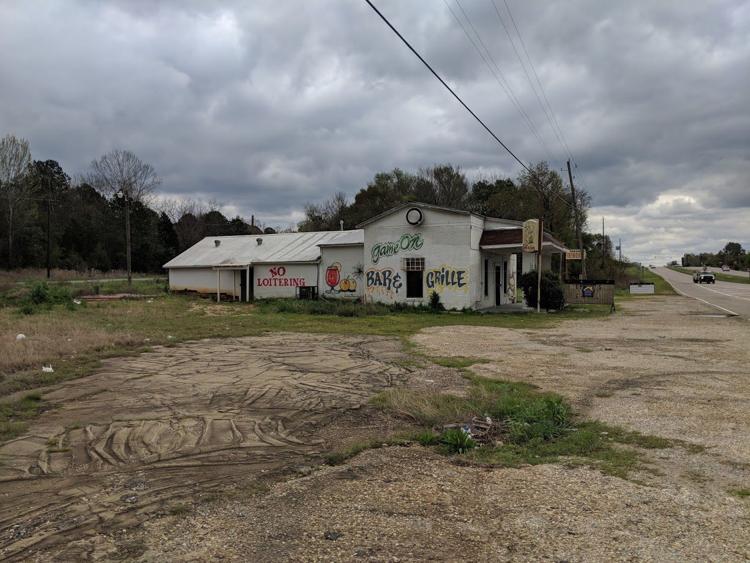 After hiking feet away from whizzing semis and across overpasses that obviously weren't designed for walkers, Milliken decided to stray from the original route. He spent the second day following Old Selma Road, a scenic rural road with blessedly little traffic. It added about 10 miles to his walk – making for a total of 64 – but the reduced risk of getting mowed down by a drunk driver was worth the extra distance.
The road to Montgomery
He passed through Lowndes County, where the voter rolls of 1965 highlighted the legal travesties of the Jim Crow era: Blacks outnumbered whites 81 percent to 19 percent in terms of population, but not a single black person was registered to vote.
"For someone who grew up in Chicago and lives in California, it's hard to believe that just 50 years ago it was that bad in terms of voting rights," Milliken said.
Milliken walked 23 miles on the second day, streaming KQED on his phone to pass the time because "it got really boring." Although the route is designated as a National Historic Trail by the National Park Service, Milliken didn't encounter a single pedestrian between Selma and Montgomery.
He spent the next night at an Airbnb outside of Montgomery. The last 10 miles on the third day was full of history, especially as he got within sight of the Alabama State Capitol: the bus stop where Rosa Parks was arrested for refusing to give up her seat in favor of white riders, the White House of the Confederacy where Jefferson Davis lived, the Dexter Avenue Baptist Church where King was pastor from 1954 to 1960, and the courthouse square where slaves were auctioned off as late as the Civil War.
The words of MLK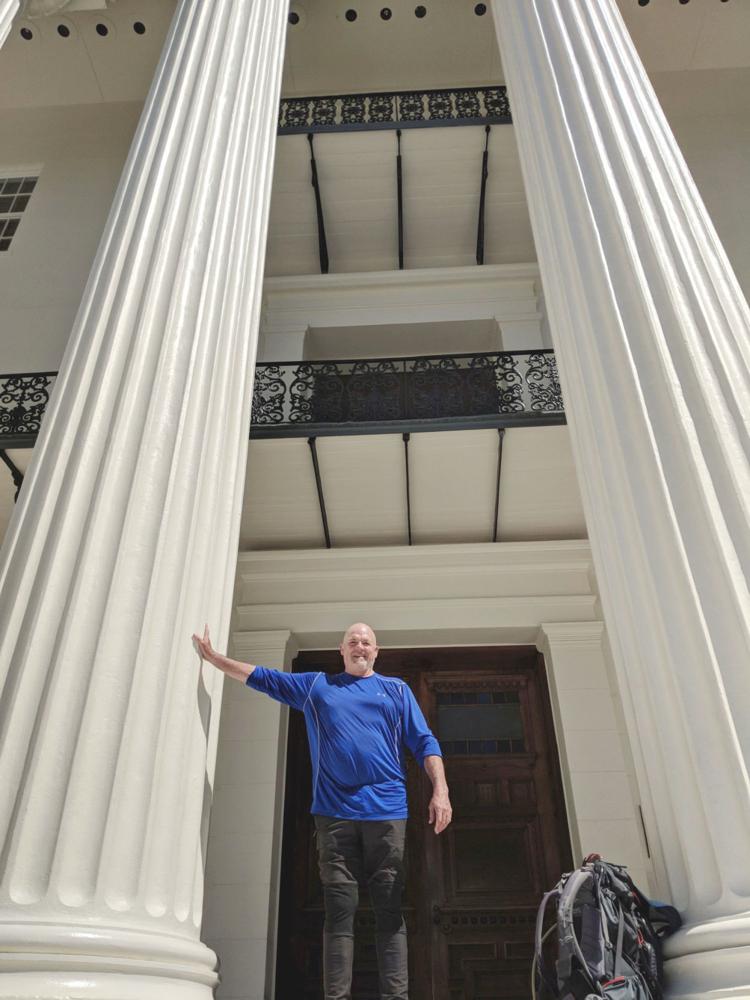 A bronze star on the Capitol steps marks the spot where Jefferson Davis was sworn in as president of the Confederacy. To end his walk with an "exclamation point," Milliken stood on the star and played on his phone the famous "How Long, Not Long" speech that King made on those same steps at the conclusion of the march.
In King's words, "Last Sunday, more than eight thousand of us started on a mighty walk from Selma, Alabama. We have walked through desolate valleys and across the trying hills. We have walked on meandering highways and rested our bodies on rocky byways. Some of our faces are burned from the outpourings of the sweltering sun. Some have literally slept in the mud. We have been drenched by the rains. Our bodies are tired and our feet are somewhat sore."
Milliken said it was powerful to stand in such a historic place and listen to King's speech, which observes that "the arc of the moral universe is long, but it bends toward justice."
"The vocal inflection and the passion – he was such a great orator," Milliken said. "It was just electrifying."