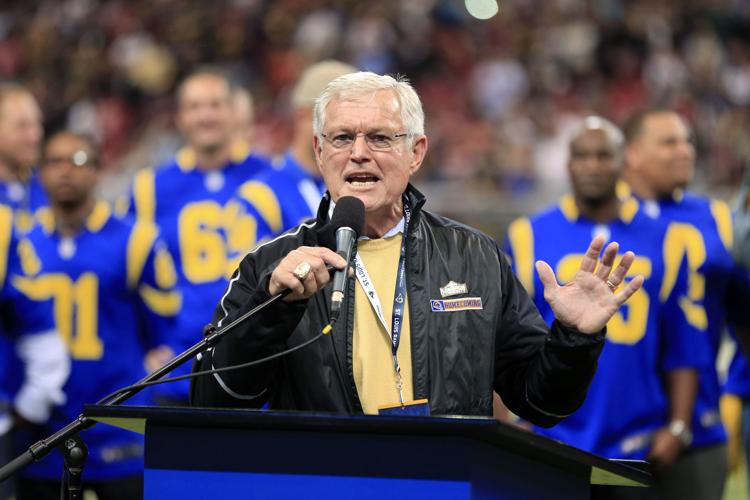 Dick Vermeil was cleaning out the book shelves one day in his office at home in Chester County, Pennsylvania. He was boxing up some of the many files and other assorted information that he had held on to as a football coach for years and years.
Rather than throw it away, he had all of it sent to Jon Gruden.
This was two years ago, when Gruden was working as a color analyst on Monday Night Football for ESPN.
"He loves going over football stuff," said Vermeil. "I sent him two or three boxes full of football stuff. I told him to look through it and throw away whatever he doesn't want to keep."
Vermeil and Gruden share a connection: each left the broadcast booth and returned to the game to coach.
Vermeil, a native of Calistoga, did it in 1997, coming back after a 15-year absence to lead the St. Louis Rams and later the Kansas City Chiefs as head coach. He won a Super Bowl in his third year, as the Rams beat Tennessee, 23-16. Vermeil had worked for CBS and ABC as a college and pro football analyst.
Gruden was introduced as the coach of the Oakland Raiders last week at the team's facility in Alameda. He is leaving ESPN, where he has been since 2009, to return to the Raiders. Gruden was the team's coach from 1998 to 2001, and was the coach at Tampa Bay, from 2002-2008. He won a Super Bowl in his first season with the Buccaneers, as they beat the Raiders, 48-21, in 2003.
Vermeil said he has been "coaxing" Gruden – who joined ESPN in 2009 and earned six Sports Emmy nominations – to go back into coaching for a number of years. Vermeil also said he and Gruden – who compiled a 95-81 regular season record in 11 seasons as a head coach with the Raiders and Buccaneers – text back and forth.
"He has such a passion for the game. Sooner or later, he was going to go back in," Vermeil, 81, said in a telephone interview. "I think the time away from the game, being as close as he was in broadcasting, allowed him to go back and evaluate the game, without any pressure, as an outsider looking in, and watching and evaluating what everybody else is doing.
"What I expect out of him is for him to be a better coach than he ever was."
A love and passion for the game
Vermeil first met Gruden in the mid-'80s. Vermeil was on his way to do a speaking engagement at the University of Tennessee, where Gruden was a graduate assistant on coach Johnny Majors' staff.
"(Gruden) was assigned to pick me up at the airport one day," Vermeil recalled.
Vermeil said he picked up immediately on Gruden's passion and love for the game.
"It was so obvious that if he tried to hide it, he couldn't," said Vermeil.
The two share another connection.
After two successful seasons at UCLA, Vermeil became the head coach of the Philadelphia Eagles and guided the team to four consecutive playoff appearances between 1978 and 1981. He led the Eagles to the Super Bowl in 1981; they lost to the Raiders, 27-10.
Gruden was the Eagles' offensive coordinator from 1995-'97.
"I think Jon is a very good communicator," said Vermeil, who spent 15 years as an NFL head coach with three different teams. "He demonstrated that when he was a young offensive coordinator here in Philadelphia. He can communicate with people.
"I just think he has such a passion for the game that it will be infectious to the Raiders organization, as it was when he was there the first time. He can go back and evaluate everything he's done, hang on to everything he did well, look for things he can do better, correct everything he thinks he did wrong, and start over as a far more mature coach and leader.
"I think Jon will bring a great offensive mind. He'll bring great assistant coaches with him and surround himself with people that he believes can help him win it all, and I believe he will win it all. Maybe not in Oakland, but he'll get it done for the Raiders – let's call it that."
Gruden back on the field
Vermeil, the NFL Coach of the Year in 1979 and again in 1999, said Gruden will do a great job for the entire Raiders organization. The team has its summer training camp at Redwood Middle School in Napa and stays at the adjacent Napa Valley Marriott. Last year was the team's 22nd summer in Napa.
"He'll become the hood ornament of the whole building. He has the credentials. I think Jon will be a great organizational spokesperson for the organization. I think he'll be a great representative of the Raiders and enhance their overall community support and loyalty," said Vermeil.
At age 34, Gruden was the youngest head coach in the NFL upon being hired by Raiders owner Al Davis in 1998. He led the Raiders to a 38-26 record, with back-to-back AFC West titles in 2000 and 2001 – the first time since 1982-83 that the Raiders won consecutive AFC West championships. The Raiders also advanced to the AFC Championship Game in 2000, a season in which they set a franchise record with 479 points while also leading the NFL in rushing.
Oakland reached the AFC Divisional Playoffs in 2001.
Oakland ranked among the league's top-10 offenses in Gruden's final three seasons with the Raiders.
"Obviously, this is very emotional for me," Gruden said at his introductory press conference. "I never wanted to leave the Raiders. I never thought I'd be back, but here I am and I'm ready to get to work. I love the Raiders, and most of all, I love to win. I am going to do everything I can. No guarantees, no promises, but I want to win. I look forward to working with (Raiders General Manager) Reggie (McKenzie) and his staff. We've got a lot of work to do. I can't wait to get started.
"This is what I want to do. This is the organization that I want to be a part of and I am all in. I only live one time. This is something I feel deeply, strongly about and I am going to do everything I can to hire a great coaching staff and put the Raiders back on track."
Gruden takes over for Jack Del Rio, who was fired on Dec. 31 after three seasons as coach. Del Rio's record was 25-23. The Raiders started out this past season 2-0, after wins over Tennessee (26-16) and the New York Jets (45-20). But that was followed by four consecutive losses and Oakland lost four in a row to end the regular season to finish 6-10.
"We've got to come up with a plan to put the Raiders back on track and build this football team back," said Gruden. "I think we have to improve in all areas. No matter what our record is, we've got to continually find ways to improve. We've got to improve the ways we practice. We have to improve the way we meet. And we have to improve the way we play. We have got to improve our roster, no question.
"I really get excited when we win. I get really upset when we don't, and I hope that still has a place in the NFL. That is how this organization rolls. It is about winning. If you aren't winning, we are not going to be happy. I hope that is still a big part of every team in this league, because it will be a big part of this organization."
Gruden's time with ESPN included his coverage of the NFL Draft. He has also been featured in his Gruden's QB Camp, a series that began in 2010 and included one-on-one interviews and film sessions.
"I have not coached since 2008. I haven't won a game since 2008. I haven't lost any either, so I just want to keep that in perspective," he said. "It's about the people, it's about the staff, it's about the tempo that we establish as a coaching staff.
"With that said, I've got a lot to prove and I know that. But the game is still decided by players between the lines and we all have to adapt every year.
"I've always loved football. I've wanted to come back, I've prepared to come back. I'm ready to roll, I'm just ready to go. I'm at a point in my life where I need another challenge. I know I have a lot to prove and I'm eager to prove I can do it."
Gruden was not disconnected from all that goes into the game during his time away from coaching. He said he has gotten to see every facility in the league and has had a chance to watch practices and see how teams conduct training camps.
"I've had the chance to learn and see some things that I've never gotten to see as a coach. I've had a chance to study different offenses, different defenses, and the chance to get into personnel more. I think I'm more big-picture now than what I was in the past, but I still want to be very detailed in terms of how we play offense. I still want to be very involved with how we move the football. I have had some unique and beneficial opportunities as a broadcaster.
"I'm so thrilled to be back here. I hope people understand the emotion inside of me. I also feel a lot of loyalty and I feel a lot of responsibility to get the Raiders going again. I'm going to do everything I can to get this team right again."
Vermeil's career
Vermeil was the first coach to win a Rose Bowl (UCLA, 1976) and a Super Bowl (St. Louis Rams, 1999).
He is a San Jose State graduate and is a former Napa Valley College head coach. He is in the NVC Athletic Hall of Fame.
Vermeil began his coaching career at San Jose's Del Mar High School in 1959 and continued up the coaching ladder to a spot on John Ralston's Stanford staff in the mid-'60s and on to UCLA and the Los Angeles Rams before becoming the UCLA head coach in 1974.
Following the Super Bowl victory, he retired again, only to return after a year's absence with the Kansas City Chiefs, where he coached for the next four seasons.
His numerous honors include enshrinement in the San Jose State Sports Hall of Fame, California Sports Hall of Fame, Philadelphia Eagles Hall of Fame and Rose Bowl Hall of Fame. He is in the St. Louis Football Ring of Honor. His name is in the Ring of Honor at Spartan Stadium in San Jose.
The Walter Camp Football Foundation honored him with its Distinguished American award in 2006.
Vermeil played football at Napa Valley College and San Jose State. He stands among the NFL's all-time coaching elite. Combined with a 6-5 career postseason record that included a 3-0 mark during the Rams' Super Bowl victory, Vermeil's final overall NFL head coaching record is 126-114.
He is with the Vermeil Wine Group and a partner in Vermeil Wines/OnThEdge winery.