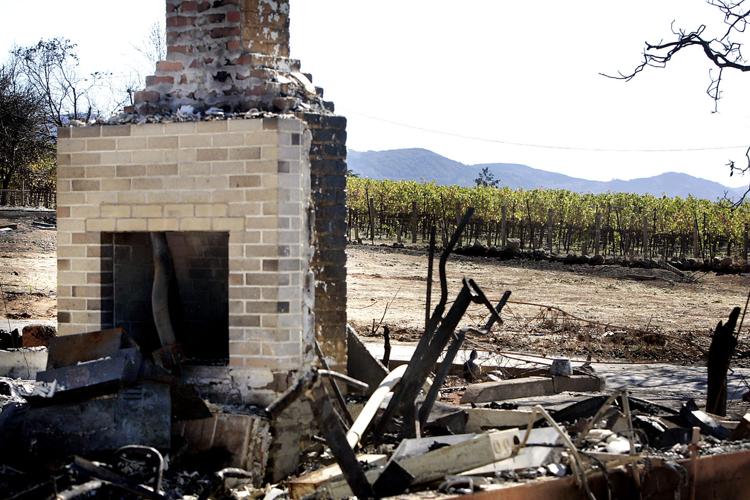 The Atlas, Nuns/Partrick and Tubbs fires took a bite out of the county's rural housing stock.
Napa County wildfires damaged up to 1,115 structures—including 652 homes, of which 569 were destroyed—though a final tally has yet to be released.
All of those structures are outside of cities and inside the unincorporated county.
"We lost six percent of (rural) housing in the last two weeks," county Planning, Building and Environmental Services Director David Morrison said.
Morrison announced those figures at Tuesday's Board of Supervisors meeting and said they came from Cal Fire. A wildfire damage count by the county on its website said just over 700 structures are too damaged to be used and 37 are so damaged that only limited use is safe.
Morrison said the county will work to reconcile its own tally by building inspectors with the tally by Cal Fire.
One reason for the difference is the county focused on housing, as opposed to such structures as barns. Also, the county focused on damage that rendered buildings unsafe to enter.
By any count, the county has tons of debris that needs to be hauled away. Owners of destroyed homes have the option of letting the government do the job at no cost to them or paying to do it themselves. The county is coordinating the effort with such agencies as the U.S. Army Corps of Engineers.
Those choosing the government option have until 5 p.m. Nov. 6 to submit a right-of-entry form to the county. The form requires homeowners to give the county any insurance money for debris removal.
Supervisor Diane Dillon said some homeowners might decide to hire a contractor and do the job themselves to save time. Then they might find out eight months from now that insurance won't cover the entire cost and the government removal option is gone.
"There's a lot of evaluation by property owners that's needed right now in weighing their options," Dillon said. "That's a very, very difficult process."
As of Tuesday, no one was allowed to haul off debris from ruined homes. The county is working with the Army Corps, the federal Environmental Protection Agency and other agencies on the cleanup standards. Morrison said the county hopes to release the standards within a couple of days.
"We are trying to wind our way through the labyrinth of state and federal regulations, trying to understand what rules will be applied to homeowners and property owners wanting to rebuild in Napa," he said.
Dillon said state and federal officials are viewing the California wildfires as a bigger disaster in terms of structures destroyed than recent hurricane disasters.
"This is a new thing for them to do, to basically to be able to have enough people to respond to the seven counties in California that simultaneously had this destruction," she said.
Cal Fire estimates recent wildfires statewide have destroyed 8,400 structures. The Tubbs fire alone destroyed an estimated 5,400 structures, making it the most destructive wildfire in California history. Though it started near Calistoga, the fire wreaked most of its property destruction in Sonoma County.
The first phase in hauling off the debris from destroyed homes is dealing with hazardous waste amid the ash and ruins.
"These are things like freon in a refrigerator, gasoline in a lawnmower, paint cans, oil cans, pesticides, cleaners," Morrison said.
Morrison said that U.S. EPA intends to inspect properties after hazard waste cleanup before the rest of the demolition work can go forward.
People wanting to remove debris themselves will have a contractor submit a work plan to the county. Plans will say how they will remove the debris, where they will take it, how they will transport it, how they will test the soil to ensure it is clean enough for reconstruction.
If they want to reuse the foundation, they must have an engineer inspect it to ensure it's structurally sound and test soils underneath to make certain the sub-base is undamaged.
"We do have people who want to move (forward) now," Supervisor Alfredo Pedroza said.
Morrison said the county wants people to be able to get back to normal as quickly as possible. But it must make certain a property is cleaned up appropriately so it doesn't pollute the environment or a neighboring property and that the foundation is sound.
"If people can do that quickly and efficiently, we're all for it," he said.
Pedroza said he understood the steps that must be taken.
"We can't compromise the health of the community," he said.
Also Tuesday, the county worked on streamlining how fire victims can obtain county permits for rebuilding.
Morrison said the county will make things as simple and quick as possible for people who want to rebuild a similar home. Those who want to do such things such as double the size of their home might find things less streamlined.