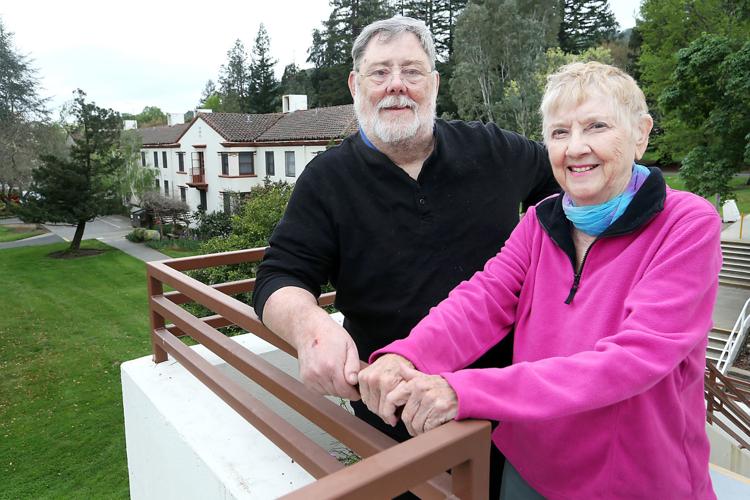 A newsletter for residents of the Veterans Home of California has gone dormant after more than seven decades, and its editor is pointing the finger at overseers of the state-run retirement community in Yountville.
The Observation Post, which began publishing shortly after World War II, has been on hiatus since January, according to editor John Rickman, who blamed the state Department of Veterans Affairs for what he called a pattern of suppressing controversial stories and delays in printing and shipment.
"We've basically been robbed of our magazine," Rickman, who has directed the Observation Post for 2 ½ years, said during a recent interview.
Rickman's complaints have been echoed by the former director of another Veterans Home media outlet – KVET, a closed-circuit television channel for the more than 830 residents of the nation's largest retirement home for former troops and their spouses. Jac Warren stepped down as the station head in January after a dispute over airing a discussion of California's law allowing doctors to give lethal drugs to terminally ill patients – a right CalVet does not allow residents of its eight Veterans Homes to exercise on the premises.
According to Rickman, CalVet oversight of the Observation Post tightened in 2013 when the agency gave the Yountville home's administrator the power to deny publication. Among the articles Rickman alleged were suppressed or slowed were reports on the uses of the home's morale, welfare and recreation fund, which pays for on-campus leisure programs, and a Rickman-penned column about the Islamic religion.
After the arrival of Joshua Kiser as the Yountville home's spokesman in 2016, Rickman said, the Observation Post's printing schedule grew increasingly erratic and tardy.
"For eight months, we have been three or more weeks late," said Rickman. "My July Fourth issue came out on July 27; my Black History Month issue never came out at all. It was very frustrating. Four of those months it was because (Kiser) forgot to get in a purchase order for the paper (to) Minuteman Press in Napa. The other four times, he didn't even give me an explanation.
"Eventually myself and Dan Goodman, the assistant editor, got frustrated knowing our work was going to come out late. We jokingly ran the date of one issue as 'November-ish,' which Josh objected to. The issue finally came out on Nov. 30.
"As one guy said to me, Josh Kiser's desk is where dreams go to die."
Attempts to contact Kiser this week were unsuccessful.
In a Wednesday email, CalVet spokesperson June Iljana said the agency suspended the Observation Post "pending a reorganization of our published products due to a required review of our associated budget."
"With a sharply reduced budget following new rules on the use of Morale, Welfare and Recreation funds, we need to streamline our efforts to ensure the funds are expended in a responsible manner," she wrote, referring to a 2016 state law centralizing leisure funding at veterans' homes into a central account.
The conflict came to a head Jan. 23, when Rickman emailed the Veterans Home spokesman about the printing delays for the newsletter. "We realize that you have a lot on your plate so we were wondering if it would help if we sent you reminders every few days so that in the rush of your busy day you don't forget to do important things," the editor wrote Kiser, according to an email shared with the Register.
In a reply that evening, Kiser informed Rickman that the Veterans Home would suspend the Observation Post immediately "due to the ongoing lack of quality" of the newsletter and "the tremendous number of resources required to produce a visually and grammatically acceptable publication," and added CalVet would review whether to allow it to resume in the future.
"Josh claims it was too much work to correct my grammar," Rickman said of the episode, adding tartly: "The day you can correct my grammar is the day you can shovel dirt in my face."
Meanwhile, Warren left her post directing the KVET station at the Yountville home in January.
The resignation came seven months after Veterans Home staff blocked the station from airing a broadcast from Grant Hall of a discussion on California's assisted-death law at which Kathryn Tucker, a longtime advocate for patients seeking doctors' assistance to end their lives, spoke, Warren said.
After a KVET staff member finished shooting video of the forum, a Veterans Home staff member confiscated the memory card from the camera to prevent its airing on campus, she said last month.
Broadcasting the assisted-death forum on a CalVet-based channel would have violated state policies against using a state resource for political purposes, said Iljana, the agency spokesperson. Staff did not approve the telecast because the forum "focused on changing the regulation rather than educating residents," she said.
Although California passed Senate Bill 128 legalizing the practice in 2015, CalVet won't allow doctors to provide lethal drugs at the eight retirement homes it runs for military veterans and their spouses. Instead, it drafted a policy in 2016 requiring those living at its veterans' homes to leave the premises before using life-ending substances, a requirement critics have called a form of eviction.
Having doctors participate in residents' deaths would imperil about $68 million a year in annual federal funding to CalVet, the agency has said.