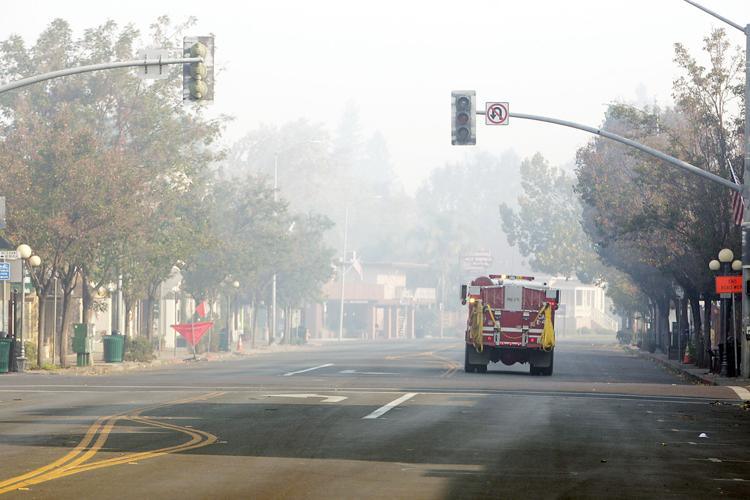 His voice hoarse from talking to claim adjusters, Napa insurance executive Kent Imrie on Tuesday afternoon addressed a gathering of local business people interested in information about financial assistance and other opportunities as a result of the October wildfires.
"There is no rule book, per se" for settling insurance claims from a disaster like this, he said.
"It can be a daunting process."
Imrie was one of several speakers who presented information about insurance, claims, disaster loans and other capital resources for those impacted by the fires.
The event was hosted by the Napa Chamber of Commerce and held at the Silverado Resort and Spa. That property was itself threatened by the Oct. 8 wildfires that destroyed more than 500 homes and a number of businesses in Napa County.
"One thing that makes this community so special is how we all try to assist each other in these situations," said Travis Stanley, Napa Chamber president and CEO. "There are opportunities and resources people probably aren't fully aware of and that's what we hope to help them with."
Imrie said one common question is whether a business that suffered a loss of revenue from cancelled reservations, bookings and appointments can receive any kind of insurance benefits via a business interruption policy.
"The quick answer is that there is no insurance for that kind of loss," he said. In most cases, "There has to be a direct physical loss to your premises" for any such business interruption insurance coverage to apply, he said.
A forced evacuation, such as occurred in Calistoga, is different, according to Jeff Erickson, an insurance broker with ISU Sander Jacobs in Napa. In that case, because the entire town was evacuated, some insurance benefits from a business interruption policy may be applicable.
"Talk to your agent, turn in your claim and see where it goes from there," Erickson advised.
Sally Xu-Plants, the owner of the Inn on Randolph, said she attended the meeting to find out about available resources.
"It's always good to know what's out there," she said. Perhaps some of her staff might benefit from available aid.
While her Inn didn't have any fire damage, cancellations from guests caused her off season to start a little earlier than normal, she said. However, "It's a short set back," said the inn owner. "We're not going anywhere."
RE/MAX Gold Realtor Bob Frappia said he came to the event so he could inform his clients about options when it comes to cost recovery or financing.
Frappia said a lack of inventory for buyers is one concern for the Napa real estate market.
For example, after the fires, "we had four listings that got pulled and turned into rentals," he said.
Frappia said the owners of those homes saw an opportunity to help people who have been displaced and at the same time improve their cash flow. But that also means four less homes are listed for sale in an already tight market.
Bill Koontz, who works in disaster assistance for the U.S. Small Business Administration, recommended that business owners consider an SBA loan and register with FEMA even if they don't think they need assistance right now.
"I've talked to a lot of business owners who four weeks in have thought, 'I've got enough insurance to rebuild,'" said Koontz.
However, "In my experience, you really don't know what's ahead and how much you'll have to pay. You may not know what your insurance settlement will be." That process will take time, he said. "The SBA can give you a short term cash solution."
As for help from the Federal Emergency Management Agency, "There could be later some kind of assistance that we don't know about today," such as new grant programs. "How will they know to call you if you haven't registered with FEMA?"
Koontz also pointed out that due to other disasters, including the recent string of hurricanes, there is a backlog in the SBA application process.
"We help folks on a first come, first serve basis," he noted.
Getting a loan can take up to four weeks. There is no fee to apply and if approved, you don't have to accept the loan, he said.
Dan Aguilar, senior vice president, Mechanics Bank, said the bank was already helping clients in different ways including waving some ATM fees, offering free cashier checks and providing access to safety deposit boxes after keys are lost due to the disaster.
"Now we're starting to plan for the future," said Aguilar. Specifically, "We know capital will be needed for rebuilding."
Construction loans will be critical. Unfortunately, since the great recession fewer banks are offering such loans.
"That has got to change," said Aguilar. "There needs to be cooperation that is almost unprecedented between regulators, governments and banks so we can be more helpful to our clients. It's a real tall order and something that will be sorely needed."
Michael Cummings, a FEMA spokesman, applauded the coordinated relief efforts already implemented in the area. Those include efforts by the Napa Valley Community Foundation, the California Governor's Office of Business and Economic Development and the California Infrastructure and Economic Development Bank (IBank) — other agencies also represented at the Chamber event.
In the other disasters he's been involved with, "I've seen many times when this kind of conversation doesn't happen for months or years down the road," Cummings said.
"Take advantage of these people up here," he said of the program participants. "They are here to help you."
Cummings also noted one silver lining. Sometimes rebuilding after a disaster like the fires can lead to unanticipated improvements.
"I've seen many (areas) come back even stronger" after such a disaster, by adding innovation, critical infrastructure improvements, different construction techniques and other technology, he added.