The earth's beauty has inspired artists to paint since soil, animal fat, burnt charcoal and chalk were first combined to create a basic palette of red, yellow, brown, black and white.
The natural world still arouses the desire to capture its splendor on canvas in those who are gifted with sharing their vision through color.
"Our show for February and March is dedicated to the beauty of the land, lakes and living environments," said Jessel Gallery owner Jessel Miller.
"Each artist is unique in their expression and style, yet the common thread is the exquisite use of color and light. Moods change from piece to piece and although the work is realistic, there is an emotional essence each artist evokes."
An opening reception, including a question-and-answer session with artists, for "The Earth's Beauty" is scheduled for Friday, Feb. 9, 5–8 p.m. The Jessel Gallery, at 1019 Atlas Peak Road, is open daily.
The artists in this exhibit include Terry Sauvé, Daniel Mundy, Patrick O'Rourke, Olaf Schneider, Susan Hoehn and Alan Sanborn.
Terry Sauvé
As Sauvé paints the landscape, she said she feels a deep connection with nature and inspiration when the natural light falls over a scene. Capturing this magical quality of light is one focus of her paintings, as is "pushing" the color found in nature to enhance the painting.
Her method includes taking photographs, making sketches and occasional color studies on location. From these references, she works on larger finished paintings in her studio. Here, she transmits what she has absorbed from studying color and light in nature into her paintings.
In a world in transition, Sauvé's luminous landscapes connect the viewer with something both ephemeral as well as transcendent. Her images are archetypal, hitting with a deep emotional impact, creating a sense of harmony and balance.
Daniel Mundy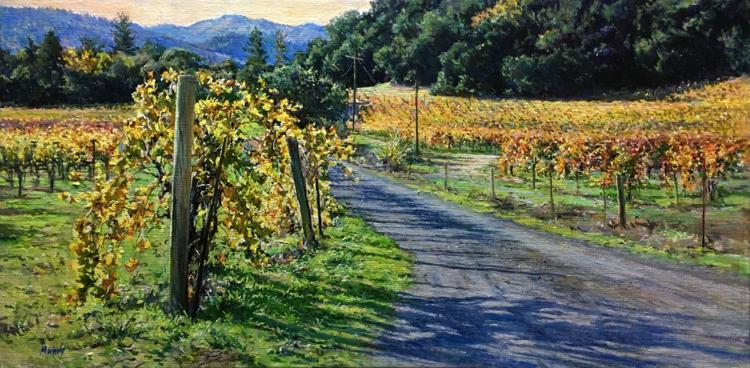 Mundy's landscapes always seem to incorporate light in a way that makes a viewer yearn to step into his paintings. His work is realistic, with a spiritual quality that transcends the location he depicts.
Mundy has participated in many group and solo shows regionally and nationally. He has been teaching workshops and private painting classes for many years and teaches a Master Class Series at his studio.
Although he began showing regionally in Northern California in 1991 and devoted himself to his art full time in 2001, his journey with art began much earlier.
When he was very young, his maternal great-grandmother Turnbow recognized his gift and predicted in writing that he'd be a "great painter of pictures."
"There are those around us, armed with the sensitive eye of life experience that may see potential in us that we have yet to discover. I have always felt a responsibility to do this work by being a good steward of the gift I was given," Mundy said.
"Yes, it is about possessing some measure of talent," Mundy added. "How you run with it makes all the difference."
Patrick O'Rourke
O'Rourke is a contemporary artist from Northern California whose work can be found in the homes of fine art collectors throughout the world. Sadly, he no longer has any of his own paintings. He lost around one thousand paintings that were in his storage until during the October fires.
O'Rourke, who has always drawn his primary inspiration from the oak studded hills, rolling vineyards, soaring redwoods and rugged coastlines of Napa and Sonoma counties, is working on a painting for this show.
Susan Hoehn
California artist Susan Hoehn is best known for her vibrant hues reflecting the beauty of the landscapes she paints. From vineyards to romantic seaside vistas Hoehn captures the essence of the contemporary landscape.
As a landscape painter, it is her lifelong pursuit to capture color light and shadow and translate this vision to bring enjoyment to others. The vineyards of California epitomize this harmony.
Alan Sanborn
Sanborn describes his art more modestly than art lovers who have been collecting his paintings since the 1980s when he began exhibiting in hundreds of shows throughout the country.
"I'm a straightforward, no special effects, watercolorist," Sanborn wrote in reply to questions.
"My style? Like everyone, I try, and I've tried to paint like those I most admire, sometimes my own students. Boy do I see a lot I like in other people's paintings," Sanborn continued. "But I hold a brush differently, I see color differently. My style is, probably, how much myself gets in the way of lessons I can't quite learn."
Olaf Schneider
Schneider is a prolific Canadian painter who is inspired by the power and diversity of the northern landscape, and anything that needs a "second look." An explorer by nature, he travels across North America and Europe to gain inspiration.
Through his art, he expresses his love for life and his affinity with vibrant color.
His interpretation of color sets a dynamic mood. The tones often range from the darkest to the lightest to achieve maximum drama.
"I want to always have an open mind so that new ideas may come in. In the mind of an expert, there are few possibilities, but in the mind of an amateur they become endless," Schneider wrote. "This is a God-given gift and I value it greatly. If I am able to bring emotion, understanding, comfort, or joy into another's life then I am using it wisely in his glory."
"I feel very honored to be part of this group show at Jessel Gallery, Schneider said.