The Art Association Napa Valley has changed names several times but was founded in 1948. "AANV is an example of the spirit of volunteerism and is now the only non-profit art organization in Napa which operates with 100 percent volunteers," past president Mary Atman explains.
The Art Founders of 1948 became a non-profit in 1952. Its name changed to the Napa Valley Art and Garden Association. They now let the Master Gardeners take care of that function but otherwise the bylaws created by the founders "have withstood the test of time," says Atman. "We have only made a few tweaks in 2017 to include modern terminology such as email and Internet."
The group has built and still manage a club house at 1520 Behrens Street which hosts monthly meetings and various classes. They present art events throughout the year and maintain gallery rental space for members. It is the only gallery of local artists whose sales commissions are used solely to fund local scholarships.
Members are local painters, photographers, jewelry makers and ceramicists. Some have art school training and professional art careers, but many are or were nurses, teachers, architects, or winery workers. A few are retired commercial artists now able to express personal artistic ideas. Members sharpen their skills through workshops and at kitchen tables, garage work benches and state-of-the-art studios. This eclecticism characterizes the AANV now and always has.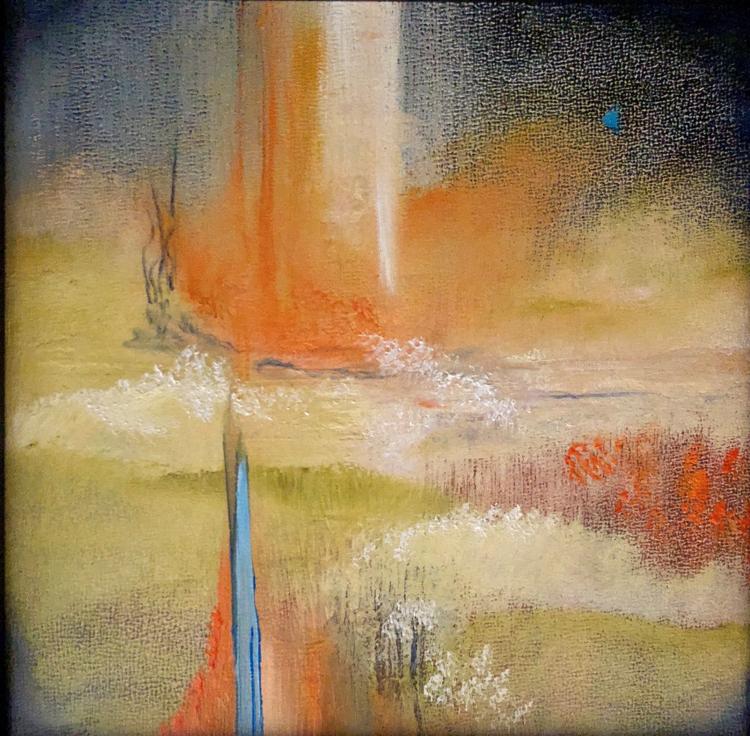 Art Gallery History
The AANV has always exhibited members' artwork. When the Women's Club opened their clubhouse on Franklin Street in 1948, they hosted the association. Later the groujp occupied part of Baker's Stationery Store on Brown Street. Several moves later, the Art Gallery Napa Valley's current location is 1307 First St., next to Yarns on First.
The54 local artists in the gallery pay rent, work desk shifts and pay a 25 percent commission on all sales. That commission funds the annual art scholarships the association bestows on seniors from each Napa Valley high school and from Napa Valley College. The most festive general meeting is the Scholarship Luncheon in June when the winning students show their artwork.
Open Air Art Show to Open Studios
As far back as the 1950s, the Art Association hosted an annual Open Air Art Show at Fuller Park in mid-September. It was quite informal. According to the Napa Sunday Journal, artists would "hang their work from clotheslines, prop paintings against trees and display artwork on the grass." . Junior members served refreshments.
This annual celebration eventually became the AANV's Open Studios, a juried exhibition of artists in their studios throughout the Napa Valley the last two weekends of September. Dozens of artists in all media display and sell their work, put on demos and answer visitor questions. A map and directory, available at many valley locations, helps visitors plan their self-guided tours.
AANV Festivals
Back in the 1950s the association hosted an annual two-day Artists' May Festival at the fairgrounds. It eventually expanded to more than 100 booths of work by Bay Area artists. The event included art lectures, music and refreshments. Attendance was "second only to that of the district fair" the Napa Sunday Journal reported.
The May festival has been replaced with Arts in April, a valley-wide celebration sponsored by several entities with events up and down the Napa Valley. The Association's participation this year includes events at the following AANV locations:
— Art Gallery Napa Valley, 1307 First St., Napa
A special show of 8 by 8 inch works runs throughout April, with a gallery reception on Friday, April 27, 5-9 p.m. Artist demos at the gallery will be scheduled during the month; see website for details, nvart.org.
— Art Center Napa Valley, 1520 Behrens St., Napa
The Hidden Treasures art show and sale features nine artists, Saturday, April 7, 10 a.m. to 4 p.m. Painting, photography, glass, wood, fiber art, cards and gifts.
Guests will be guided to paint a whimsical wine country composition in acrylics on canvas at Sip and Paint on Saturday, April 14, 1-4 p.m. A $35 fee in advance covers red wine and all supplies; RSVP required. Contact Emily: 707-224-5454.