Harold Moskowite, a former Napa County supervisor who represented two different districts at separate times and who came from an east county ranching family, died Saturday at age 91.
Moskowite, with his buzz cut, to-the-point manner and concerns about county regulations, represented the 4th supervisorial district including the Berryessa area from 1977 through 1988. He later moved to the city of Napa and represented the 5th District from 2005 through 2008.
His 1976 victory came against incumbent Ginny Simms and his 2004 victory against incumbent Mike Rippey.
"You cannot accomplish beating two popular incumbents without being an incredible workhorse," state Sen. Bill Dodd, D-Napa, said on Monday. "That's just what Harold was, he worked very, very hard for the people in Napa County."
Dodd served on the Board of Supervisors with Moskowite during Moskowite's final term.
"It was straight talk," Dodd said. "He would say it like it is. While sometimes that could be frustrating for some, it was refreshing for others."
Moskowite made his last appearance in the Board of Supervisors chamber on Aug. 1, 2017, not as a supervisor, but as a citizen making comments. He walked slowly and was a little bent over and used a cane, but he was eager to speak about a topic near-and-dear to his heart – Berryessa.
He first talked about the past, about the Berryessa Valley which went underwater in the late 1950s when the U.S. Bureau of Reclamation built Monticello Dam.
"I had a ranch at Lake Berryessa, before they flooded it," Moskowite said. "They took it from me and gave me X amount of dollars, take it or leave it."
His father, George Moskowite, secured a county contract to establish Steele Park resort on family ranch land along the newly formed lake's shore. Harold Moskowite sold his own interest in the resort in 1975. He came to the supervisors in 2017 to offer his help in county efforts to revitalize the lake resorts.
"I know Berryessa probably as best as anybody because I lived there and I've seen it built and still go there once in a while," Harold Moskowite told supervisors.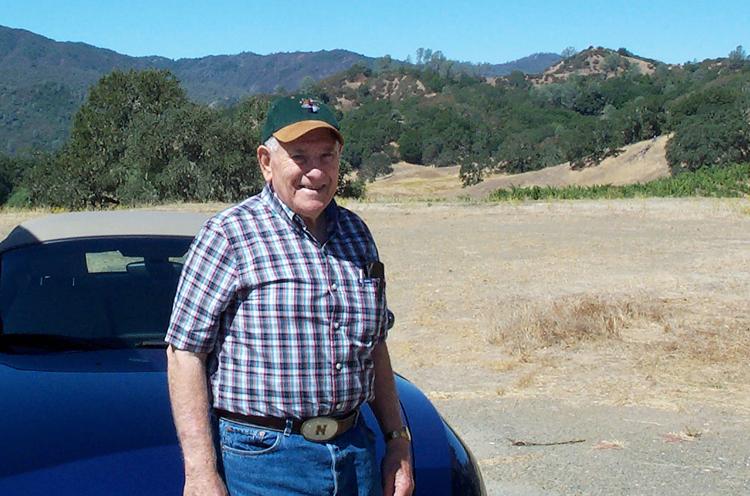 Harold Moskowite was born in Aug. 26, 1926, in San Francisco only because his mother left her Wooden Valley home for his birth. His father, George Moskowite, had come to Napa County in 1916 and had a career as a rancher and land developer until his 1964 death.
Harold Moskowite came of age in a Napa County where he could drive cattle from the family ranch to Yountville. His life story includes being in the U.S. Navy, having businesses at Moskowite Corner, being a volunteer firefighter, establishing a Berryessa ambulance service in the wake of the Zodiac killings, owning and flying several planes and building a Capell Valley airstrip.
In 1972, he turned his attention to developing a Capell Valley vineyard. The venture ultimately turned into the family's Moss Creek Winery.
His son, George Moskowite, called him an entrepreneur, a businessman, a developer, an investor, a farmer, a rancher.
"If you were to ask him, he was a rancher," George Moskowite said on Monday. "That was the one thing he always felt was the soul of his existence: being on family property, raising livestock and farming."
George Moskowite recalled how his father would host a barbecue for a few hundred people. Harold Moskowite would cook slabs of beef in a pit.
"For him, that was important to be part of something he could do and give to other people," George Moskowite said.
Harold Moskowite launched his first supervisor campaign in 1976 with an ad calling rapid growth fears a "phony bugaboo." He wanted people to be able to build homes on lands outside of the county's agricultural preserve.
"Anything short of this is an abridgement of property rights – rights that go back to the very foundation of this country," the ad said.
Moskowite won and served for three terms in a previous version of the 4th District before losing a 1988 reelection bid. One of his supervisor colleagues said the Board's pro-growth majority had changed.
But Harold Moskowite hit the campaign trail again in 2004 for the 5th District, saying supervisors were overpaid, county fees were too high and county spending was out of hand. He won in tight race that Rippey unsuccessfully challenged in court.
Harold Moskowite retired from supervisorial politics in 2008 at age 82. He noted at his last meeting that during his last term he had often ended up on the losing end of 4-1 votes on a Board he thought imposed too many regulations.
"I think different than some of these others," Moskowite said. "It seems like the staff brings them ordinances and stuff and the Board just goes along with it ... Of course, I get tired of trying to be one lone vote, but every once in awhile, I have to be. If we all agreed on everything, what would need a board of supervisors for?"
In 2011, Harold Moskowite fell while measuring a pipe spanning a creek and broke his neck. He later described how he drove himself 15 miles to St. Helena Hospital, where he was taken by ambulance to the U.C. San Francisco Medical Center for emergency surgery.
"I would say the greatest thing he taught his kids was you create success by working hard," George Moskowite said. "I think that's who he was – he was a hard-working rancher, a hard-working man."
Moskowite died Saturday morning in his Napa home after a brief illness.
"He absolutely loved this town," his wife Beatrice Moskowite said. "He was a good man. You'll never find a more honest person in your whole life."