Wine Industry
Napa grapegrowers brace for extended frost season, with little rain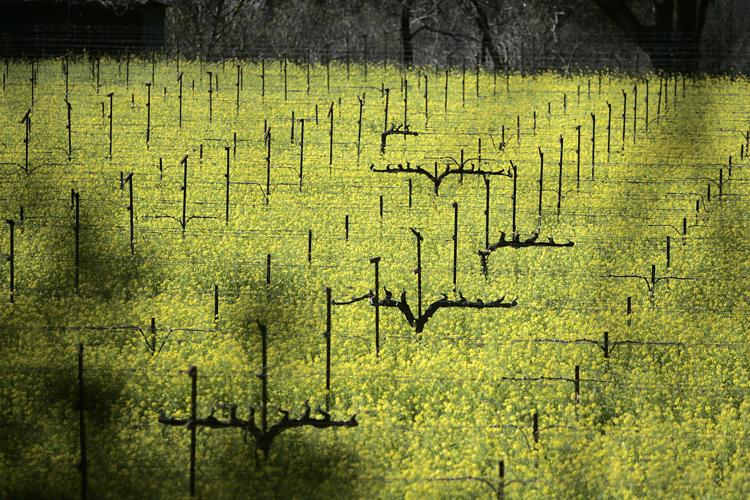 Napa County's grapegrowers are working to shield their early-waking vineyards from an extended frost threat, while coping with a lack of rainfall during what are typically the wettest months of the year.
Pushed by weeks of abnormally warm weather, vineyards in the southern Carneros region have begun to stir weeks before the typical onset of bud break – the appearance of shoots that will eventually yield grapes.
"That norm of bud break time, I think, is changing with the climate change and everything like that," said Brittany Pederson, viticulturist with Renteria Vineyard Management.
Pederson and the Napa Valley Grapegrowers said the advanced timing of bud break will leave the delicate new growth exposed to the hazards of frost and rain for a longer stretch of the growing season.
Napa Valley Grapegrowers stressed that while the growing season has begun in select vineyards in the southern Carneros area of the county, "these are exceptional areas and by no means is bud break widespread …"
With awakened vines vulnerable to frost for at least several weeks, growers are prepared to use a variety of frost control measures, including activating wind machines and overhead sprinklers as well as delaying final pruning while mowing cover crops, the group said.
"We're busy checking all of our wind machines are working [and] sprinkler systems are working as well, if they have them," Pederson said.
Growers also make use of dew point charts, which are critical in assessing vine-perceived temperature, the Grapegrowers said. Thermometers and up-to-date weather station reports help them assess their frost control programs.
"Everyone's racing around doing the normal thing of checking the wind machines and the frost protection systems, making sure everything's working properly and all your frost alarms are up and going," said Caleb Mosley, senior viticulturist with Michael Wolf Vineyard Services. "That's kind of normal protocol stuff; it's just happening earlier than we normally need to get that going."
Of long-term concern is the dry spell that continues to linger even as winter temperatures have returned.
"We're about half of our normal rainfall for this point in time," Mosley said. Enough rain fell in January to foster green grass and cover crop growth, which growers can till back into the soil for the nutrients they provide.
But, Mosley said, "We're heading into bud break in a dry state, which is different from other years where it's been a dry winter but the rain has come at the right time."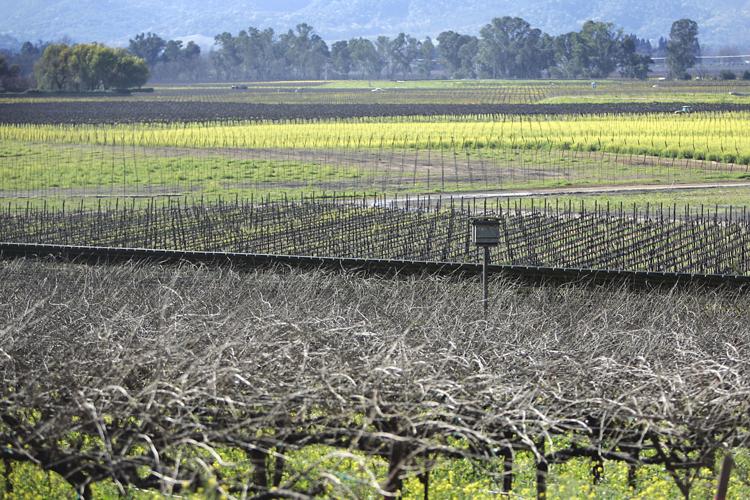 Growers are now weighing the pros and cons of early season irrigation, looking to make sure that the vines' root systems have ample water surrounding as much of the root as possible to get a strong and even push from breaking buds, Mosley said.
Noting that last year's rains lasted through March and April, which kept vines growing through the dry summer months, Mosley assessed that if this winter's rains are indeed over, "you're talking about May, June, probably needing to think about irrigation in some spots."
"It's not just the total," he said. "It's all about timing, just like everything in viticulture."
If additional rains fail to come and temperatures remain low as bud break carries on, "it's going to be a tractor race," he added.
"You're going to see everyone mowing their cover crops down and as many people tilling the soil as they possibly can, because that helps with frost protection and it also decreases the competition that the grasses have on the vines for those limited water resources."
"So if it stays cool like this and stays dry, it's just going to be basically a one-month advance on the growing season and you'll see a lot of activity getting started in the valley."