Remembering 9/11: Area residents share their recollections
As we remember the 16th anniversary of the Sept. 11 attacks, we're looking back at a series of powerful essays we solicited from area residents to mark the 10th anniversary, in 2011.
Joan Martens Cartoon Comment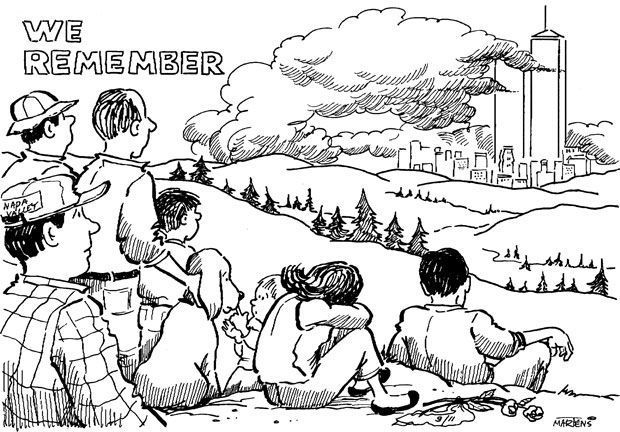 Remembering 9/11: We will never forget
I don't just remember that tragic day on Sept. 11 when trite references to the horror blip by on the news. I remember it every single day of my life, as do countless others — those of us who were in New York, people all over our world. We saw, we experienced, we lived though something unimaginable, something that couldn't have possibly happened in our lifetime, yet it did. 
The smell of its aftermath still lingers large in my memories, as does everything about that day: the view of the tip of Manhattan on fire as my brother and I hauled over the Queensboro Bridge to escape. 
Images of missing persons wallpapered our city. Fliers tacked on subways, walls of restaurants, lamp posts and churches. Fliers of the hundreds and thousands of people who went missing. People who would never find their way home, people who were lost forever.
I remember waking up from the most horrific nightmare, one that repeated for days and years to come. I remember the streetside vigils, the gatherings in the park, the countless memorial services. The bomb scares, the evacuations, being stuck on the subway thinking this was it, only to learn of the next threat — Anthrax. 
People changed forever. 
Children lost parents that they had yet to get the chance to know and love. They lost their innocence in an instant. They grew up overnight without ever knowing it. 
Many people just like me were unable to get out of bed, to move out of our apartments, to go to work — to picture our lives moving forward. Yet with every one of those visions, I witnessed something softer. Taxis stopped honking and people started caring.
We helped others as we struggled to help ourselves. In an instant, a city that was known for its crusty nature cracked to the core, we the people broken. But through all of those experiences, the indelible memories that will never erase, we triumphed in the midst of our tragedies.
We were granted the chance to witness and move beyond the unimaginable — buildings melted, people jumped, mushroom clouds danced, heroes fought to rescue. We survived, our world moved on, and we prevailed. My memories will never slip away, yet now I am able to move forward.
Christina Julian is a freelance writer living in Calistoga.
Remembering 9/11: The loss of loved ones
An accident of schedules brought us to New York City for that tragic day, Sept. 11, 10 years ago. Up close and personal, too personal, to the horrific events.
Visiting our brother and family near New York, that Tuesday morning we first heard about a bombing in the World Trade Center. The reports were confused. Then the tone of reporting changed from total confusion to absolute disbelief as events turned even worse.
The second tower was hit by a plane, then at 11 a.m., that South Tower imploded and collapsed. One of the twin towers that defined New York's skyline, overlooked the Statue of Liberty, once the tallest buildings in the world, workplace for thousands of people — falling to the street in a cloud of dust. The scene left everyone either screaming or just totally speechless — even the on-site TV reporters were speechless. The scene was surreal, the fate of all those people was too hard to imagine. But reality struck hard when the North Tower followed suite and collapsed. Somehow we now grasped the enormity of the tragedy.
Our sister, head nurse at a hospital just blocks from the scene, was mobilizing available nurses for an expected flood of injured people. But the injured never arrived. Thousands went dead or missing. But few were only injured.
Panic hit especially hard for our brother's family. Their only son, our godson, worked on the 105th floor. In the 1993 car bombing in his tower, he was floor warden and led hundreds down all those flights of stairs. Dusty and dirty, he walked 100 blocks to his sister's Manhattan apartment to call his family. Could we hope for another phone call this time?
But by mid-afternoon hope faded for Ed's survival. We prayed that he perished without pain. His sisters joined an army of people on the streets, checking all hospitals, temporary morgues, posting flyers for any information, looking for any hint of his fate. It became clear we had lost Ed. A good family man, father and a good citizen. At his memorial Mass, grown men cried, testifying how Ed's intervention for their alcoholism had saved their lives.
After the attacks on the twin towers, American Airlines flight 77 was crashed into the Pentagon. On board was a friend and classmate with his wife. We had just spent the prior week together at a reunion. And now they, too, were lost.
Our cousin, a retired federal law officer, immediately went to ground zero to help look for any survivors in the rubble of steel, concrete and glass. The dust took a toll on him. Eight years later, he had a double lung transplant.
We use the term "hero" loosely these days. But no one will deny that the New York firefighters were certainly heroes. A friend, retired FDNY fire captain, described how firemen from his old firehouse climbed up stairwells carrying 100 pounds of equipment into the danger — against the traffic of hundreds of civilians climbing down to safety. Many of his old comrades were inside when the towers collapsed.
We witnessed a tremendous transformation of New Yorkers while we were stuck there as all air traffic was grounded. Cars there were flying the U.S. flag from those 12-inch flag poles stuck out the side windows. From both sides. Big U.S. flags flying from SUV tow hitches or pickup beds. Overpasses on the expressways and turnpikes were all draped with the U.S. flag.
United we stand. That was their message. There were posters. Graffiti. Headlines. Bumper stickers. "United we stand."
Eventually, we flew home. We found a different reaction in the Bay Area. We didn't get the sense that people here got it. Here, we seemed to understand the horror, but not that our country had been attacked. That relatives, friends, fellow Americans were the victims, not in some distant country. Not killed by courageous suicide terrorists, but by murderers. Thousands of innocent civilians were targeted. People who had every right to expect to return to their homes and families after work. Victims who never signed up to go into harm's way — not as our military and first responders have done. They did not deserve to be targeted. The planning of this horrific attack was premeditated murder, pure and simple.
There was not that same universal rallying around the flag here in the Bay Area, not that understanding that all of us had been attacked. The flags and signs that we saw all over New York were displayed here but not as prevalent — "United we stand."
Most people in our country, and around the world, came together after 9/11 to show that we were not demoralized; that, as a nation, we had strength of character. In one of our better moments, United we stood.
Tom and Anne Knepell live in Napa.
Remembering 9/11: Coming full circle at ground zero
In January of 1970 in New York City, I began what would be a 32-year career in the insurance industry.
I lived in New Jersey and commuted daily by train to New York. The system was called PATH (Port Authority Trans Hudson) and its New York terminus was on the site of what would become the World Trade Center.
After completing a six-month training program for The Chubb Group, I was assigned to an underwriting team for commercial property. By this time the PATH station had been moved, the building demolished and a giant hole was being dug for the foundation of the twin towers.
My first rookie assignment was to the group that was helping place the necessary construction insurance for the project.
I came to San Francisco in 1972 with Chubb and had a series of different insurance jobs, which culminated in 1979 when I joined a small startup operation that specialized in catastrophic property insurance. During the next 13 years we grew and prospered, and in 1992, we sold our firm to the Aon Corp, headquartered in Chicago.
Their largest office was in New York and they had a total of about 1,200 employees in the twin towers. I visited the World Trade Center many times in the next 10 years and my last visit was in early August 2001 to discuss the end of my employment contract and my retirement.
Every time I entered that complex I remembered my beginnings there and felt a sense of pride about playing a role, though very small, in its construction. It was a beautiful and imposing site. The twin towers fell 31 years, 8 months and 11 days after I started my career. Aon lost 328 employees that day and though I only knew five of them, my heart broke and the tears flowed as I watched that terrible tragedy unfold.
One of my last official acts as an employee of Aon was to authorize payment of $1 million for our firms' very small portion of the $4.5 billion insurance loss. My 32 years of insurance had begun and ended with the World Trade Center.
As an Air Force veteran and a Vietnam veteran, I grieved for the 3,500 who died that horrible day and consider them comrades in arms. They gave their lives for their country just as surely as any soldier, sailor, Marine or airman. They didn't sign up to become combatants, but they surely were.
It remains my privilege to honor them all on this the 10th anniversary of the fall of the towers. Just as previous generations never forget December 7, 1941, so shall we all remember September 11, 2001. Freedom Is Not Free.
Jim Barnes is the adjutant of American Legion Post 231, Calistoga. He is a member of the Calistoga City Council.
Remembering 9/11: The fragility we all felt
Early in the morning of Sept. 11, 2001, my sister and I were in an Arlington, Texas, motel bouncing on our suitcases, trying to close them so we could meet our Exit Texas schedule. My brother-in-law phoned, directing us to the television.
As the screen brightened, the second plane hit the tower. We sat transfixed with millions of others. Our own reality asserted itself when the local news announcements interrupted, and we realized DFW was closed, as was our car rental return and the trains. We finally connected with old faithful, Greyhound bus, for Sacramento. We thought to drop our car near the bus depot in downtown Fort Worth, only to find the heart of the city was locked down with marshals on every corner (bomb threats). We chose to wait at the depot for a posted 7 p.m. bus, and were on hand for the Extra edition of the Fort Worth Star Telegram.
As we traveled across the country, I bought papers at each city stop. My sister bought the last little radio available in the depot at Abilene. Another passenger in the back of the bus had one also, so combined, we had news coverage until the bus driver became too upset to hear more. 
Buses travel by highway and back streets. It is hard to remember now that before 9/11, American flags were not on prominent display as they are now. But that day, before the speeches of the president, the politicians and the generals, the flags were out everywhere, but especially from the little houses on the back streets and on the farms we passed.
I remember thinking "Yes, it would be the poor (or do we say 'those with fewer prospects') who would carry the battle." It has always been, but at least this time they are a volunteer army. Even if by volunteering, they are helping support extended families because there are no jobs. The other visual surprise was the sky, empty of planes.
We were all struck by the brilliance of the stars over the desert contrasted by the stillness, and no traveling lights of planes. 
There is plenty of time on a bus to think. I am old enough to remember Dec. 7, 1941, and wished we had a President Roosevelt again. (After his famous broadcast, I went about saying "Infamy," a new word, and fitting then and now.) I read the Star Telegram's editorial again and prayed. 
We had our first real result of the grounded planes in New Mexico when more passengers "downgraded" to bus travel. One man, returning home from an East Coast conference, heard by cell phone that some of his colleagues seen only the day before, went down in one of the planes. As we crossed Arizona into Southern California, we felt the impact of no travel by air. Greyhound mobilized all its fleet and extra drivers. I believe there were eight buses from Los Angeles to Sacramento, rather than one. I remember the tact, patience and kindness shown by crew and passengers all through the trip. I think we all felt very fragile at that point, and very, very blessed to arrive home to our families.
Carol Shour lives in Napa.
Remembering 9/11: Windows on the world
I had left my job at Windows on the World, the restaurant at the top of the World Trade Center, two years before. We were getting together as a group for the first time since I had left my job.
Of course I had visited my friends since, at different times, at different locations, but this was going to be special. We were going to bring our families together to have dinner at Windows on the World: the training director, the former training manager and I, the former human resources director. We had between us five adults, two infants and a toddler.
Normally a fine dining restaurant like Windows discourages children from dining as it distracts from the enjoyment of other diners, but tonight we were family, and treated like royalty in a way only possible if you are an insider at a restaurant, as we were that special night.
It was a perfect evening — wonderful food, laughing over "old times," greeting previous colleagues and old friends. Even the children were well behaved, a minor miracle in itself. There we were a quarter mile in the sky with only a few of their handprints between us and our view of the East River and Manhattan's bridges lined with lights, 107 floors in the sky. It was Sept. 9, 2001.
Thirty-five hours later, I was attending our morning meeting at Trump International Hotel & Tower; a manager comes in to tell us that a plane has hit the World Trade Center, the north tower, my tower. My first thought is 'He is playing a joke on me' (strange how no matter what the event or how big, we personalize it).
We were in the basement of a 57-story building about four and a half miles from the epicenter. We ran to the spa to watch the live coverage on the treadmill television monitors. I saw the plane hit the tower over and over, with the commentators questioning what had happened. I ran back to my desk and started calling my closest friends — people who attended my wedding.
Is the training director OK? The chef? The executive sous chef? The restaurant manager? The bar manager?
My fingers flew as I made call after call. My thoughts racing, 'Restaurants operate at night, everyone should be fine. Why is no one answering their phones?'
I am told that the second tower is hit. I go to check the televisions — it's true — what does it mean? I ran back, made more calls. Some of my team is going to the roof to see if they can see the towers. I continue my calls and think, 'They will be fine, we had training for emergencies, there had been a bombing in '93, we had done the safety drills, we know to go to the roof, that's what they did the last time and everything was fine.' Then my friend, the guest services director, comes to my office, white-faced. She had been up to the roof. She had seen it. The tower fell.
The following 24 hours, no one knew what to do. Traffic came to a standstill. Subways were shut down. Airports, bridges and tunnels were closed. People couldn't get home. It took New Yorkers a couple of days to start sorting it out. Impromptu memorials began appearing all over the city. Most of my friends had survived, some through close calls and twists of fate; some through the flukes of scheduling and crazy restaurant hours. I had made contact with everyone except my training director; no one could find him. People were lost.
Doris, the World Trade Center club manager, a wonderful woman I had recruited from another job, was gone. Howard, the controller with whom I had worked every day, and Christine, the assistant to the general manager, were gone as well. The death that preyed upon me most was Gilbert, the union rep who had given me so much trouble, who spent more time in my office than actually working, complaining about everything. When I had left Windows in 1999, I had never said goodbye. I had never closed that relationship, had never told him it wasn't personal. I found his death the hardest to put to rest.
The following Friday, Sept. 14, while I was manager on duty, the restaurant manager sought me out and said, "Please come and dine with us tonight." I said, "Thank you, but I can't. I have my infant daughter with me and a fine dining restaurant like yours discourages children from dining. I can't promise she'll behave." He then replied, "The restaurant is far too quiet, please come and bring your family. People want to forget, even for a moment; they will welcome your daughter."
And so it was another perfect evening; wonderful food, a wonderful view and surrounded by the warmth of friends and colleagues, but never to be the same.
In the following weeks there were innumerable funerals and memorial services to attend. This is where I finally found my training director (he had been living downtown amid the rubble, dust and smoke, with no electricity or phone service). My clearest memory of that time was the two minutes of silence for those who were killed. We all went outside. We, New Yorkers, took two minutes and came together outside as a community to memorialize our dead.
The chef and cooks from my current job stood in their whites holding candles, glowing in the evening light, so much like those who were lost.
Nicole Winslow is the former director of human resources for Solage Resort.
Remembering 9/11: Reflections on Sept. 11, 2001
I spent a wonderfully peaceful day house-sitting in the Richmond Hills on Sept. 10, 2001. I worked on some writing projects in the morning and went for a long run that afternoon in the hills above the Bay, watched the sunset, listened to crickets, talked to some people walking their dogs. 
I slept late the next day and found out from the carpenters working outside that something terrible had happened back east and I had better turn on the television. 
We all have our memories of that day. Since I was by myself that day, I probably paid more attention to the television than most. 
One of the commentators that day solemnly and grandiloquently claimed, as they do on such occasions, that the terrorist attacks had changed the landscape of America. 
The events certainly changed the skyline of New York City. They took American policy in a new direction toward foreign intervention; history will judge how successfully. There is also a field in rural Pennsylvania that is changed forever into a site for grieving the deaths and honoring the heroism of the passengers who charged the cockpit of Flight 93. 
Some 3,000 people lost their lives, including a number of people from foreign countries and many religious faiths, including Muslims. The world economy took a multi-trillion-dollar hit. We are still feeling the shock waves.
For Osama bin Laden and friends, it was unquestionably a good day's work.
Did it change the landscape of America?
No.
President Dwight David Eisenhower changed the landscape of America when he signed the Interstate Highway Act of 1956 into law. That act, the largest public works program in history, forever changed the face of America, connecting this vast land, creating the suburbs, changing where we lived and how we got to work. 
Instead of the twin towers, we'll have a park and a new skyscraper. The Pentagon, a massive brute of a building, was repaired and functioning normally within a year. The memorial park there was dedicated in 2008.
The psychological and financial impact has been far greater, but even so, the financial shenanigans that led to the meltdown in 2008 have hurt America far more. In terms of our daily lives, the only long-term impact of that terrible day is the airport security regimen that was proposed and should have been adopted in the late '90s. 
No terrorist act can hurt America as much as we are now hurting ourselves with our bitter and recriminatory politics. As for those killed 10 years ago, their loved ones bear a grief too deep for words. All we can do as a nation is honor their memory and take steps to make sure this sort of attack will not happen again. In time, as Robert Kennedy said on the night of Martin Luther King's assassination — quoting Aeschylus — "In our sleep, the pain that cannot forget falls drop by drop upon the heart; and in our despair, against our will, comes wisdom by the awful grace of God."
Richard Allen Hyde is an ordained minister in the United Church of Christ and is a massage therapist who has worked at several resorts in Calistoga.
Remembering 9/11: America no longer a safe haven
On 9/11, David and I awoke to a glorious salmon-colored sunrise at our favorite high mountain lodge on Tioga Pass — just outside of Yosemite. We were at 10,000 feet elevation watching the vibrant sun shine off the majestic surrounding granite mountains. So close to heaven.
I walked the short pathway to the lodge's lobby and dining area, and there my world changed forever.
On the lobby's TV, I saw the terrifying scene of the World Trade Center billowing black smoke, debris everywhere, people running, screaming. Oh, my God!
People in the lobby were walking like zombies, mouths agape. What is this? An accident? But two planes crashing into the twin towers? This is no accident. Are we at war?
Back in our room I told David he would never believe what had happened. We rushed back to the lobby and watched transfixed along with the others as we witnessed our safe haven, America, become a violent target.
Instantly blown away was our sense of security and national well-being. The startling realization that we were vulnerable to enemy hostility here at home, anywhere, anytime, shook my husband and I to the core. To add to this terror, we had no idea who was responsible for such hatred and destruction.
Outside the lobby the startling beauty of the high mountain morning called our souls to another direction.
With our minds and hearts full of chaos, we left the lobby, the lodge, the lifeline of reporting and headed into the mountains. There we spent the next five days hiking, cocooned by the beauty of God's creation — contemplating the silent skies.
Joni Stoneberg is a Hidden Valley Lake resident and wife of St. Helena Star Editor Dave Stoneberg.
From the Editor: The moment everything changes
Early-morning phone calls have never been the same. When the phone rings before normal hours, I feel a little twinge of panic.
My wife and I had just moved to Los Angeles. I had quit a good job covering Congress and the White House and we had sold our townhouse in D.C., only three blocks from the Capitol. We were tired of Washington and longed for some adventure and a different way of life.
On Sept. 11 of 2001, my wife had gotten up very early to head for her new job at a hotel in Beverly Hills. I was catching a little last-minute sleep before getting up to start my own new job, as faculty adviser of the Poly Post, the student newspaper at Cal Poly Pomona. School was about to start, staff was furiously preparing, and the students were going to begin putting together the opening day edition on the 11th.
But around six that morning, my phone began to ring. I refused to answer.
I remember distinctly my irritation that someone was interrupting my sleep, and I can still call up the texture of the sheets as I indignantly turned over and ignored the calls.
After the third or fourth call, I decided maybe something important was happening. Turns out it was my wife and our family still back in Washington, telling me to turn on the TV.
I watched the towers burn, smoke rise from the Pentagon, and my mind reeled as I realized the security cordon around the evacuated Capitol building, where my old friends and colleagues in the Washington press corps were milling around helplessly, was almost right outside the front door of my old townhouse.
I would have been with them had this happened a few months earlier.
Through it all, I had a reaction that still sticks in my mind. I kept thinking, "It's not as big a deal as everyone says. Life will go on."
I was trying desperately to cling to the world as it had been just a few hours before. It was my way of keeping a grip, I guess, knowing I had to go to work and be strong for the students, who had to get a paper out no matter what happened elsewhere in the world.
To their credit, they all showed up and set to work. We would have finished that day had not the CSU chancellors decided to close all the campuses and send the staff home.
Driving back home along the I-10 freeway, I topped the hill at the east end of the LA Basin. I could see the city 30 miles away with the skies absolutely empty of aircraft, probably the first time anyone had seen that view in nearly a century.
The rest of the day is a blur of short snapshot memories as I put on my other professional hat, as a freelancer for Time magazine, while we prepared a special edition in the wake of the attacks.
I remember seeing people streaming out of the Westfield Mall in the suburb of West Covina and the discomfort of the management as they struggled to explain why they had decided to close and send all the customers home. They didn't have a good answer, really; as with so much that happened that day, it just seemed like the right thing to do.
I remember interviewing people in downtown LA. We'd all stop from time to time and glance up nervously at Library Tower, the tallest building west of the Mississippi, and wonder if it was our turn next.
The image fixed most clearly in my mind was a man standing on an overpass of I-5, holding a large American flag out over the highway. Although it was one of the busiest stretches of freeway in the nation, drivers were slowing and honking and waving. He couldn't explain exactly why he decided to come out, either; it just felt like something he needed to do.
Through that day, I slowly came to terms with the fact that the attacks would change our way of life and our way of seeing the world, though we couldn't tell how yet.
Now, a decade later, I am acutely aware of the power of a telephone call. Every time the phone rings at an unusual time, I now move immediately to answer it, but I hesitate just a second before picking it up.
I try to fix that moment of hesitation in my mind because I know I just might be living the last second of my old life, the last second before everything changes.
Sean Scully was editor of The Weekly Calistogan in 2011. He is now editor of the Napa Valley Register. You may reach him at 256-2246 or sscully@napanews.com.
Napa Valley Register, Sept. 11, 2001