Protest
Schools pause in Napa Valley to remember shooting victims, urge end to gun violence
The message on a busy Napa boulevard was one of force and determination – even with no words spoken.
"APPLES NOT AMMO," read one sign hoisted above a preteen's head as cars and trucks rolled down Jefferson Street. In the grasp of schoolmates were placards proclaiming "Books NOT Bullets," "#FedUp," "Make a change!" and "It Could've Been Us."
And on the opposite, east shoulder of the Hayes Street intersection, three boys unrolled a banner castigating those resisting tighter curbs on gun possession even after the shooting deaths of 17 high school students in Parkland, Florida exactly one month earlier – followed by the killing last Friday of three employees of The Pathway Home in Yountville, as well as an unborn baby, just 10 miles away from Napa.
Black ink on the brown paper proclaimed: "HOPES AND PRAYERS AREN'T ENOUGH!"
The demonstration by more than 75 students from the Blue Oak School was the most visible of several memorial events Wednesday morning during the National School Walkout. Other remembrances at the same time involved teenagers attending Napa and Vintage high schools, as well as privately owned Justin-Siena and secondary schools in American Canyon and St. Helena.
At thousands of schools across the U.S., students left their classrooms at 10 a.m. local time to stand or demonstrate against gun violence for 17 minutes, one minute for each student who was shot and killed Feb. 14 at Marjory Stoneman Douglas High School, reportedly by a 19-year-old former student who now faces capital murder charges.
"There are over 3,100 schools across the U.S. that are participating in these events," Dan Schwartz, head of the Blue Oak School, told students shortly before the short walk from their campus. "There are students and parents and teachers who are taking a stand against violence, especially from guns that don't belong in schools."
After some last-second instructions by Schwartz not to gesture or shout and to remain respectful to any hostile passers-by, the students set out 30 feet west to line both sides of Jefferson Street. Their quiet vigil would last 20 minutes, after the seventh-grade class had decided to add three more minutes to remember the Pathway workers shot dead by Albert Wong, a former program client who had been treated there for trauma from his Army service.
Even before all the Blue Oak children had taken their places on the sidewalk, the horn-honking of sympathetic Napans began. With some of the honks came a smile, a wave, even a man shouting "Yes!" from his car window.
News of the massacre in Florida had not immediately reached Blue Oak students such as Giulia Guerrera and Joshua Miles, eighth-graders who didn't learn of the attack until a few days afterward. But the shootings – and surviving classmates' determination to publicly campaign for greater school and gun safety – soon caught the attention of the young Napans.
"Honestly, I thought, 'Oh, another one!' because it's been happening for a while now," Guerrera, 13, said after the student walkout. "But I was inspired that the teens in Florida did something about it; I think they're why it's become as big a deal as it is. … Those people didn't only mourn; they also did what had to be done."
Students, parents and staff at the private K-8 school held two meetings to discuss how to mark the National School Walkout and settled on a sign-holding vigil by middle schoolers, with fourth- and fifth-graders observing and taking notes for an article to run in a student newspaper.
If there were any doubt why local teens should show their support for the Parkland survivors, said the 14-year-old Miles, the Yountville attack brought the issue of gun violence even closer to home.
"We wanted to get across that we care," he said. "There were more deaths near Napa, and we wanted to get across that it's just a national issue; it's also a Napa issue."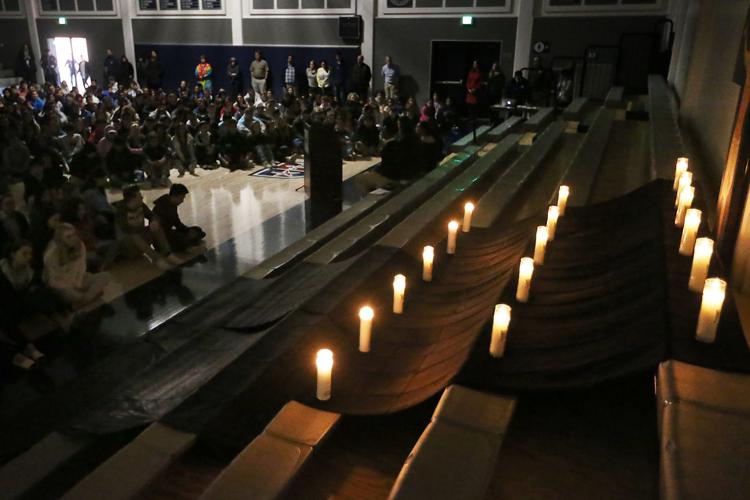 At Justin-Siena High School, faculty members prepared an on-campus "walk-to" directing students toward a ceremony inside a darkened Clark Gymnasium. The observance included readings of Bible passages, as well as the lighting of 17 candles and the ringing of a bell 17 times in remembrance of each Parkland student who died.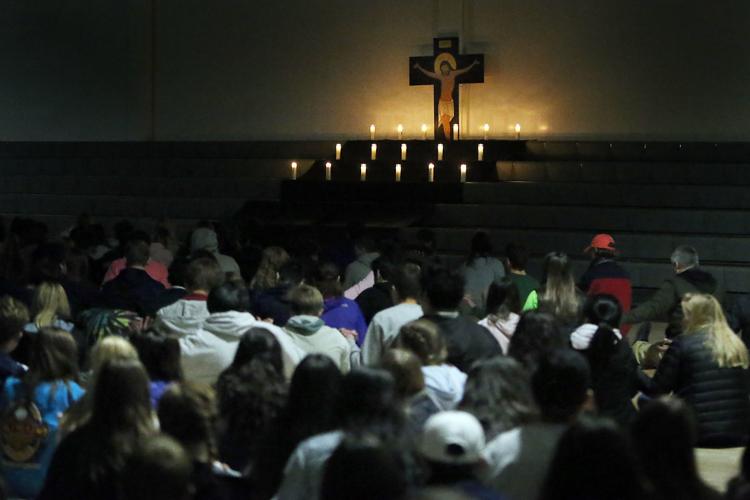 The remembrance at Vintage was scheduled to feature a letter-writing drive to send messages to Parkland victims' relatives and elected officials to offer support or suggest change, according to Principal Mike Pearson. In addition, a set of one-minute tributes to the 17 students who died in Florida were planned in the Vintage gym.
Napa High students also were to mark the event on campus with a ceremony in the outdoor quad, according to Principal Annie Petrie.
Carrying signs bearing the names of shooting victims and messages like "Stand in Solidarity," scores of St. Helena High students gathered under the flag in Rotary Field before heading out to the sidewalk along Highway 29. They chanted "Enough is enough" as passing drivers honked horns to signal their support.
"We're not necessarily going for gun control or against gun control," said freshman Ellie Aslanian. "We're just trying to show the students of Parkland and other school shootings that we're with them."
During the St. Helena walkout, a handful of students held a counter-demonstration, holding signs supporting the Second Amendment and opposing gun control.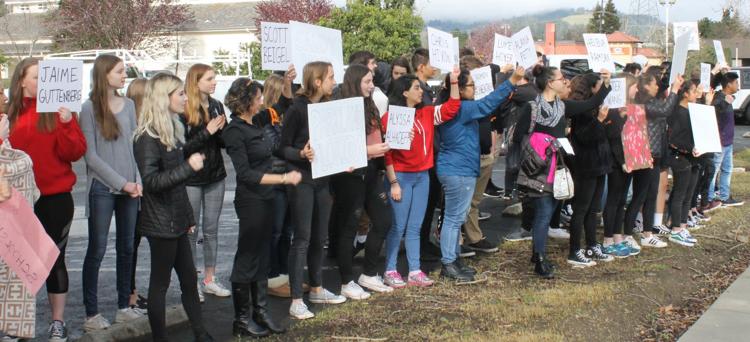 "The walkouts are for more gun control laws," said freshman Mike Henry, who was passing out copies of the Second Amendment. "But we believe that gun control is not the answer, and we need to have less gun laws because the bad guys aren't going to pay attention to any gun laws. All gun laws are doing is making it harder for the good guys to get guns."
Both American Canyon High School and American Canyon Middle School stopped classes around 10 a.m. to allow students to gather and share their reactions to the mass shooting at Parkland High School.
ACMS Principal Dan Scudero said his school adjusted its plans following last week's shooting at the Yountville Veterans Home, sensing the proximity of that tragedy, coupled with that of the Parkland high school required a different approach for his students.
"Originally we were going to have just a moment of silence to honor the 17 kids" in Florida," said Scudero on Wednesday. "But when the Yountville situation happened, I thought they were going to want to take some action."
Action was translated into written messages that students were encouraged to write out on 3x5 cards and share with others in school and by posting them on social media.
"Middle school students don't know yet how to exercise their voice," said Scudero. "So we wanted to find an applied and safe way to exercise a positive voice, whatever their message was — we didn't give them a message, it was their message" to share.
The school held a moment of silence, and Scudero read off the names of the 17 people killed in Florida with help from a student, Angelina Driscoll.
Driscoll took it upon herself to make a large poster with the names, ages and some biographical information about each of the Parkland victims. The poster was then hung up in the school library for visitors to see, along with many of the 3x5 cards that students penned.
At the bottom of her poster, Driscoll wrote: "Violence is not the answer. Show love. Spread love. Share love."
Another protest against gun violence is scheduled in Washington, D.C. on March 24, with organizers saying it is expected to draw hundreds of thousands. Historians have said the March for Our Lives demonstrations were shaping up to be one of the largest youth protests since the early 1970s, near the tail end of the Vietnam War.
With reports from Register photo editor J.L. Sousa, St. Helena Star reporter Jesse Duarte and The Associated Press.