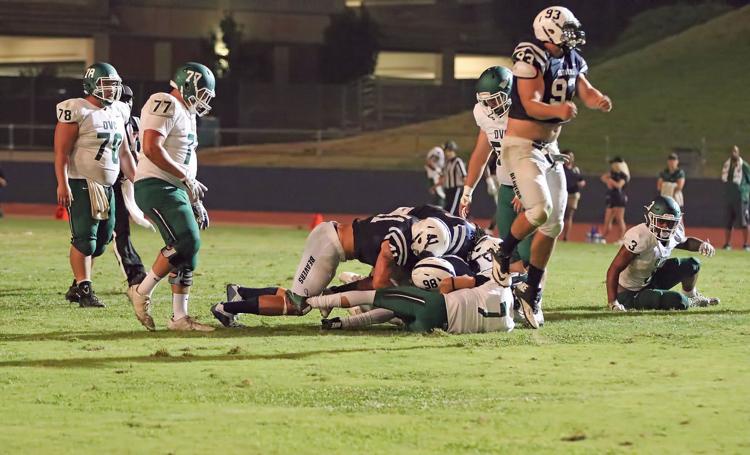 Former Vintage High School standout Caleb Tremblay is on his way to Los Angeles, to play football for USC, the Pac-12 Conference champion.
Tremblay signed a national letter-of-intent on Dec. 22 with USC and will transfer after starting for two years on the defensive line for American River College-Sacramento.
Trojans head coach Clay Helton and two assistant coaches visited with Tremblay in December.
"Overall, it was the best fit for me," Tremblay, 21, said last week. "For me, it's the tradition and the academics and the high level of football. The academic piece is really important."
Tremblay (6-foot-5, 270 pounds), who can play both defensive tackle and defensive end, will receive a full athletic scholarship to play for the Trojans. He is undecided on a major, but said he is considering business administration.
USC went 11-3 overall, beating Stanford in the Pac-12 championship game, 31-28, and losing to Ohio State on Friday in the Cotton Bowl Classic, 24-7.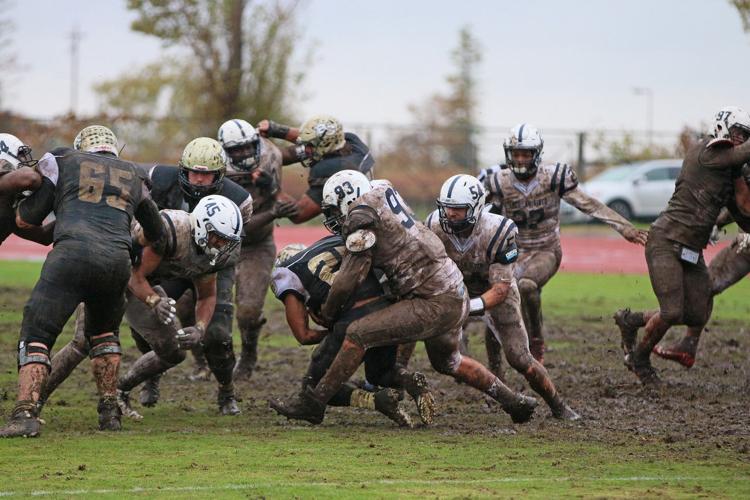 "It was one of the hardest decisions I've ever made in my life so far," said Tremblay, who is from Napa. "Every team tries to sell you on the school and tell you why it's the best fit for you."
Tremblay had offers from Alabama, Georgia, UC Berkeley, Iowa State, Oregon, UCLA, Washington, Washington State, Arizona, Colorado, San Diego State, New Mexico, UNLV, San Jose State, Kansas State, Purdue, Syracuse and the University of Central Florida.
He will have two years of eligibility with the Trojans.
Tremblay was named to the defensive line on the All-National-NorCal Conference team for American River, the conference champion this past season.
He was credited with five total tackles (one solo stop, four assisted stops) for American River (10-2 overall) as the host Beavers opened the California Community College Athletic Association Northern California Regional playoffs by beating Laney-Oakland, 41-35.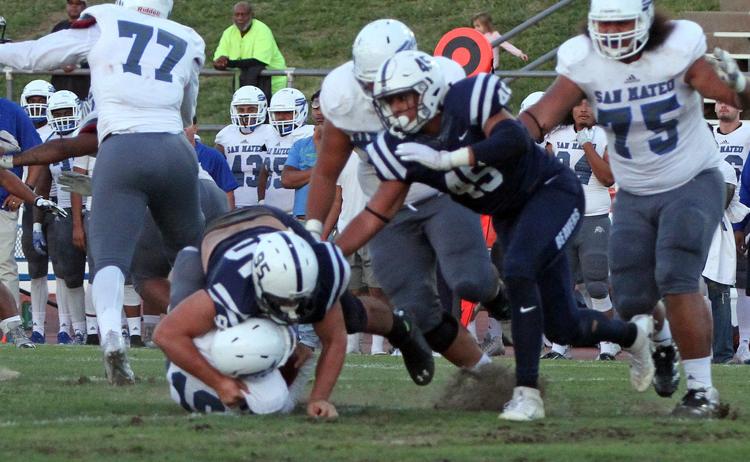 The College of San Mateo won the Northern California Football Conference title, beating American River, 24-21. Tremblay was credited with three total tackles (one solo stop, two assisted stops) for American River.
Tremblay is a 2014 Vintage High graduate. He was a team captain, named first-team All-Monticello Empire League defensive line and second-team at tight end in 2013 for the Crushers.
Tremblay made first-team All-MEL defense as a junior linebacker and was second-team tight end in 2012.
"Caleb is probably one of the best all-around athletes to participate at Vintage High School," said Dave Shipp, Tremblay's head football coach his junior year for the Crushers. "At the varsity level, he played football, basketball and track. I have no doubt that wrestling and baseball could have been added to the list if he would have had the time.
"I think the real positive aspect is that Caleb made the most of his natural talent to reach the level needed to be a Division I athlete. Obviously, there is a great work ethic that Caleb possesses along with other family members who also possess the same desire to achieve."
Tremblay is from a football family. Caleb's brother, Josh Tremblay, played on the offensive line at ARC and Fresno State. Their dad, John Tremblay, played defensive tackle at Portland State.
"It was a long process, going through JC football," said Caleb Tremblay. "But it's all paying off. I'm really excited. It's been a long time coming."
Tremblay did not play for two years following his graduation from Vintage and returned to the game after suffering an injury to his medial collateral ligament of the right knee.
"The blueprint of my success is the weight room," he said. "I had such a great time playing at ARC. I met some lifelong friends that I will be in touch with forever. I was around the greatest coaches. (Head) coach (Jon Osterhout) is one of the greatest coaches around, and our position coaches really developed me."
Tremblay will enroll as a junior for the spring semester and will start classes in January.
"I'm excited with what I'm going to learn and how I'm going to develop as a football player," he said in a telephone interview. "I'm just happy I have this opportunity. I'm going to do my best. I really like getting in the trenches. I'm all about football in everything I do."
USC announced Tremblay's signing on its website, usctrojans.com. Tremblay signed on the final day of the early signing period.
American River reached the California Community College Athletic Association championship game during the 2016 season, losing to Fullerton, 29-27, at Yorba Linda High School.
Tremblay had three total tackles and a sack resulting in a six-yard loss.
During the 2017 season, he was credited with 44 total tackles, 4.5 sacks, 9.5 tackles for loss, two forced fumbles and a pass broken up.
During the 2016 season, he had 30 total tackles, three sacks and 6.5 tackles for loss.
"He's a heck of a player," Osterhout said in a 2016 Napa Valley Register story. "He's a dominant force on the interior defensive line for us. Extremely explosive. He's a great hands player. His ability to rush the quarterback is probably what he does better than anything from the interior position. He's a force to be reckoned with.
"He's a grinder. He loves football. He's got sheer passion for the game. He works on his craft daily, trying to improve in practice. Ultimately, it's paid huge dividends in regards to how he's played on Saturdays.
"He's been around football his whole life and then he has really continued to evolve and develop. He's really a self-made man."