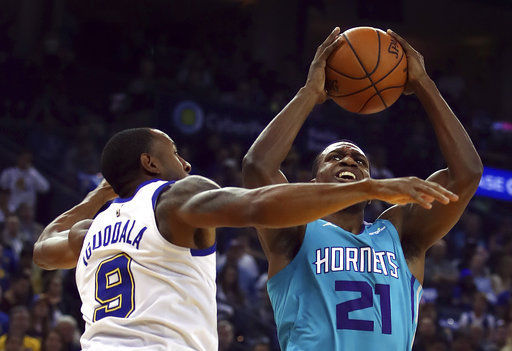 OAKLAND — Dwight Howard was so good Friday night against the defending NBA champs that acting Charlotte Hornets coach Stephen Silas rode him to the finish line of a 111-100 victory over the Golden State Warriors.
"He was great," Silas said after Howard scored a season-high 29 points. "I couldn't take him out in the second half."
The Hornets won just their third road game of the season.
"They've had a tough go this year," Warriors coach Steve Kerr said. "They came in and earned it. They took it to us."
Charlotte, beginning a four-game road trip, arrived with a 2-12 record away from home.
"To get this win here against this team the first game of the road trip means a lot," Silas said. "Hopefully, we can carry that forward."
Six Hornets players scored in double figures, led by Howard, who also had 12 rebounds and seven assists.
The veteran big man had his way inside, especially when the Warriors tried to defend him with rookie Jordan Bell, who was giving up two inches and 40 pounds. "Obviously, we didn't defend well in general," Kerr said. "Jordan was overpowered."
On the night before the Warriors expect Stephen Curry to return from his sprained right ankle, they lost for just the second time in their past 15 games. They are 9-2 without Curry.
"We've definitely been missing him," said Kevin Durant, who scored 27 points to lead the Warriors. "We're going to definitely be a different team when he comes back."
Klay Thompson scored 24, 13 of them in the first quarter. Draymond Green had eight points, 11 rebounds and tied his career high with 16 assists.
Kerr said the difference was an old story.
"Turnovers ... they got 32 points off our turnovers, 18 of them," he said. "What's discouraging is just so many of them feel careless and silly and pointless. Too many times we're going for the home run assist. We've got to just make simple passes and plays."
The league's best third-quarter team, Golden State trailed 79-75 after the Hornets outscored them 26-22 in the third. Two nights earlier, the Warriors scored 42 third-quarter points to bury the Utah Jazz.
"We're not going to do that every third quarter," Kerr said. "We didn't bring the juice."
It didn't get any better for the league's defending champs.
Golden State got no closer than three points in the fourth quarter, and Charlotte's lead reached 95-81 when Jeremy Lamb scored a layup off a feed from Howard to cap an 11-0 run with 6:30 left.
CURRY'S RETURN: Kerr stopped short of a definitive promise that two-time MVP Curry will return Saturday night against Memphis after missing 11 games with a right ankle sprain. "I would say most likely he'll play," Kerr said. "We had a talk with him and he was feeling good. So we'll see how he's feeling (Saturday) morning."