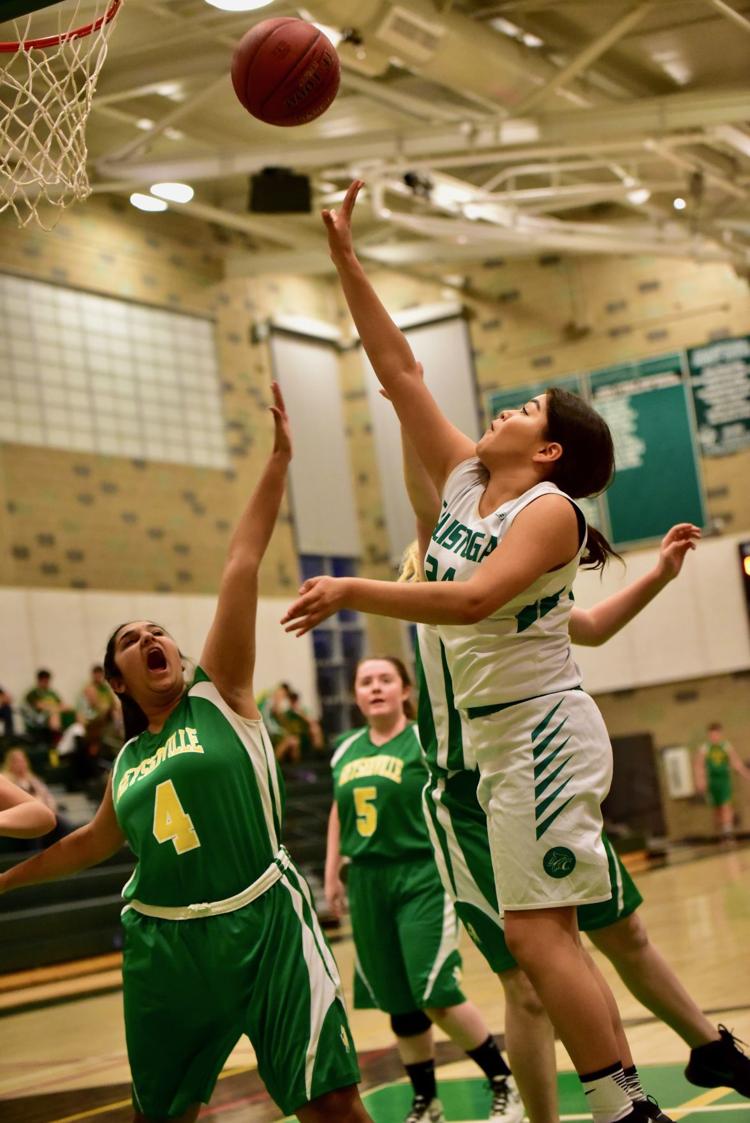 CALISTOGA – It's been a dominant season for the Calistoga High girls basketball team, and Friday night they inked their spot in the history books.
With a 62-6 rout of Geyserville, the Wildcats secured their 19th victory in the regular-season finale, breaking the school record for the most wins in a single season.
"Oh I love it," said Calistoga head coach Cesar "Shorty" Cruz. "From day one, I told (guard) Gilda (Rojas) … in four years, we're going to win the title. I didn't keep that promise, but we got 19 wins – a new school record. What's so cool about the girls is we've still got a long way to go. We can make a push to the section title."
On Wednesday the Wildcats (19-7), the seventh seed in the CIF North Coast Section Division 6 playoffs, will host No. 10 Tomales (13-9) at 7 p.m. The winner faces No. 2 Laytonville (22-3), this year's North Central League III champion, on Saturday.
It's been a year to remember for Calistoga, which has often operated at a faster speed than its peers. The Wildcats have won by an average of 31.3 points and scored 60 or more points on six occasions. Six is also the number of times they've held the opposition to 20 points or less.
While that might be an indictment on the competitiveness of NCL III basketball, Cruz and assistant coach Ray Particelli are more focused on the progression of the program from a team that used to claw for an even record and now hosts playoff games.
"Our execution is so much better," said Cruz, who is in his fourth year as coach of the girls team. "They've improved so much – basketball IQ. We just can't make the bunnies. But aside from that, our execution is fantastic. We get good looks … We're so proud. It's been a fantastic year and we can't wait (for the playoffs)."
For the coaching staff, making their "bunnies" will be ultimate determinant for a potential playoff run.
And considering how that impacted Calistoga's league title chase further underlines that fact. On Jan. 26, the Wildcats lost a home game to Laytonville, 47-40, and missed numerous layups and two-foot shot attempts over the course of the game.
Had they won, both teams would have been tied for first place with one loss, evening the title hunt over the final few weeks of the season.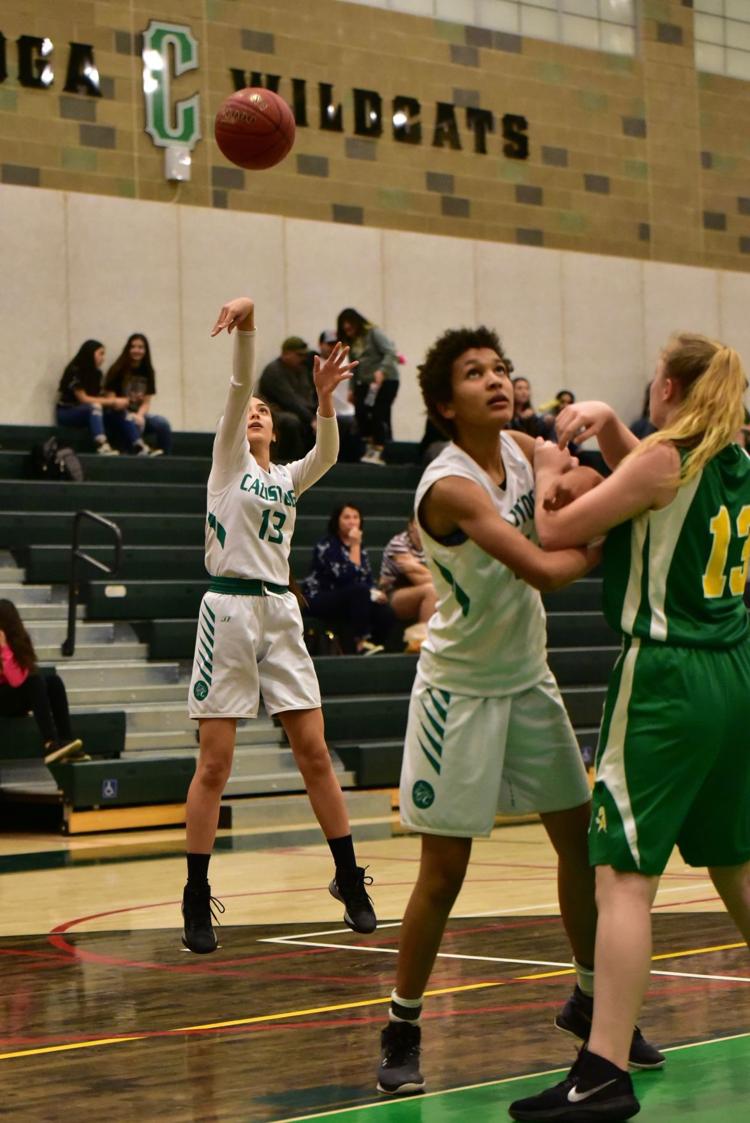 Two Fridays ago, Mendocino held on for a thrilling 36-35 win over the hosting Wildcats. Once again, multiple high-percentage looks were squandered and the home team allowed the Cardinals to climb to second and tie them in the final NCL III standings.
"Obviously it's a mental game," Cruz said. "They just (need to) relax and let the game come to them. I think that's a big thing. I think they put a lot of pressure on themselves.
"Ray does a great job – he never yells at them, is always positive. I'm the one that yells and screams, but at the same time, at the end of the day, we let them know how good they are. We let them know it's not their fault their missing their layups. It's part of the game. It goes in one day and, the next day, (it doesn't). They understand what they're capable of. We make our bunnies and our free throws, section title."
Much of that confidence comes from having a dynamic player like Rojas, the team's lone senior who recently surpassed 1,000 career points and fills up the stat sheet on a nightly basis. In Friday's win over Geyserville, she finished with 19 points, seven rebounds, seven assists and four steals despite seeing limited minutes because of the blowout.
Cruz is expecting big things from last year's All-County Offensive Player of the Year in her final stretch as a prep basketball player.
"You lead the way. Put us on your back," he recalled from a recent conversation with Rojas. "She has to have a big game and, like she says too, 'We've got to play as a team. Not just me but everybody.' She puts herself high and she's very hard on herself. She understands, when she misses her layups or two-pointers, she understands."
Calistoga boasts a versatile roster with guards that crash the boards for rebounds and forwards that can stretch the floor and make jump shots.
That was on display in their league finale, as the sophomore trio of forward Laila Elkeshen (11 points, two rebounds, two steals, block), point guard Lizbet Escobedo (two points, seven rebounds, five assists, three steals) and forward Hayseel Barrera (seven points, three rebounds, two assists, block) imposed their will on the winless Broncos.
If the Wildcats can duplicate that performance and reduce the number of missed layups they've had in key games this season, Cruz might see his team actualize the playoff run he's been visualizing since the season began.
"The sky is the limit for us," he said. "We don't (want) … to be one and out."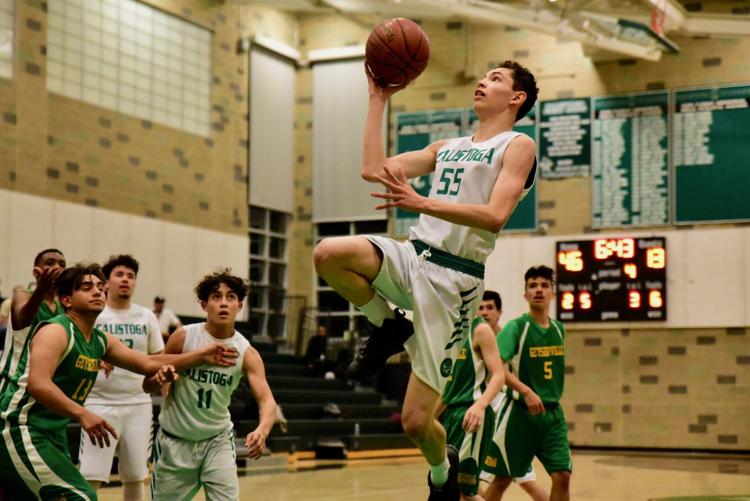 Best three-win team in the league
The Wildcats boys team had a much tougher campaign.
Academic ineligibilities and commitment issues forced multiple players out of the program early in the season. What was left, however, was a dedicated group that showed up every day no matter how badly they were losing.
"They want to work," Cruz said. "They've gotten so much better, just basketball IQ. I mean Dayton (Yellowtail) couldn't make a layup and now he understands the game. Robert (Romero), he looked good – he looked like an athlete. Ruben (Duenas), Eddie (Sandoval), I can go down the line. They just improved so much and I'm so proud of them."
That improvement showed in a 53-34 win against Geyserville on senior night Friday.
Romero, the team's 6-foot-4 center, finished with a game-high 19 points on 7 of 8 shooting, and had five rebounds and two steals.
Senior forward Pablo Escalante, the only senior dressed out since guard Alexis Cortez was out with a dislocated knee, was the other leading scorer with 13 points (two 3-pointers), six rebounds and two assists.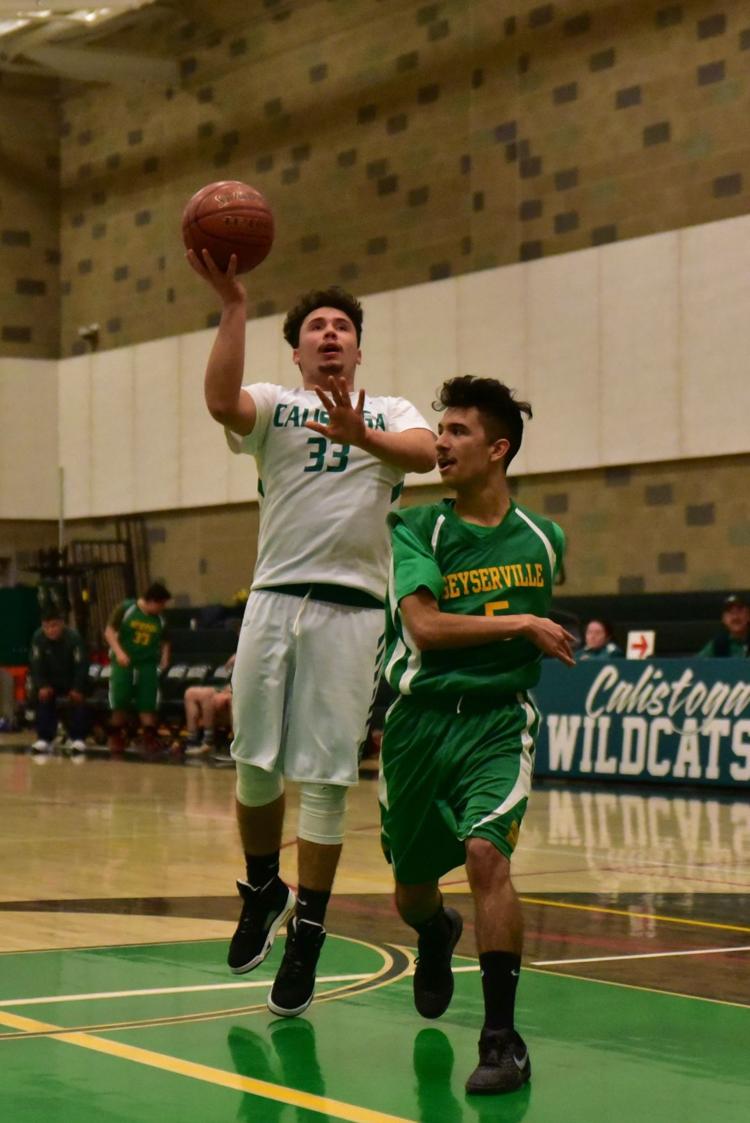 "Our team hasn't had many 'W's' but it's good to get a win leaving," Escalante said.
In addition to the season-ending win, for Cruz, the other mark of improvement was the number of competitive games down the stretch. He pointed to the season series against second-place Mendocino, which won the first meeting by 46 points. In the second game, Calistoga lost by 17.
He admitted he was surprised by the team's resiliency and how quickly it flushed each loss. Despite winning only three games, he said it was a "fun" year growing with this group of players.
"That's what I told them every day – let's be the best 1-13 team (or whatever our record is), and let's go upset people," said Cruz.
Naturally, that type of mindset each day led to a character-driven outlook when the season was finally finished.
"That's what's important," Escalante said. "(Cruz) doesn't want us just to win; he wants us to become young men with the game of basketball."