The newfound success of the Vintage High boys basketball team this year, according to seniors Davis Chandler and David Fernandez, has everything to do with first-year head coach Rob Johnson.
"It's really fun playing for Vintage this year," Chandler said before a practice early last week. "Last year, we had no team chemistry. One thing Rob does that is big for me is something we call 'the circle.' Before every game, we link up and hold hands, because this is 'our circle,' this is our family. It's symbolic of the fact we'll always be there for each other. It's such a small thing, but it means a lot. When he talks, you can see it means a lot to him as well."
Fernandez agreed things are much different this year for the Crushers, who will take 11-14 overall and 3-6 Monticello Empire League records into their season finale Tuesday night at Armijo.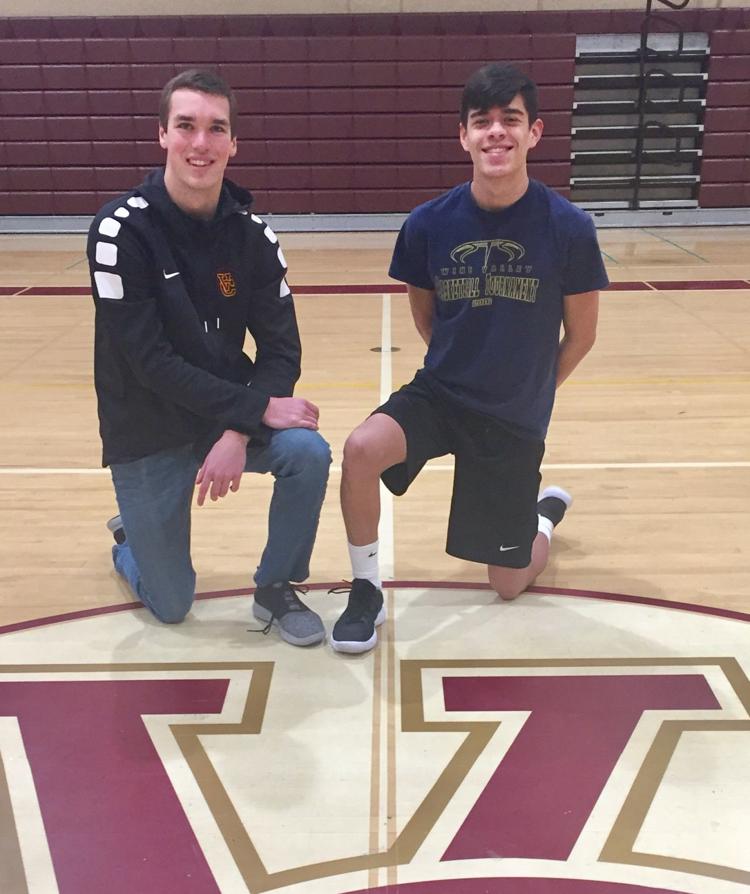 "Obviously, last year was kind of rough playing for a team that only won five games," admitted Fernandez, whose team was 0-10 in MEL play. "This year, it's changed a lot. We've already doubled our wins from last year. Coach Rob has made it so much more fun. You can tell that he really cares, not just about basketball. He wants the best for us in every aspect of our lives, including school and family."
Added Davis, "One thing he has taught us that makes a big difference is the mindset of 'next play.' That's big. In my family, we've always said just worry about things you can control. With Coach Rob, 'next play' is his whole mantra. If something happens on the floor, or the ref makes a bad call, it doesn't matter – 'next play,' it's time to move forward. That's huge. He's also talking about life, not just basketball. You make a bad play, just brush it off."
Davis said Johnson also treats players in a positive way.
"Coach Rob never says you did this or that wrong. He says, 'This is what you could or should have done.' He's very calm," he said. "We play other teams where you see the coaches losing their minds and you can see their players hate it. I've never heard Coach Rob yell. Nothing's worse than a coach that berates you during a game. It's terrible."
"It's hard when you feel you're being punished for every little thing you do wrong," he said. "But now, I have so much confidence that if I miss a shot, it's OK, the next shot is going to go down. So the bad games I've had this year, they don't even seem like bad games because our coach is always there to give you that extra confidence you need. He is so calm throughout the whole game, which helps a lot. If a coach is really critical of you, it makes you play scared, and you are afraid to do things that you would normally do."
Davis hasn't always had a love for the game.
"At first, basketball started as just a hobby to fill the time," he said. "My parents have always said, 'You have to do at least one sport; it doesn't matter what it is, as long as you do a sport.' They wanted me to stay active, not sit at home doing nothing all day. So I chose basketball. About halfway through my freshman year, it became something more. I thought, 'This is my team; it's time to go.' Having only two more games is rough. This is the end of the road for me, and I'm not ready to be done."
Fernandez, on the other hand, has been a basketball nut all the way.
"I always loved basketball. I've been playing since I was 6 or 7, so coming into high school I knew I was going to be playing basketball, and that was the only sport I was going to be playing," he said. "Basketball is a big part of my life and it's been super fun this year. I watch as much basketball as I can when I am not playing."
Chandler knows his role on this year's team, and it's not to be a scorer.
"I am less of a scorer than I've ever been this year, but I'd say I'm one of the leaders on this team," he said. "My favorite shot is a little turnaround jumper off the right block, cut from the baseline and pull up. And that pass comes from David every time. I have to be moving when I shoot; it's the only shot I ever practice."
Chandler said Johnson simplifies things when it comes to roles.
"Our coach says there are three types of players on our team: there are shooters, defensive players and energy guys," he said. "Energy is what I feel I bring to the team. That's my role."
Fernandez knows his job is to put the biscuit in the basket.
"My role is a shooter, I try to get the team going," he said. "I like to shoot the threes, a lot of threes. It gives our team some energy and confidence when I go out there and hit a couple of threes in a row. I like the corners a lot. Teams have a hard time being physical with me because I just kind of slither, and I'm hard to catch. On defense, I've been trying to improve because that used to be the weakest part of my game. I usually guard the other team's shooter."
Off the court, both players lead relatively normal lives for teenage boys in the Wine Country.
"School is my focus off the court now, but I hang out with my boys every weekend," Chandler shared. "Friends and family are a big part of my life, but also music; I play the violin. My life is nothing too out of the ordinary, pretty typical. We do team bonding occasionally, and it's always a lot of fun. We'll go to the coach's house, or a teammate's house, and hang out for a few hours."
Said Fernandez, "Napa's a small town, but I like it. Life is beautiful here. It's always good weather. You can go out and do whatever you want and you feel safe."
Both players are going on to college after graduation this year.
"My goal is to go to UC Santa Barbara. It's a high goal, but I have high hopes," said Davis, who carries a 4.3 GPA and plans to major in biochemistry. "I've toured the school and it just feels right. It's beautiful."
Fernandez said he will go the less expensive route initially.
"I'm going to go to the junior college first – UCSB is also a school I'm looking into for later. I hear they have a great kinesiology program," he said. "I started taking school more seriously this year, and last semester I got my first 4.0."