St. Helena High Swimming Outlook
Deep, tight-knit St. Helena High swim team looks to keep dynasty alive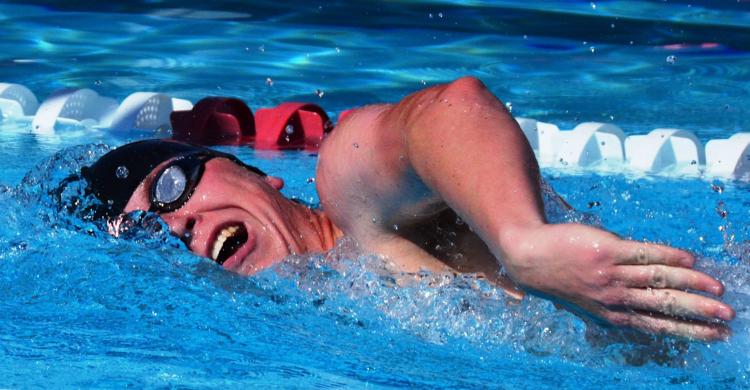 There's no way else to say it – St. Helena High has built a dynasty in swimming.
Since joining the Coastal Mountain Conference for swimming before the 2015 season, no program in the league has been more dominant than the Saints. The girls, for example, have never lost a CMC dual meet and won three straight championships with a potential four-peat on the table. The boys have been a constant contender, and last year earned a share of their first championship with rival Technology.
Whether it's the product of an exceptional swimming complex, the year-round feeder program Waves Aquatics, led by Saints head coach Kevin Twohey – or a combination of both – something is certainly in the water in St. Helena and it knows nothing but success.
"These girls haven't lost. That's a statement in itself," Twohey said last week. "And that's their goal, it's been there goal, and they don't want to lose in four years. That's amazing. It's hard to put that in words.
"The guys, they tasted it last year and they know. They're after it this year and they're getting after these teams. Like with Tech last week, they put a beat down on them and that was good for their confidence."
Twohey alluded to a 104-54 dual meet victory in Rohnert Park on March 22. Against Tech, the Saints boys (4-0) won all but two individual races and swept every single relay, making a statement against the perennial power ahead of the CMC championship meet in St. Helena on April 27.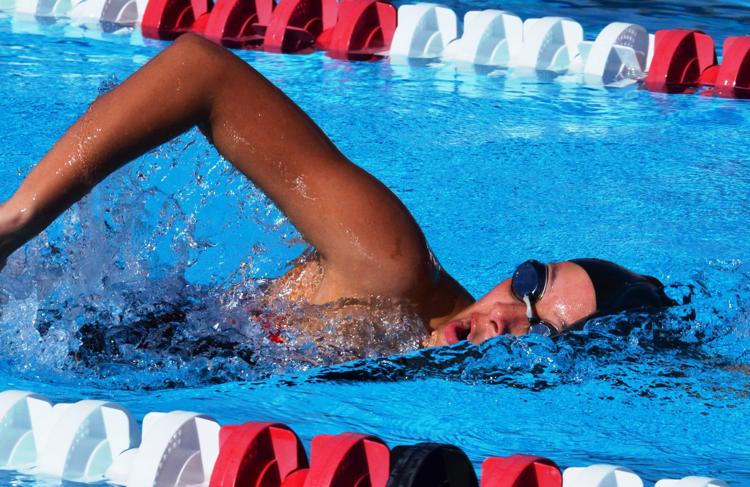 Senior captain Connor Ivanoff, a lifelong swimmer and Waves alum, believes the influx of youth last year and the depth this year could very well lead to the first outright CMC title for the boys.
"This is the year," he said.
Depth really makes a difference in a sport like swimming where quantity sometimes trumps quality. In the past, St. Helena may have been in the mix for first in a race, but they'd score fewer points because larger programs could fill out more lanes and put more numbers on the scoreboard by simply showing up.
"If you just finish, you get points," Ivanoff explained. "We haven't always had that in years past, and that's where we struggled with Tech. Our top swimmers could always compete but we just didn't have enough people to fill the lanes. So that really helps this year."
More than anything, though, it's the mindset of this group that gives Ivanoff, captain of the boys' side, confidence about this year's potential.
"They just like to work," he said. "Last year, or in years past, we've had super energetic teams that like to cheer and have the spirit. This group doesn't have that spirit – which I'd like to see more of – but they definitely show up and work, which is just as important if not more important. It's what's going to win our first league title hopefully. Whatever works, works."
The girls (4-0) are led by senior captain Maddie Gardner, a backstroke specialist that came up with Ivanoff and many others in Waves. The youth program practices after the high school team since both share the aquatic complex, and that's meant watching the older swimmers is part of the experience.
For her, to have a chance to close the book on an unbeaten prep career is a special opportunity.
"It would be amazing," Gardner said. "I've been swimming with Connor our whole lives, and some of these girls since we were little, little kids. When we would swim with Waves, we would see the high school kids swimming. And now to be on high school and have a chance to do what none of them were able to do before would be amazing."

The championship pedigree of the Saints is starting to make waves around the campus, too. This year the team has more brand new swimmers than previous seasons, indicating a broader appeal for not just the sport, but what this program, specifically, has to offer.
That's also led to a different culture within the ranks, Twohey said. The Saints held team-building sessions early in the year to help everyone get acquainted. The seniors have been seeking out the newcomers often, taking an active role in their development so the learning curve gets easier and the program can maintain its position at the top.
"In previous years I haven't known the names of everyone on the team," Gardner said. "But this year, I know everybody on the team and I know a little bit about them. So it's really made me feel a lot more like I'm a part of the team than just like a part of the little group that I've been swimming with my whole life."
The senior class features Clare Brawdy, Madeline Isabelle David, Janelle Dominguez, Gavin Drumm, Anna Gabriel, Jose Garcia Perez, Gardner, Brooke Hollister, Ivanoff, Sophia Lee and Sierra Spain.
The juniors are Francis Aquilina, Amelia Heitz, Anais Laly, Brooke Osborne, Thalia Osborne and Cassidy Valdez.
In the sophomore class are Larkin Dewyer, Benjamin Gardner, Anne Haynie-Gullung, Rowan Knight, Graciela Lopez, Erik Martinez Alcala, Emma Pierce, Jennifer Sanchez Ortiz and Holden Smith.
The freshmen are Olivia Andersen, Joseph Brawdy, Elizabeth Dunnington, Reid Ivanoff, Summer Krell, William Pakter, Alberto Rios, Megan Schweiger, Isabella Spain and Sharon Lagunas.
It's a 36-person roster that Maddie Gardner said can compete across the board and win every single event when race day rolls around.
With numbers like that and skill to boast, the Saints may end up celebrating like never before when the relays end on the last Friday in April.
"I don't actually think we have any weak links with any of our events … everyone has a stroke or an event that they're just not that good at," she said. "But because we have such a strong, really big team, even if some swimmers aren't the best at it, we have at least one swimmer who's really good at that event or that stroke … I don't really think we're weak anywhere."
St. Helena hosts Vintage in a nonleague meet at 4 p.m. Thursday.
On Saturday, the Saints will get a chance to bond with other Valley teams during the annual Shannon Nicole Lemieux Memorial Aquatlcs Day, which is from 11 a.m. to 3 p.m. at Vintage.