One really couldn't ask more from a high school basketball game than Friday's Monticello Empire League opener at Messner Gym, where the home-standing Napa High boys mounted a furious fourth-quarter comeback to nip Rodriguez, 55-53.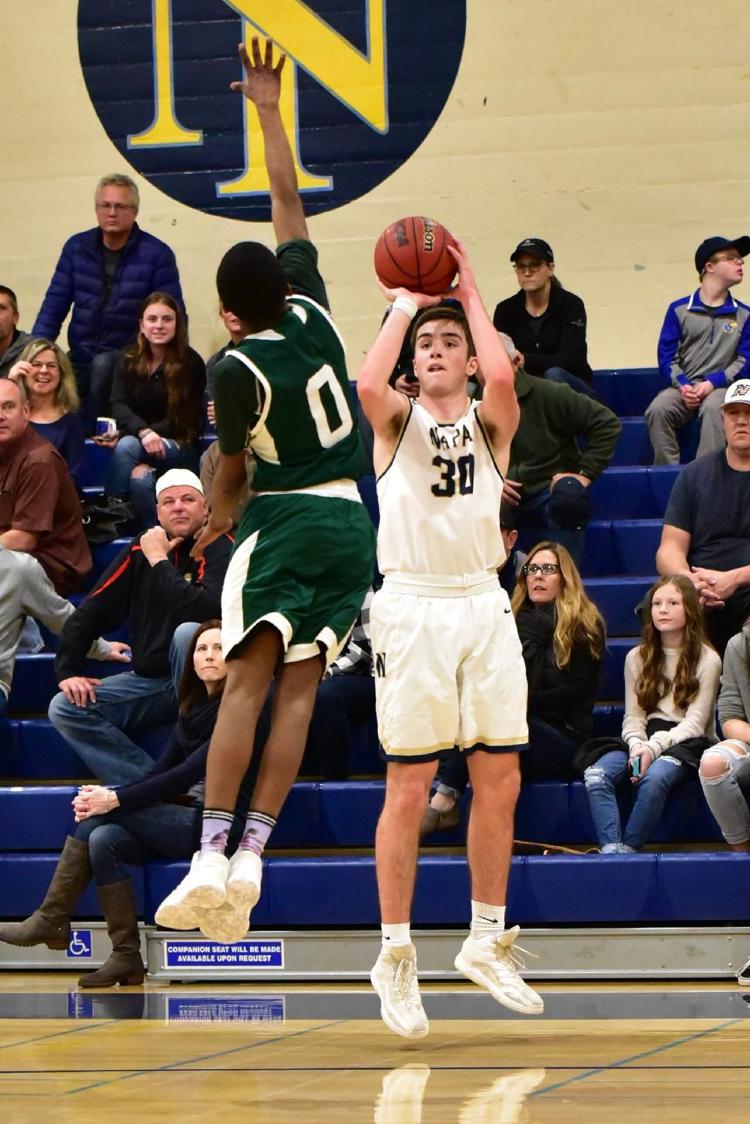 "I'm really proud of our guys," said the Indians' relieved head coach, Zack Cook. "They kept grinding and chipping away despite a poor first three quarters."
Napa captain Joe Carnazola led the way for the Indians with 24 points, and appropriately, made two free throws to give them the lead as the final seconds ticked away.
"We drew up a nice play at the end," explained Cook, "and Steven (Blume) did a nice job of hitting Joe (Carnazola) back door and getting him to the line."
Carnazola had hit the winning layup to beat visiting Bethel a week before, 45-44, avenging a 46-43 loss to the Jaguars in the third-place game of the Wine Valley Tournament.
"We won a game just like this against Bethel earlier in the year, so we felt like we could pull it out," said Carnazola.
The Indians (8-10 overall) had lost since then to two more Solano County Athletic Conference teams, Benicia and Vallejo, but are 1-0 in the MEL for the first time since 2015.
"We haven't won a league opener in years," Cook admitted, "but it's great to be tied for first place. I don't care if it's 1-0. There's a lot of parity in our league. I imagine there will be a lot of games like this."
Carnazola, a humble senior forward, described the game as "a great team win" despite virtually shouldering the load for Napa in several stretches, including crunch time.
"He's carried us many games," agreed Cook. "Joe has been awesome all year. He rebounds, he scores, he handles the ball, and he's very poised. That rebound at the end, where they were trying to tie the game and he had five guys all over him, and somehow he got out of there, that was amazing."
Carnazola said the key at the end was being aggressive.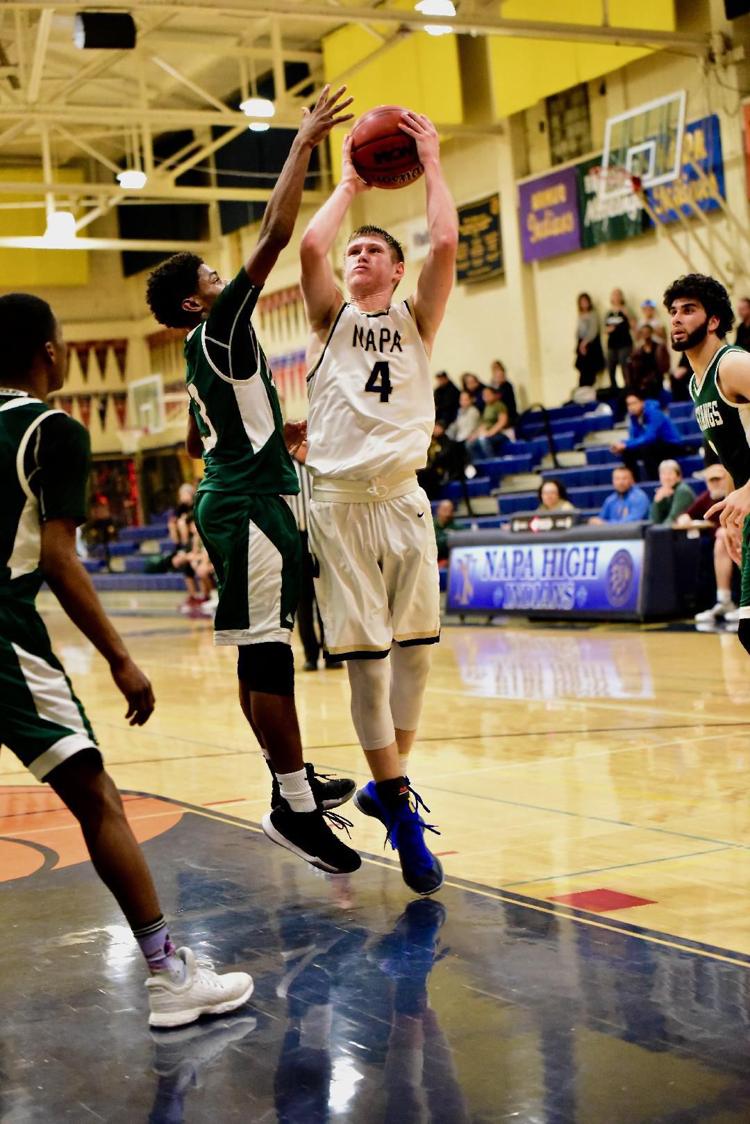 "The refs weren't going to call anything at that point with the game on the line," he observed. "They were going to let us play it out."
Even though the Indians had a two-point lead, the game wasn't decided until the final seconds, when Napa forward Charles Gravett, battling under his own basket, tipped a rebound out to Blume at the top of the key and denied Rodriguez a final shot.
"Charles does a lot of little things that don't show up in the stats," Cook said.
Point guard Blume chipped in 10 points
"That was a stressful game," he said. "We were down nine at halftime, but we kept coming back. It felt good to get the win."
The game began with the speedy Mustangs outhustling and outworking the taller Napa squad and roaring out to a 19-6 lead. The Indians looked frazzled, as many baskets had come from their turnovers.
Brock Bowers made a nice bank shot at the buzzer to cut the Rodriguez lead to 19-8, and Carnazola and Blume scored during the first two minutes of the second quarter to make it 21-12. But Rodriguez refused to give in, keeping the lead around 10 for the rest of the quarter. Carnazola rifled a nice pass to center Mitch Hippauf for a nice bucket at the horn to get deficit back to single digits, 31-22, by halftime.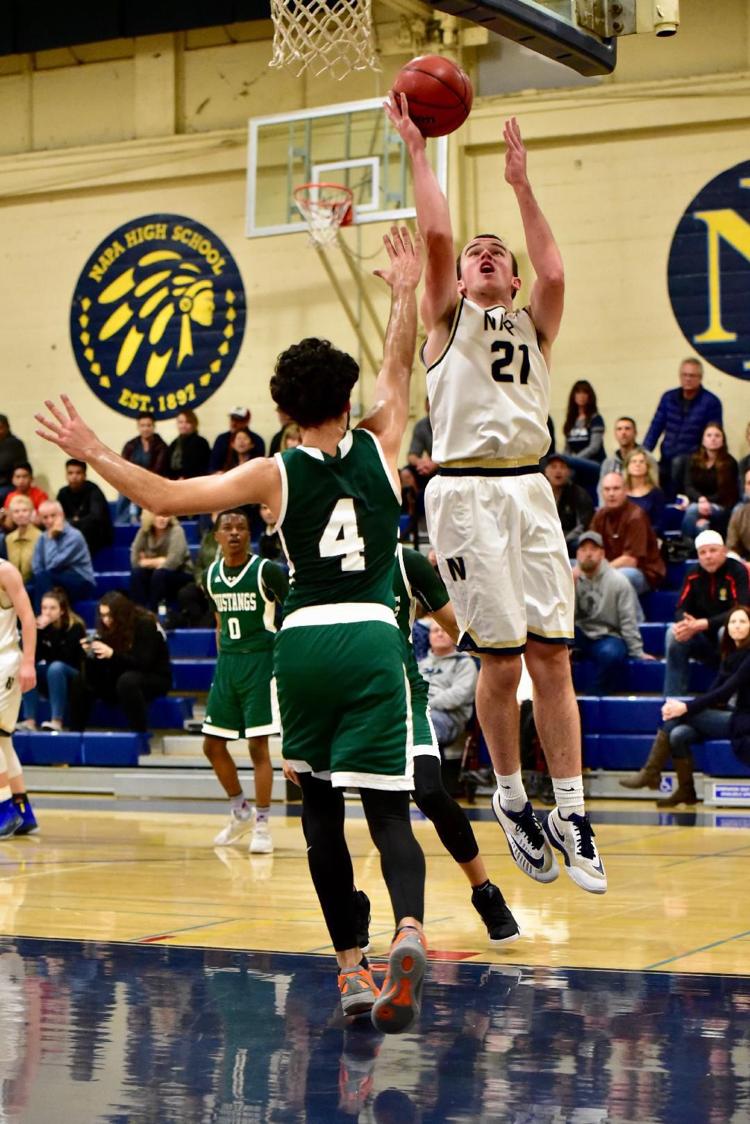 While the teams retreated to their respective dressing rooms, Napa High's award winning Spiritleaders treated the crowd to a performance that made one feel they were on Broadway watching a performance by the Rockettes. Definitely worth the price of admission for many.
The Indians' performance improved once Cook switched to a zone defense in the second half.
"I had noticed when scouting them teams had some success with zone," he said, "and we needed to change things up."
When Sammy Morales made a nice spinning shot to open the second-half scoring, it looked like Napa was poised to make a run.
Rodriguez didn't panic and kept the Indians at bay until they began shooting long-range shots and relying on their size advantage for second chances. A Carnazola bank shot cut the Mustangs' lead to six with six minutes to go, and his free throw trimmed the lead further to five shortly thereafter.
After a Rodriguez 3-point shot, a nice tip-in by Morales kept the Indians in touch at 35-29. Clever shots by Carnazola and Vince O'Kelley brought Napa to within five again as the quarter neared its end, but a backbreaking three at the buzzer gave Rodriguez a 43-35 lead at the three-quarter time.
It was do or die time for Napa as the fourth quarter began, but it was Rodriguez that made a strong opening statement – with another killer 3-pointer for a 46-35 lead with just seven minutes to go.
Then the Indians began a comeback for the ages.
Carnazola hit two important free throws chop the lead to 46-37. A soft Morales jumper, on a sweet feed from Hippauf, cut the margin to seven. After Bowers drained a tough jumper to make it 46-41 with 5:30 to go, the Indians were feeling it. A Bowers turnaround jumper found the bottom of the net and further reduced the lead, to 46-43 with 4:15 left.
A rare fast break basket by Blume cut the lead to a single point with three minutes to play and the crowd was up and roaring. A tip-in attempt by Hippauf, which would have given the Indians their first lead, tantalizingly hung on the rim but fell off. Rodriguez seized the opportunity and made another 3-point play that extended its lead to four with 2:10 to go.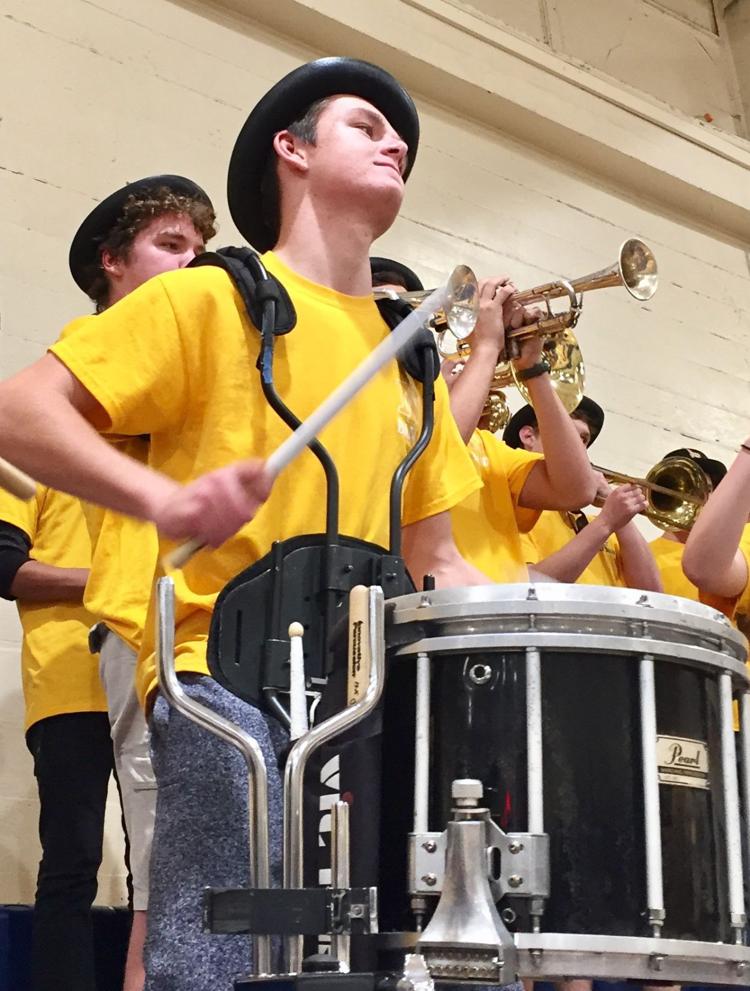 But there was no quit in Napa this night. Two Carnazola free throws brought Napa back to within two with 1:58 to go, and then Blume tied the game 51-51 with a running layup at 1:20.
The Mustangs had a big chance when sparkplug Darion Johnson was fouled hard with just under a minute to play. He was bleeding heavily from a blow to the mouth and was sent to the locker room, however, unable to shoot his one-and-one. Emergency substitute Aaron Brown came in cold and missed the front end, allowing Hippauf to take a strong rebound. Napa threw the ball away and the Mustangs again took the lead, before Blume made a nifty finger roll in the key to again tie the game, 53-53, with just over 30 seconds to go.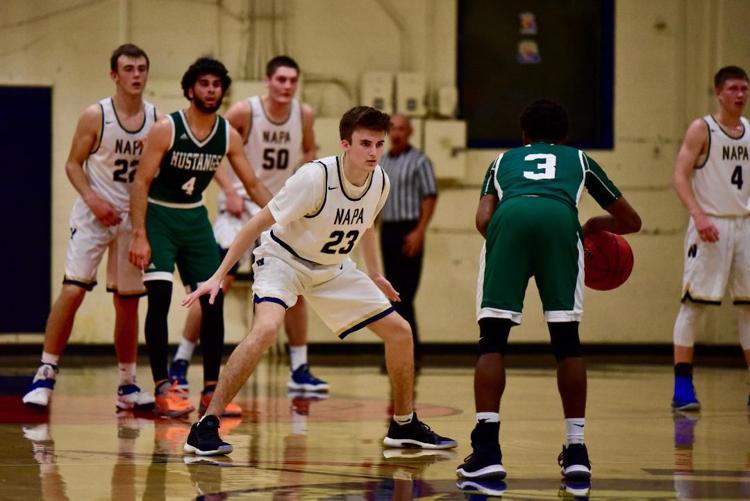 The Indians, playing desperately on defense, forced a Rodriguez turnover to get a chance to hold for the final shot with 25 seconds left. But Napa was in attack mode, not playing for a tie. Carnazola slashed to the basket and was fouled, canning both shots from the charity stripe to seal the improbable victory.
Cook, exhausted but very upbeat after the game, said, "I definitely think we have a chance to make the playoffs."
Rodriguez head coach Nathaniel Rankin was stoic in defeat.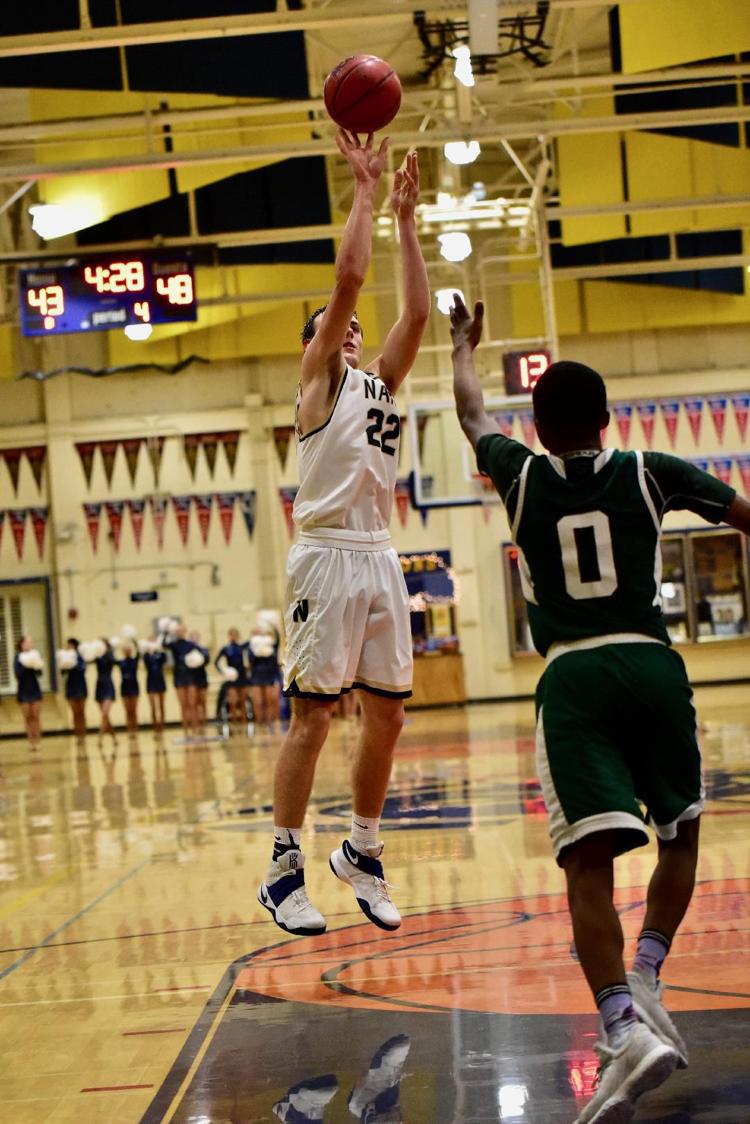 "You have to finish," he observed with a smile.
Carnazola led the home side with 24 points, Blume added 10, Morales and Bowers had six each, Hippauf had four, Gravett added three, and O'Kelley notched two.
Napa next visits Vacaville, which dominated Armijo 82-40 in its MEL opener, at 7 p.m. Tuesday.
"It's going to be another tough one," Cook predicted.
Napa JV 57, Rodriguez 29
The Indians started off league play with a strong performance Friday night, whipping the visiting Mustangs at Messner Gym.
Napa came out of blocks quickly, with Logan Van Zandt and Brayden Greenlee setting the tone by scoring the Indians' first eight points. Greenlee scored the game's first 3-pointer at the end of the opening quarter for a commanding 15-6 lead.
The second quarter was more of the same, with Napa's football quarterback Isaiah Newton making his presence felt. The sophomore scored a pretty opening bucket and entertained the crowd by rocketing passes all over the court with his strong left arm.
Lucas Brandon impressed with a nice spinning jumper and Tony Gonzalez added another bucket, thanks to a high-velocity assist from Newton. Rodriguez hit three buckets from long range in the quarter, but Napa still led by 14 at halftime, 31-17.
The second half was all Napa, with Jack Hunter drilling three 3-pointers from downtown. Joe LaLiberte closed out the scoring on a nice driving layup. Van Zandt led the Indians with 12 points and 10 rebounds, while Hunter added nine, all on long-range bombs.