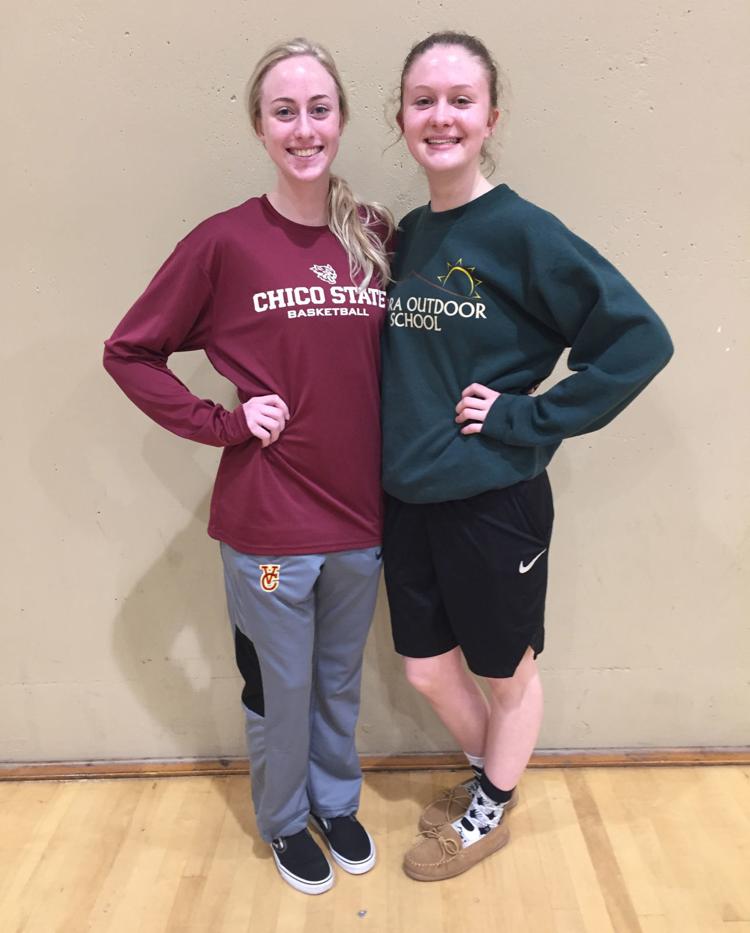 Equally at home in fancy dresses or Vintage girls basketball uniforms, both senior captain Bailey Loban and top-scoring junior Alyssa Andrews are having a year to remember.
At a practice last week, they were not only trying to stay atop the Monticello Empire League but also looking forward to last Saturday's popular girls-ask-boys Turnabout Dance.
Loban had picked out her dress a month before.
"I'm stoked for Turnabout," she said. "I have a pink dress that I got like New Year's Day. I have a boyfriend so it wasn't weird asking him. I got him a little invitation with his favorite In-N-Out order that said 'Are you In or Out for Turnabout?'"
Andrews said she likes wearing makeup and was looking forward to the dance.
"Turnabout is fun because we get to shock the boys," she said, "and show them what it's like to have the pressure of whether you will get asked or not."
Tied for first place with Wood and Rodriguez, Vintage (16-9, 6-2 MEL) will visit crosstown rival Napa High (4-4 MEL) at 7 p.m. Friday for a rematch of last month's 50-48 Crushers victory. A win Friday or in Tuesday's Senior Night game against last-place Armijo will clinch Vintage its first playoff berth in 11 years.
"The MEL is a fun league, but Napa is definitely the most fun team to play because the whole town gets involved," Loban said. "I have a lot of friends on that team and they see us as a big rival."
"Napa probably sees us as their biggest rival because of the hometown rivalry," she said. "But everyone probably is gunning for us now because we're in first place. We really like to push the ball, we're all in pretty good shape and we're pretty fast, so we like to throw the ball out and run the other team out of the gym."
Both girls agree that the whole basketball scene at Vintage changed when head coach Joe Donohoe came on board a year ago.
"I really like Coach Donohoe, and how he turned the program around," said Loban. "My freshman year, I was on varsity and we might have won four games maybe, including preseason. Now, we won the Big Game last year and this year, and at the moment we're tied for first place in the league. It feels really good. I really like this team and how we all play together."
Donohoe is a lifelong Napa resident who came in with many years of coaching experience at younger levels, but these two seasons have been his first as a high school head coach.
"When Joe first came, I was a little unsure about him," Loban said. "I have had four coaches since I started playing here. I've had a lot of different styles and stuff, so I was a little bit skeptical. But then he completely changed the program. We started winning a bunch of games, the chemistry on the team got better, people were coming to our games, people knew us, teams were afraid of us. It was just a completely different environment than when I first started."
Andrews likes that there are so many more fans at games now.
"The crowds and the excitement are like nothing I've ever seen before, especially at the Big Game," she said. "Personally, I think I play better with a big crowd. Our coach has a lot of energy and lot of faith in the team and that's really reassuring, and he is a really funny guy. We have a routine where every game I bring him a lucky chicken tender that I get at a certain store and he thinks it's our good luck charm now. He says he has to have it before every game or we're not going to win.
"I really like the chemistry on this team. It's very competitive. We're determined to finish on top this year."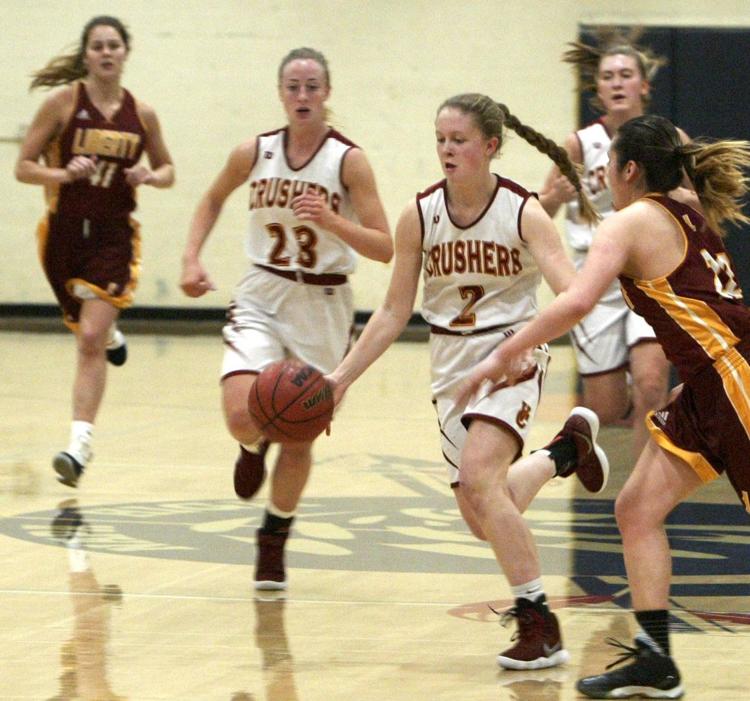 Andrews said she doesn't feel uncomfortable being the Crushers' leading scorer most games. She even led Vintage to victory in last month's Big Game with 24 points.
"I don't feel like I necessarily have extra pressure being the scoring leader," she said. "All of my teammates like to finish at the basket and they're all good shooters too – Bailey, Nicole (Gleeson), Megan (Kuehl) and Katie (Ilsley). We all depend on each other to score, it's not just one person. I think I score a lot mainly because I like to drive and that means I get fouled a lot."
The Crushers lost two straight after going 5-0 in the first half of MEL play, but rebounded Tuesday night with a 55-31 rout of Vacaville. Andrews had 24 points, four rebounds, three assists and three steals.
Gleeson had 12 points, six rebounds, three steals and two assists; Ilsley had seven points, 11 rebounds and four assists; Kuehl had six points and two rebounds; Loban had three points; Lily Meyers had two points; and Maggie Schuh had one point and two steals.
"I have a lot of faith in the team," said Loban. "If we don't play our best, I know we all wanted to – it just didn't show in the game. But I don't think anyone gets too upset if we lose. Once I get home, I'm thinking tomorrow is a new day and we need to have a good practice and get ready for the next team."
"When we lose, I don't stay up late thinking about all the things we could have done differently, as long as we put in a good effort," she said, "But games where the effort wasn't there, or I felt we could have done things differently, I do stay awake and think, 'Oh, I could have done this or that.'"
Donohoe kept things loose at a practice last week by playing a music mix of Boston, Journey, Foghat and Kansas.
"We have a lot of fun at practice," Andrews laughed. "I like to start dancing when the coach puts the music on. We have a really entertaining team. Nicole always makes us laugh at practice. She's always dancing or cracking a joke.
"There are a few of us that hang out outside the team," Loban added. "We'll get lunch together or get food together, especially before games."
Andrews said the team's favorite establishment is The Habit Burger Grill.
"Coach works us really hard so we feel like we can eat that kind of food every once in a while," she said.
When they're not playing basketball, Loban runs track for Vintage and Andrews plays on the volleyball team. Both girls are stars in the classroom as well. Andrews has a 4.0 GPA and says history is her favorite class, adding "I like that class because my teacher is really funny."
"My favorite class is my government class," said Loban, "because I learn something new every day and I like my teacher. I have a 4.67 GPA because I have three AP courses and one honors class."
And what about life after high school?
"I might play intramural basketball in college, but I want to go to a four-year college and those schools haven't really looked at me," Loban said. "They're pretty big schools and I'm not really interested in being a walk-on. I got accepted at Arizona and Arizona State, but I really want to go to Arizona, so I'm going to visit the school during spring break."
Andrews has another year, but is already thinking about playing at the next level.
"If the opportunity presents itself, I would definitely like to play college basketball," she said. "I definitely want to go to a four-year school and get a good education, and if the basketball happens to come along with it, that would be great. I don't have a preference right now, but I definitely would like to go to a school in Southern California."
But they also enjoy the town in which they grew up.
"Napa is a super mellow town, not really much goes on that is really crazy or that rocks the boat," said Loban. "We're pretty close to everything so it's nice to go into the city, but I like that we are able to come back to our little suburban area and relax."
"I definitely would like there to more activities here in Napa," Andrews said, "but for the most part I have a pretty good time."