The American Canyon girls basketball team picked up its third win of the season Thursday night, 54-39 over visiting Fairfield in Solano County Athletic Conference action.
Robyn-Elizabeth Yan had 19 points, seven rebounds, five steals and three assists, Mariah Carlyle 10 points, eight rebounds, three assists and a steal, Lauren Summers seven points and three rebounds, Trinity Tapia six points and three assists, Adriauna Samodio six points, a steal and a rebound, Ima Tapaoan four points, and Louralei Salanga two points and a rebound.
Cloverdale 51, St. Helena 16
In the Saints' (2-16 overall, 0-7 NCL I) road loss Tuesday, Destiny Comacho, Lauren Ridgway and Citlalli Garcia each had four points apiece, while Andrea Hernandez added two points.
"Although the score might not reflect it, the girls took the appropriate shots," said Saints head coach Kate Shipp-Roberts. "Some go in, and some don't. They are gaining more confidence to take those shots, which can only help the team in the long run."
JV Boys Basketball
Cloverdale 36, St. Helena 35
Caleb Jeske had eight points and four rebounds, Caleb Granados six points and four rebounds, and Emmet Bowen scored six in a close road defeat Tuesday night in Cloverdale.
St. Helena 50, Fort Bragg 44
Fawad Muhammad led the way for the Saints in a road win last Friday, Jan. 19, finishing with 20 points, four assists, three steals and two rebounds. Also factoring in on the box score were Jeske (12 points, nine rebounds, three steals) and Wolfgang Pritchett (seven points, five rebounds, three steals, one assist).
JV Girls Basketball
The visiting Indians scored 15 points in the first quarter and held off the Crushers on Thursday afternoon.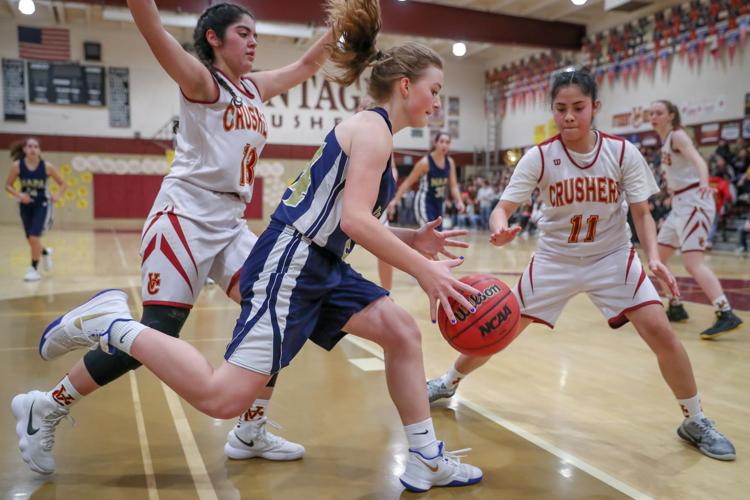 Cali Olmstead had seven points, three rebounds and three steals for Napa.
"Cali led the team with great energy and leadership (and) forced multiple turnovers," Indians coach Eric Thompson said.
Maizy Armstrong-Brown had six points and five steals, and Charlotte Gerard drained an early 3-pointer and added two steals.
Devan Wickersham had four points, three rebounds and four steals.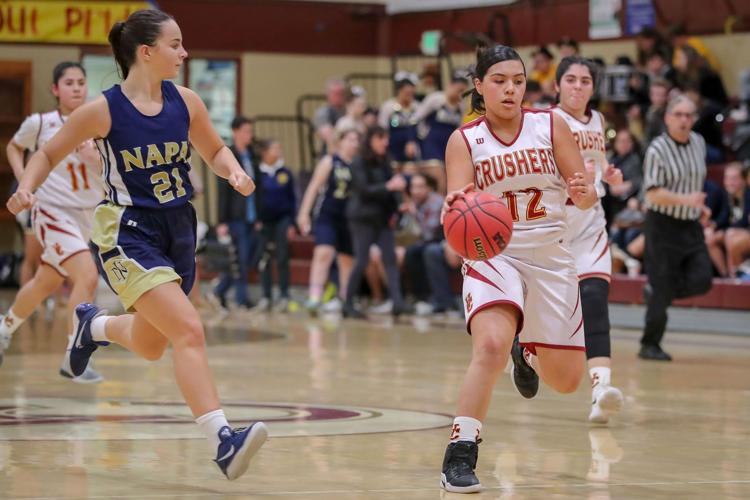 "Devan was tasked with guarding the best player most of the night (and) her early drives opened up the defense," Thompson said.
"Vintage made some adjustments and worked their way back, making it a close game," Thompson said. "I'm very proud of both teams. Each have several competitive ladies with a bunch of talent. Tonight's game was a good challenge and the environment was loud, challenging their focus.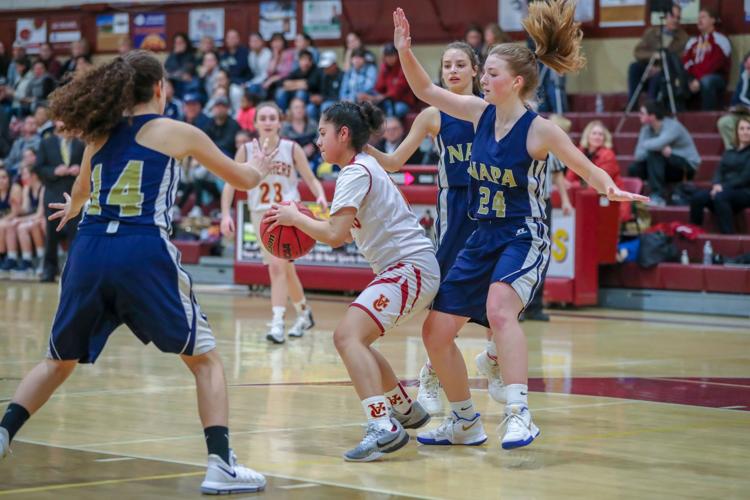 "Napa High's girls did excellent and worked through all the challenges presented by a tough, fast, physical team. The future is bright for both programs. We're each fortunate to have wonderful kids that work hard and have shown great improvement over the season."
Brianna Banks had six points and Toni Dodson four to lead Vintage (18-4, 4-1 MEL).
Freshman Girls Basketball
In their fourth and final meeting of the season, the Crushers edged a very tough Indians squad at home Thursday and won the season series 3-1.
"Both teams played with tremendous heart and showed great sportsmanship," Vintage coach Todd Cooper said.
Vintage (10-6) was led in scoring by Ana Casey with eight points and Samantha Sweet with six, while Olivia Kerr, Natalie Harlow, Chantal Nava and Kalynn Loftis each contributed two.