Crush in the Valley, a Grind Session boys basketball showcase co-hosted by Salesian High School-Richmond and NextMax Inc., and featuring Prolific Prep Academy of Napa, is Saturday and Sunday at American Canyon High School.
The schedule for Saturday's games:
11:30 a.m., Bella Vista College Prep (Arizona) vs. Trinity Prep (Nevada).
1 p.m., American Canyon High vs. Las Lomas-Walnut Creek.
2:30 p.m., Stuart Hall-San Francisco vs. Sacramento.
4 p.m., Balboa City School vs. Hillcrest Academy (Arizona).
5:30 p.m., San Joaquin Memorial-Fresno vs. Salesian-Richmond.
7 p.m., Prolific Prep vs. Aspire Academy (Kentucky).
8:30 p.m., Clark High (Nevada) vs. Bishop O'Dowd High-Oakland.
The schedule for Sunday's games:
11 a.m., Balboa City School vs. Trinity Prep.
1 p.m., Bella Vista College Prep vs. Aspire Academy.
3 p.m., Hillcrest Academy vs. Prolific Prep.
Philippe Doherty of Prolific Prep is the tournament director of the Crush in the Valley and works for NextMax Inc.
NextMax Inc. is running the event in conjunction with Salesian High.
Admission is $15 per person.
Varsity Wrestling
Guiducci, Lopez lead Braves
Justin-Siena dropped two Marin County Athletic League dual meets at Terra Linda Wednesday night, falling 53-18 to the hosting Trojans before closing with a 50-23 loss to Tamalpais.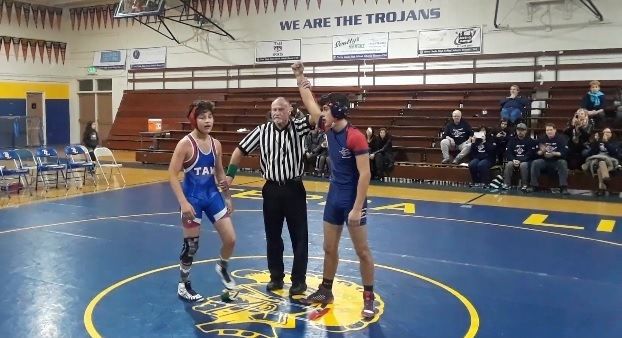 Jacob Guiducci won both of his matches for the Braves. The freshman scored a 58-second pin against Terra Linda at 115 pounds while wrestling a heavier weight class than usual, before dropping back to 108 pounds and scoring a 17-1 technical fall against past North Coast Section meet qualifier from Tamalpais.
Justin-Siena junior Tommy Lopez was lauded for a hard-earned third-period pin against Tamalpais.
The Braves' coaches also liked the "all-heart fight" of sophomores JP Negueloua and Helen Neidhoefer, who took opponents from both schools the distance in their losses.
American Canyon 52, Vanden 27
The Wolves received several forfeit wins in their Solano County Athletic Conference victory Wednesday in Fairfield.
Zachary Ferrer won by decision at 132 pounds and Justin Del Rosario (138) won by pin for American Canyon. Also picking up points were Jason Hester (106 pounds), Sebastian Lopez (113), Devin Garingarao (120), Aaron Villa-Carlos (126), Aviyen Ferreira (17), Glenn Garduce (220), Lucas Gramlick (285).
The visiting Crushers had to make last-minute changes to their lineup for Wednesday night's Monticello Empire League road meet to fill the weight classes of wrestlers unable to compete due to illness or resting injuries.
With many of its wrestlers competing up a weight class, Vintage managed to keep the score close before the Wildcats pulled away.
For the Crushers, 122-pounder Reece Imrie remained undefeated in league with a 12-7 decision, Kolton Dikeman (140) won a strong 7-0 decision, Antonio Macedo (160) won a 9-0 major decision, Saul Valle (172) notched a first-period pin; and James Robert (184) scored a second-period pin.
Vintage will compete in the Lou Encalada Invitational at Rodriguez on Saturday, while its JV boys and girls teams will be at the Pittsburg tournament.
Varsity Boys Basketball
Vanden 70, American Canyon 49
The SCAC-leading Vikings led just 31-30 at halftime but pulled away with a 39-point second half in Wednesday night's SCAC contest at American Canyon.
"The second half was all Vanden with their physicality and athleticism," Wolves head coach Brett Wedding said.
American Canyon (11-9, 2-2 SCAC) was led by Cameron Williams' 14 points, Joee Gantan's eight and Malik Ghiden's seven.
Stephen Blume had 19 points, including five 3-pointers, and Mitch Hippauf had four points, 15 rebounds and five assists to lead Napa (9-12, 2-2 MEL) in Tuesday night's road loss.
JV Wrestling
American Canyon 15, Vanden 0
Ezekiel Anderson and Colten Hamilton led the Wolves to victory at 145 and 152 pounds, respectively.