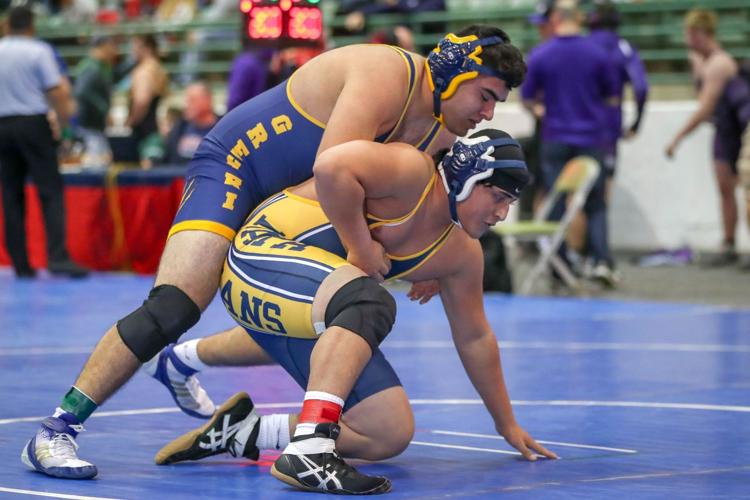 The Napa High wrestling team took 10 athletes to the Sierra Nevada Classic, held Thursday and Friday at the Reno-Sparks Livestock and Events Center.
Nine of the Indians competed in the prestigious tournament for the first time.
"Congratulations to Marcus Lex and Benjiman Salas for getting some great wins at a tough tournament," Napa head coach Nacho Franco said of two juniors.
Lex went 2-2 with two pins at 285 pounds and Salas was 1-2 at 220s. The only Napa wrestler who had competed in the meet before, junior Chase LaRue, went 1-2 at 182 pounds.
Also competing for Napa were senior Wyatt Bruner (160), juniors Aedin Quintero (138) and Brady Bledsoe (170), sophomores Anthony Toscano (113), Brandon Bledsoe (126) and Cooper Stewart (132), and freshman Benito Saldivar (120).
"We all came back with a great look at where we need to improve. The team wrestled well and we continue to improve as the season gets ready to get serious come January," Franco said.
Galileo 27, Justin-Siena 18
The Braves fell on Friday in San Francisco in the last meet for its varsity boys before the start of the Marin County Athletic League dual-meet schedule.
Three Braves recorded pins against one of the top programs in the San Francisco Section. Joe Karch had the fastest fall of the day, dispatching his opponent in 36 seconds, while Jacob Guiducci scored a pin in 1:03 and Tommy Lopez followed with a pin in 1:11.
The most colossal match of the day was between seniors – Justin-Siena's Wriley Sedgwick-Robles, a defending MCAL champion, and Galileo's Brandon Tu, a two-time San Francisco Section champion and two-time state qualifier.
Tu took an early 6-1 lead before Sedgwick-Robles stormed back and took control of the match to hold an 8-7 lead, before Tu wriggled away for a 2-point reversal as time expired to win 9-8.
A trio of Braves received kudos from the Braves' coaching staff. Jonathan Morales, JP Negueloua and Hung Tran went the distance in minor-decision losses to keep the team score close against the Lions, who have won two of the last three San Francisco Section titles.
The Braves will open 2018 at the Karen Foley JV Cross Face Classic in Vallejo on Jan. 6.
Varsity Girls Basketball
The Crushers shot just 6 for 41 from the field as they fell in the semifinals of the West Coast Jamboree's Ivory Bracket on Friday night at Monte Vista High in Danville.
"We could not get the ball to go through the hoop," Crushers head coach Joe Donohoe said. "Our defensive effort was at a winning level, however, you'll win very few varsity basketball games shooting 14 percent. I know we will continue to work hard, and as coaches we need to put the girls in a better spot to succeed. The only way to get out of a tough patch is to work harder, and that's our plan."
Megan Kuehl had six points, Alyssa Andrews four, Maggie Schuh three, and Kate Ilsley two for Vintage (6-6), which was to play for third place against Gregori at 1:30 p.m. Saturday.
Varsity Boys Basketball
American Canyon 69, Cordova 55
The Wolves beat the host school in the third-place game of the Cordova Christmas Classic on Friday night.
Malik Ghiden had 17 points and six rebounds and was named to the All-Tournament team for American Canyon (7-6).
Tyler Sims had 13 points, Cameron Williams had 11 points and five rebounds, Davin Lusung and Oliver Aandahl each scored 11, and Anthony Bitanga-Nguyen added four steals.
JV Boys Basketball
The Indians won the first crosstown matchup of the season Friday at their JV Wine Valley Classic, in a game that was close throughout.
Brayden Greenlee had 17 points, Logan Van Zandt had 15 points and five rebounds, Jack Guigere had 11 points and Jack Hunter added 10 for Napa.