Tied for eighth place with San Marin going in, Justin-Siena hoped to win its third straight Marin County Athletic League game and move up in the standings Friday night.
But the visiting Mustangs (3-6 MCAL) moved up instead with a 50-28 victory at Dan Clark Gym.
Justin-Siena (8-11, 2-7 MCAL) trailed 16-3, 33-13 and 41-18 between quarters.
"We came out flat," Braves head coach Jason Rockwell said. "I was excited to see us back in action so quickly coming fresh off a victory against league rival Marin Catholic, followed by another great day of practice, and not to mention we were getting our leading rebounder back. But in this league, when you have an off night, the other team usually makes you pay. The senior-heavy Mustangs did just that."
The Braves got scoring from Liam McDevitt (10 points, three rebounds. assist, steal), Chris Vaziri (eight points, six rebounds, steal), Barrett Donohoe (three points, three rebounds, three assists, four steals), Dominic Moore (three points, two assists, rebound, steal), Cole Cummings (two points, two rebounds) and Landon Mispagel (two points, rebound).
Kevin Galvin added three boards, two steals and an assist, while Keith Binz added a rebound, assist and steal, Casey Potrebic an assist and rebound, and Dylan Goodrich a rebound.
Rockwell said senior forward Vaziri, after sitting out Tuesday's win at Marin Catholic due to illness, returned to usual form by "leading the team in rebounds and competing from start to finish. His refuse-to-lose attitude was a bright spot in a tough game."
The coach said of Donohoe, "despite having troubles putting the ball in the hoop, the junior point guard was active in all other aspects of the game. He found ways to set his teammates up and tallied four steals on the defensive end."
Varsity Girls Soccer
American Canyon 10, Fairfield 0
Rebecca Richards and Jaylynn Del Rosario each had a hat trick and Ana Herrera had two goals and five assists for the Wolves (7-8-3, 3-1-1 SCAC) on the road Friday night. Isabelle Ramos had one goal and an assist, and Saleena Bains added a goal.
The Bulldogs (4-0-1 MEL) scored twice in the first half in blanking the Indians (6-8-3, 2-3 MEL) at Memorial Stadium on Thursday night, remaining in a tie for first place with Armijo.
The third-place Mustangs (3-2 MEL) scored twice in the first half in blanking the visiting Crushers (2-7-1, 1-4 MEL) on Thursday night.
Varsity Boys Soccer
American Canyon 4, Fairfield 1
Jose Lopez scored twice and Alexander Gonzalez and Luis Flores each had one goal for the Wolves (6-3-3, 3-1-1 SCAC) in Thursday night's home win.
The Crushers (13-3-2, 3-1-1 MEL) held on after taking a 2-1 halftime lead Friday night in Cordelia. Erick Cid scored Vintage's first goal on a free kick from 25 yards out, and the second one on a penalty kick.
The Indians' game at Vacaville was postponed due to unplayable conditions and will be rescheduled, according to head coach Rogelio Ochoa.
JV Girls Basketball
Brianna Banks had six points and Toni Dodson four to lead Vintage (18-4, 4-1 MEL) on Thursday night.
Freshman Boys Basketball
The Crushers improved to 10-5 overall and 4-0 in the MEL with their "Little Big Game" victory at Napa High on Friday, finishing 3-0 against the Indians this season.
Both teams took a while to shake the jitters, with Vintage holding a 9-6 lead after the first quarter. The Crushers came out strong in the second quarter, outscoring the Indians 17-9 to take an 11-point halftime lead. They kept the pressure on, forcing turnovers and scoring in the open court throughout the second half and cruising to the 20 point victory.
Alex Dehzad had a game-high 20 points to lead Vintage, including five 3-pointers, and had six rebounds. Donavaughn Graeber had 10 points and five steals, Owen Schnaible had eight points and eight rebounds, and Jayden Benjamin had a strong game off of the bench with six points and three steals.
"It was another good team win tonight," Crushers coach Drew Willems said. "Everyone came in with intensity and contributed to this victory."
Vintage plays its final game of the season Tuesday night against Wood.
Youth Swimming
NVST third at Zone 3 meet
The Napa Valley Swim Team sent 26 athletes to compete in the Zone 3 Championships Jan. 13-14 in Santa Rosa. Zone 3 includes is comprised of 10 Bay Area counties. Hard practice combined with top-notch coaching by Asher Green, Kathy Stacy, Gina Barsotti and Caroline Holmes-Beaver resulted in NVST placing third, behind champion Olympic Club of San Francisco and runner-up North Bay Aquatics of Marin County.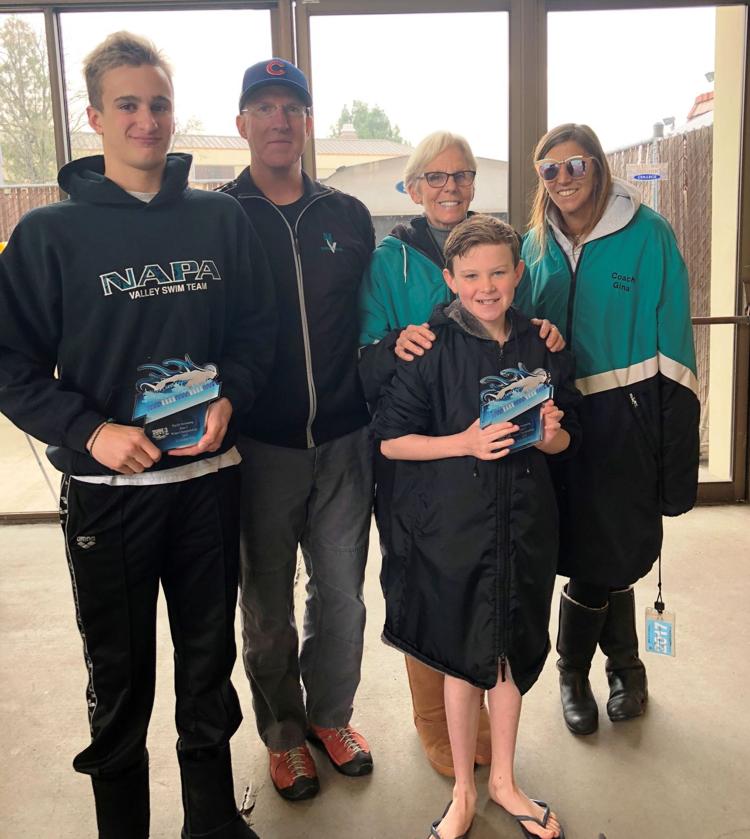 Two NVST members won overall high point awards in their age groups – J.J. Arbuckle for the 10-and-under boys, as he took first place in all six of his events (200 freestyle, 50 and 100 backstrokes, 50 and 100 butterflies and 200 individual medley), and Max Gilsenan for the 13-14 boys, who was also first in all six of his events (50 free, 100 free, 200 free, 100 breaststroke, 100 fly and 200 IM).
Four other NVST swimmers took first place in two or more of their individual events.
For the 8-and-under girls, Jordan Arbuckle finished first in the 25 and 50 breaststrokes, and Claire Hayashi finished first in 25 and 50 frees. In the 15-and-over girls group, Kelsea Wright took first place in the 100 free and 200 and 400 IMs. For the 15-and-over boys, Iona Pascual took first in the 500 free, 100 back, 50 breaststroke and 50 fly.
Demonstrating the depth of the team, many other NVST athletes placed in the top five of their individual events.
For the 8-and-unders, June Kelly placed second in the 25 free, 25 back and 50 back; Sarah Schofield placed fourth in the 50 breaststroke and fifth in the 25 back; and Aiden Frisinger took fifth in the 25 free. In the 9-10 boys group, Niko Tavakoli placed fourth in the 50 breaststroke.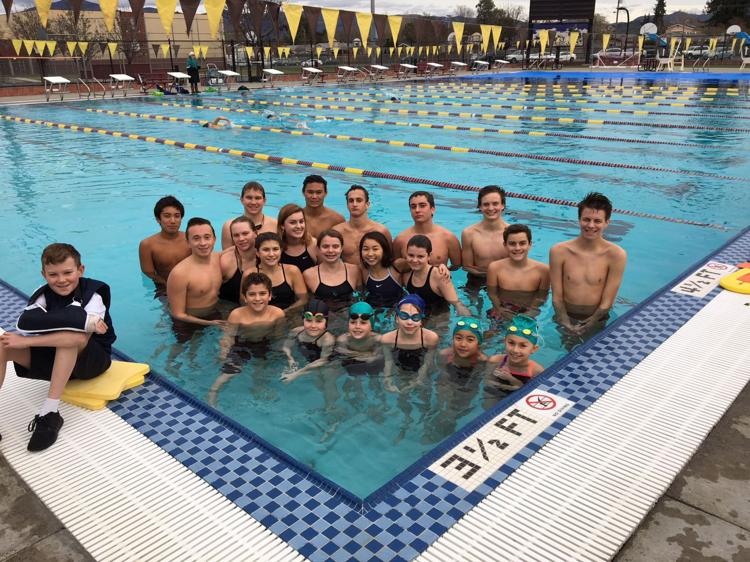 For the 11-12 group, Josie Arbuckle finished third in the 100 back, fourth in the 200 IM, and fifth in the 50 back; and Yuki Hayashi took second in the 200 free, 200 IM and 100 back, and placed third in the 50 free and 100 free. In the 15-and-over group, Keoni Cisco took second in the 50 back, and Nicholas Cisco placed second in the 200 free and third in the 50 free, 100 free, 100 back, 100 breaststroke and 200 IM.
Several of NVST's members also achieved either 100-percent personal best times in all their events or recorded new A times at the meet, including: Matthew Larsen (all best times), Kai Hattori (all best times), Kira Tavakoli (all best times and new A time in 100 free), Josie Arbuckle (new A time in 200 free), Aiden Frisinger (new A time in 25 free) and Jordan Arbuckle (new A time in 25 breaststroke).
Napa Valley also had relay teams place in the top five in each of their races, scoring lots of points for the team. The 8-and-under girls placed first in their two relay races, with Claire Hayashi, June Kelly, Jordan Arbuckle and Sarah Schofield. The 13-14 girls took fifth in both of their relays with Emily Hayashi, Keaton Flynn, Ava Anderson and Holly Schofield. The 13-14 boys placed second in their two relays with Kai Hattori, Matthew Larsen, Max Gilsenan and John McNamara.