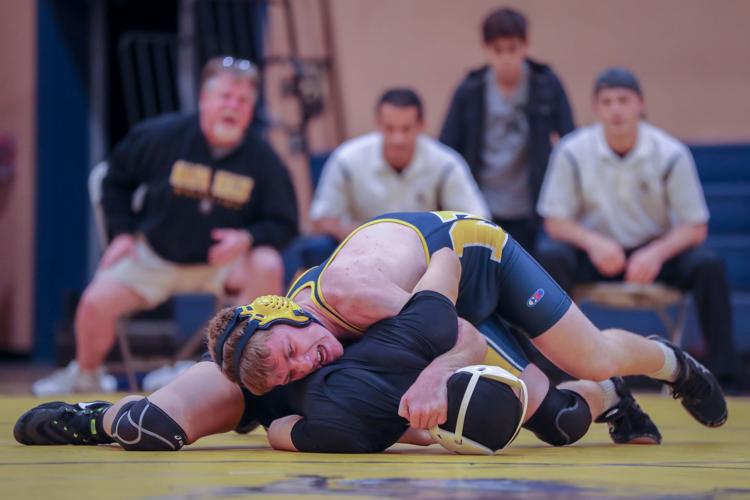 The Napa High wrestling team opened Monticello Empire League dual meet action with a 46-27 win over visiting Armijo at Messner Gym on Wednesday night.
With Napa earning five forfeit wins and Armijo picking up two, only six weight classes were contested. Each team won two of those by pin and one by decision.
For Napa, Brandon Bledsoe (126) got a second-period pin after leading 4-2, Benji Martinez (170) earned a 9-1 major decision, and Marcus Lex (285 pounds) got a first-period pin while leading 2-0.
Ytziar Garcia (138) was pinned in the first period while trailing 9-2, Brian Miranda (152) was pinned in the first period while down 2-0, and Benjamin Salas (220) lost a 4-3 decision.
Anthony Toscano (120), Aedin Quintero (145), Wyatt Bruner (160), Brady Bledsoe (182) and Chase LaRue (195) won by forfeit for Napa. Both teams forfeited at 132 pounds.
Napa competes in the Granada Tournament in Livermore on Saturday.
The Crushers gave up 24 points on three forfeits and an injury default while dropping their MEL opener on the road Wednesday night.
They got their points from 113-pound freshman Reece Imrie via a 12-3 decision, sophomore 120-pounder Tyler Linstad with a first-period pin, and 138-pound freshman Arnie Miekle with a pin in the second period.
Vintage will next host Rodriguez on Jan. 10.
American Canyon 46, Fairfield 30
Picking up wins for the Wolves in Wednesday's Solano County Athletic Conference opener on the road were Elijah Beronilla (106), Sebastian Lopez (113), Zachary Ferrer (132), Aaron Villa Carlos (138), EJ Beronilla (145), Aviyen Ferreira (170), Michael Fredette(182), Jesus Sanchez (220) and Lucas Gramlick (285).
American Canyon's JV team beat Fairfield 6-0.
Varsity Girls Basketball
Crushers head coach Joe Donohoe said his team's goal is to hold opponents to single-digit quarters and they did that Wednesday night in Tracy. The Wolfpack scored seven, four, six and nine points by quarter, respectively.
"I was very happy about our energy level and focus on a back to back with a two-plus-hour bus ride," said Donohoe, whose team had beaten American Canyon at home the previous night. "We came out with fantastic defensive intensity and maintained it throughout. We were extremely active in the passing lanes, which led to turnovers and the ability to control the game.
"It was a total team effort tonight. Everyone played and everyone played very determined and with great effort."
Nicole Gleeson led Crushers' scoring with 14 points and added seven steals and three assists. Alyssa Andrews had 11 points, eight rebounds, three assists and four steals, Megan Kuehl seven points, and Bailey Loban four points, four rebounds and three steals. Carlyn Bacci added two points and played very well defensively.
"We're inching closer to our offense matching our consistent defense night in and night out. We're having fun and working hard," said Donohoe, whose team will try for its seventh win in eight games when it hosts Benicia on Monday night.
Tamalpais 52, Justin-Siena 37
With only seven healthy players, the Braves (6-6 overall) dropped their Marin County Athletic League opener on the road Wednesday night.
They battled two-time defending MCAL champion Tamalpais to a 23-23 halftime score, but their shooting went cold in the second half. They were 24 percent from the field on the night.
Ashlee Whittemore had 22 points, six steals, five rebounds and three assists, Ally Jackson had 15 points, eight rebounds and two assists, Kiran Monteverdi had three assists and two steals, and Ella Thatcher had two rebounds and a steal.
"Very proud of our kids in this game," Justin-Siena head coach Andy Bettencourt said. "We faced some adversity and we really had to have some players fill some roles for us that they aren't used to. We are excited for the opportunity to bounce back Friday night at home (against San Rafael)."
Varsity Boys Basketball
Tamalpais 74, Justin-Siena 27
The Red-Tailed Hawks (9-4) dominated Wednesday night's MCAL opener in Mill Valley, taking 26-3, 46-10 and 59-19 leads between quarters.
"On a night where nothing was going our way, we demonstrated how tight-knit our group is," Justin-Siena head coach Jason Rockwell said. "Despite turning the ball over 21 times, our boys continued to compete and challenge the extremely talented and well-coached Tamalpais team."
The Braves (6-5) were led by Cole Cummings, who had eight points, three rebounds, an assist and a steal.
"Cole kept us fighting and doing things the right way on a night where it was very easy to get out of character," Rockwell said.
Barrett Donohoe added six points, two rebounds and a steal, Liam McDevitt five points and two boards, Dylan Goodrich four points, two rebounds and an assist, John Nessman two points, a rebound and a steal, Kevin Galvin two points, two assists and a rebound, Jadyn Satten three rebounds and a steal, and Dominic Moore one rebound.
Lower Lake 50, St. Helena 47
The Saints lost a nailbiter in their North Central League I opener at home Wednesday night.
For St. Helena (6-5 overall), Ethan Battistini had 21 points, seven rebounds, three assists, three steals and five deflected passes, Nick Jeweroski had 17 points, six rebounds and two steals, Jonathan Gamble had six points, six rebounds, five assists, a steal and three deflected passes, Collin Darrell had three points, and Christian Iano had five assists.
Behind Jeweroski's first nine points, the Saints streaked to a 14-0 lead, but Lower Lake answered with an equivalent run to tie the game 14-14 after one quarter. The teams traded baskets en route to a 27-27 halftime deadlock. The Trojans went on a run in the fourth to take a 46-37 lead with 3:35 left.
The Saints continued to battle and behind Battistini eight fourth-quarter points and trailed 48-47 with 21 seconds left. But they missed a 3-pointer and were forced to foul to get the ball back. Lower Lake made a couple of free throws with seconds left on the clock, and a desperation St. Helena shot at the buzzer bounced off the rim and away.
The Saints host Middletown at 8 p.m. Friday.
St. Patrick-St. Vincent 69, American Canyon 48
The Wolves fell to the defending Division IV state champion Bruins in Vallejo on Wednesday night.
Tyler Sims had 17 points, Malik Ghiden 14 and Roman Madayag eight to lead American Canyon (7-7), which will host Rodriguez in their final nonleague game Friday night.
JV Girls Basketball
The Crushers won in Tracy on Wednesday evening, improving to 13-2.
Toni Dodson led Vintage with nine points, while Ellie Savage had eight, Erin Bernier seven, Naza Garcia six, Perla Bautista and Breanna Banks four each, Victoria Solorio three, and Belated Poljanec two.
JV Boys Wrestling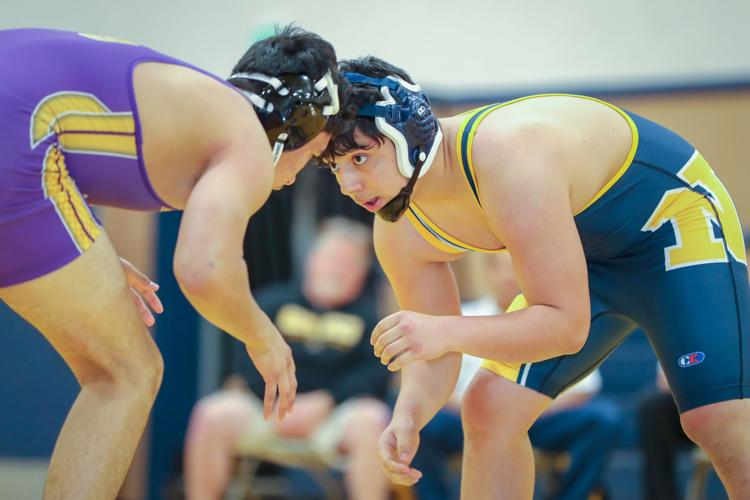 Isaiah Aguirre (182 pounds), Emilio Delanni (220) and Cole Lex (285) won matches and Benito Saldivar (126), Manuel Infante (145), Danny Perez (120), Robert Gomez (152), Calvin Snyder (138), Axton (170), picked up forfeits for Napa in Wednesday night's MEL-opening win at home. Miguel Bustos (132) fell 9-3.
Dominic Dandini scored a 5-3 decision at 132 pounds for the Crushers' points in Wednesday night's MEL-opening road loss.