The American Canyon High boys basketball team held Bethel to its lowest point total in four years in a 61-30 Solano County Athletic Conference rout at home Friday night.
Malik Ghiden led the Wolves (14-10, 5-2 SCAC) with 23 points and had four rebounds. Oliver Aandahl had nine points, and Davin Lusung had six points, six steals and four rebounds and took two charges.
American Canyon led by only 13 points going into the fourth quarter, when it outscored the Jaguars 23-5.
It was the fewest points scored by Bethel (1-6 SCAC) since a 68-25 loss at De La Salle in 2014.
San Rafael 41, Justin-Siena 33
In Thursday night's Marin County Athletic Conference road game, the Braves came back from a 15-point deficit late in the second half to close to 37-33 with two minutes to play, but the Bulldogs (15-8, 5-6 MCAL) held on to close out the victory.
Liam McDevitt scored 10 and Cole Cummings added nine to lead Justin-Siena (10-12, 3-8 MCAL).
Varsity Girls Wrestling
Five Wolves reach Masters
American Canyon competed in Saturday's CIF Sac-Joaquin Section North Regional at Natomas High in Sacramento, where five Wolves qualified for the Masters Championship with top-eight finishes.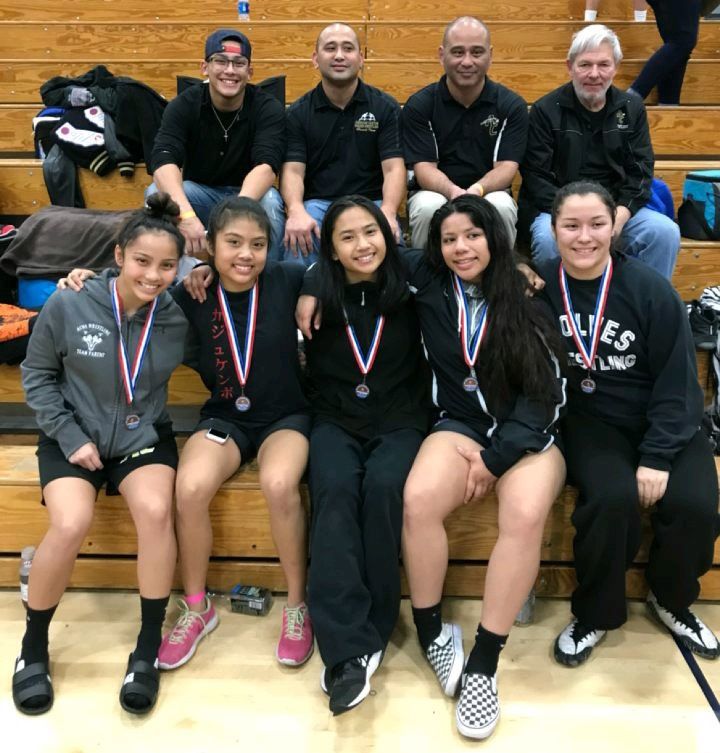 Adrienne Dominguez (170 pounds) placed third, Maylin Reyes (106) was fourth, Alexis Schuller (160) took sixth, Maricela Seronio (101) was seventh and Yvonne Cruz (116) placed eighth. The Masters meet is Feb. 16-17 at McNair High in Stockton
Varsity Girls Basketball
Justin-Siena 76, San Rafael 39
After going down 5-0 to start Thursday night's MCAL road game, the Braves took over and were up 24-8 by the end of the first quarter. A strong second quarter had Justin-Siena up 46-19 at halftime and the Braves add 10 more points to the margin in the second half.
They shot 52 percent from the field, including 44 percent from the 3-point line, improving to 11-11 overall and 5-6 in the MCAL, moving into a tie for fifth place with San Marin.
Ashlee Whittemore had 24 points, four steals and three rebounds, Ally Jackson 14 points, 10 rebounds, two assists and two steals, Emmy Morrison 12 points, four rebounds and two steals, and Mary Minigan 10 points, seven assists and three rebounds to lead Justin-Siena.
Karlie Wells chipped in six points and four rebounds, Ella Thatcher four points and four rebounds, Lexi Rosenbrand four points and five rebounds, and Kiran Monteverdi one point, five assists, two rebounds and two steals.
"This was a great bounce-back win for us tonight," said Braves head coach Andy Bettencourt, whose team snapped a three-game skid. "We played good team basketball, especially on the offensive side of the floor. The ball movement was really good and we were able to make some shots."
The Mustangs became the second Monticello Empire League opponent in a row to avenge a single-digit loss to the Crushers, handing Vintage its first home loss of the season Friday night.
"We lost a tough one tonight," said Crushers head coach Joe Donohoe, whose team had been 6-0 at home going into the game and is now tied for second place with Rodriguez behind Wood. "It was a very hard-fought contest from tip to buzzer."
The teams were tied 11-11 after one quarter, and a long 3-pointer gave Rodriguez a 26-21 halftime lead. Donohoe said Vintage (15-9, 502 MEL) came out "very inspired" in the third period and was within 39-38 when the quarter ended. The Crushers led by four in the fourth, and 55-53 with 57 seconds left. But after a couple of turnovers on back-to-back possessions, Vintage was forced to foul and the Mustangs made them pay at the free-throw line.
Donohoe said Kate Ilsley was "phenomenal" while putting up 15 points, 15 rebounds, four assists and three steals, while Alyssa Andrews led Vintage's scoring with 16 points and added six rebounds.
Bailey Loban had 10 points, five rebounds and three steals, Megan Kuehl had another 10 points, and Nicole Gleeson collected four points, three rebounds, four steals and three blocks
"After going 5-0 the first time through league, we're getting every opponent's best effort the second time around," Donohoe said. "Wood and Rodriguez are both top teams in our league and we've definitely inserted ourselves in that group. I fully expect us to learn from tonight and be ready for Vacaville Tuesday night at home.
"As is always the case, my girls gave it everything they had and I'm incredibly proud of their consistent, relentless effort and great attitude."
Varsity Boys Soccer
American Canyon 3, Bethel 3
Luis Flores, Isaac Hernandez and Adrian Ayala scored for Wolves (6-3-5, 3-1-4 SCAC), who were tied 2-2 with Bethel at halftime Friday night.
Napa improves to 5-1 in MEL
The Indians won both of their games last week to improve to 5-1 in the MEL and 10-4 overall.
In Monday's makeup game, a 6-3 home win over Wood, Juan León scored a hat trick, Julio Alonzo had two goals and Eduardo Blancas scored one.
In Friday's 4-0 home win over Armijo, also at Memorial Stadium, Blancas scored twice and Marco Ramírez and Alonzo each added one goal.
JV Boys Basketball
The Crushers improved to 11-8 overall and 4-3 in the MEL with Friday night's road win.
Vintage was led by Ethan Hemmerlin with18 points, Logan Nothmann and Everett Mitchell with 15 apiece, and Dylan Daniels with nine.
"We probably played our most complete game of the season on both ends of the court," Crushers coach Ben Goodman said. "The kids really worked hard tonight, which was what I have been waiting for all season long."
The Crushers will travel to play first-place Vacaville on Tuesday.