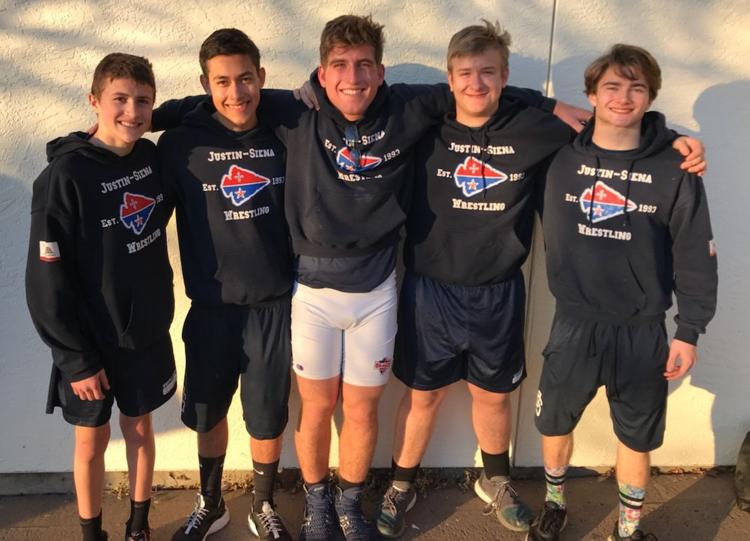 All five Justin-Siena wrestlers who qualified for the two-day CIF North Coast Section Championships were eliminated during Friday's rounds at James Logan High in Union City.
Their efforts were applauded by the Braves' coaching staff, which felt it was the finest performance of Justin Siena's team as a unit since taking the program's reins over four years ago.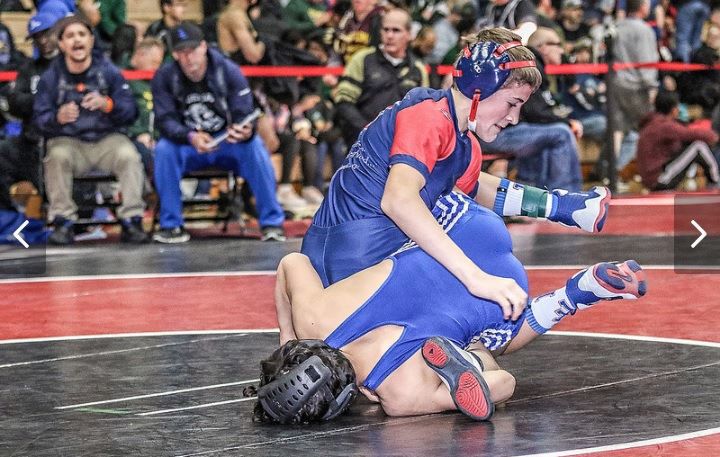 Justin-Siena amassed five wins overall, and two wrestlers were each one match away from qualifying for Saturday's rounds. But the effort as a whole, beyond the wins and losses, impressed co-coaches Jason Guiducci and Jesse Ward the most.
"The 'Wrestle Brave' movement began four years ago when we took this program over and it has evolved to incorporate a sense of community," Guiducci said. "When tied in with the schools 'All-Heart' motto, we've worked to instill in each kid a level of toughness and sense of pride in all they do on and off the mat for each other, and we saw it in spades today."
Much like a few weeks earlier, when fourth-year senior Victoria Su wrestled her last match at the NCS Girls Championships, the coaches were saddened as the two seniors from their first class wrestled their last matches at the boys' NCS Championships.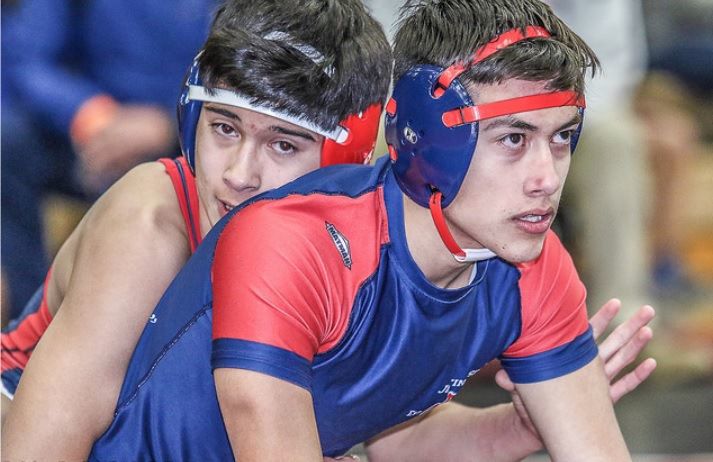 Wriley Sedgwick Robles, who first impressed at the Justin-Siena youth wrestling camp the summer prior to his freshman year, and Joe Karch, who was recruited from the Braves' freshman football team, left their mark with the Braves' staff, however.
"Though these two fine young men did not stand atop the medal podium at NCS, they will definitely stand tall and will see that 10 or 20 years down the line with what they can offer this community. We've seen that, as they truly took all the younger wrestlers under their wing and really seem to care about them. They will leave a legacy in the remaining wrestlers that transcended their medal-winning efforts over the years and is directly in line with the mission of the school's spirit of giving."
Karch went 2-2 at the event and, as Guiducci said, was "inches away from pinning his way to Day 2" before being eliminated. Sedgwick-Robles went 1-2 after scoring a lightning-quick pin in the first round and pushing his next two opponents in losses.
As sad as the coaches were to say goodbye to their two seniors, they also spoke of the bright future for the program. Freshman Jacob Guiducci went 2-2 and turned heads in a 2-1 quadruple-overtime loss, and Tommy Lopez and JP Negueloua each showed tremendous fight in 0-2 performances.
Varsity Baseball
Justin-Siena 2, Las Lomas 1, 9 innings
The Braves started the 2018 season on an exciting note with a walk-off win in extra innings over the visiting Knights of Walnut Creek on Saturday.
Junior catcher John Horn did the honors for Justin-Siena, driving in senior Asher Sutter by lining a two-strike fastball into the right-field gap. Sutter had reached third base after bunting for a single and moving all the way around on a Las Lomas throwing error.
After allowing the first batter of the game to score, the Braves pitching staff of Alex Kirley, Luigi Albano-Dito and Nolan Dunkle held the Knights at bay from there with Dunkle going five innings in relief to earn the win.
Sebastian Bon doubled and scored the Braves' other run in the third on a bunt single by fellow sophomore Marcus Nunes. Also tallying hits were freshman Noah Young (1 for 2, walk) and junior Dominic Moore.
Sutter set the tone on defense at shortstop by handling seven chances with ease, including a barehanded snare and throw to take away an infield single.
"We competed front to back today in a game that seemed more like a playoff than an opener in terms of the quality of play," Justin-Siena head coach Jeremy Tayson said. "Both teams came to play and had an answer for every one of each other's moves. It was fun. I'm proud we kept fighting to earn what we wanted."
The Braves next travel to Santa Rosa to take on the Piner Prospectors, another North Coast Section Division 3 opponent, at 3:30 p.m. Wednesday.