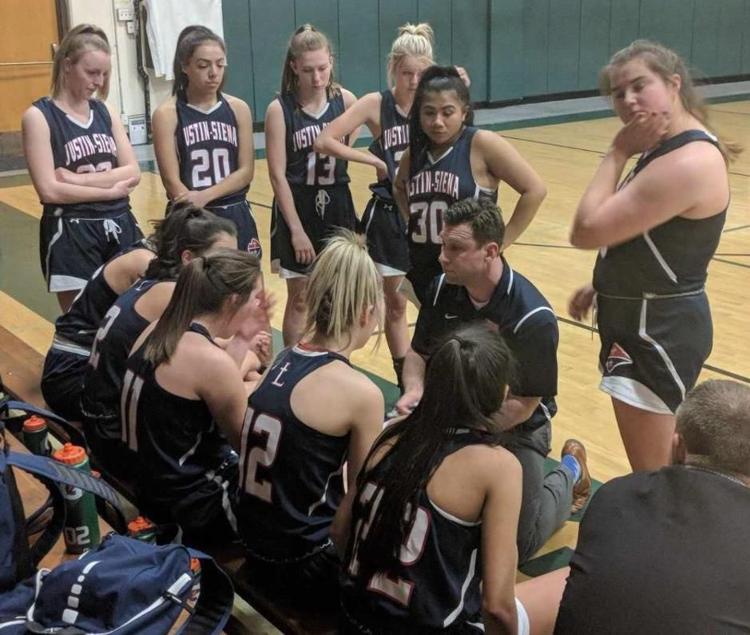 VALLEJO – No one on the Justin-Siena girls basketball team was stopping Tameiya Sadler on Wednesday evening.
The sophomore guard scored 15 points while pulling down 11 rebounds, dishing out seven assists, nabbing three steals and swatting three shots to propel No. 7 seed St. Patrick-St. Vincent past the 10th-seeded Braves, 68-39, in the first round of the CIF North Coast Section Division 4 playoffs.
It was the second time this season the Braves had faced off against the Bruins; they defeated Justin-Siena 68-44 in preseason play in Napa.
"Tameiya Sadler is a heck of a player and is so hard to guard. We tried to hold back on her, but then she would just drill a 3-pointer. She just does so many things well," Justin-Siena head coach Andy Bettencourt said. "Her athleticism … we just don't match up well against it. Quite frankly, if you are watching her play against any other team, she is fun to watch. But when it is against your team, it is a little harder."
The Braves kept the game close for the first few minutes, but Sadler and sophomore Kayla Revelo combined for 24 rebounds and outrebounded Justin-Siena by themselves on the evening. Revelo ended the contest with a game-high 20 points and grabbed 13 rebounds for a double-double.
St. Patrick-St. Vincent quickly jumped out to a double-digit lead and never looked back.
"No 1, hats off to St. Pat's," Bettencourt said. "They played a heck of a game and have some really good players over there that played well tonight. To be frank, they just played better than us tonight. Offensive rebounding really hurt us and they hit a lot of shots throughout the game."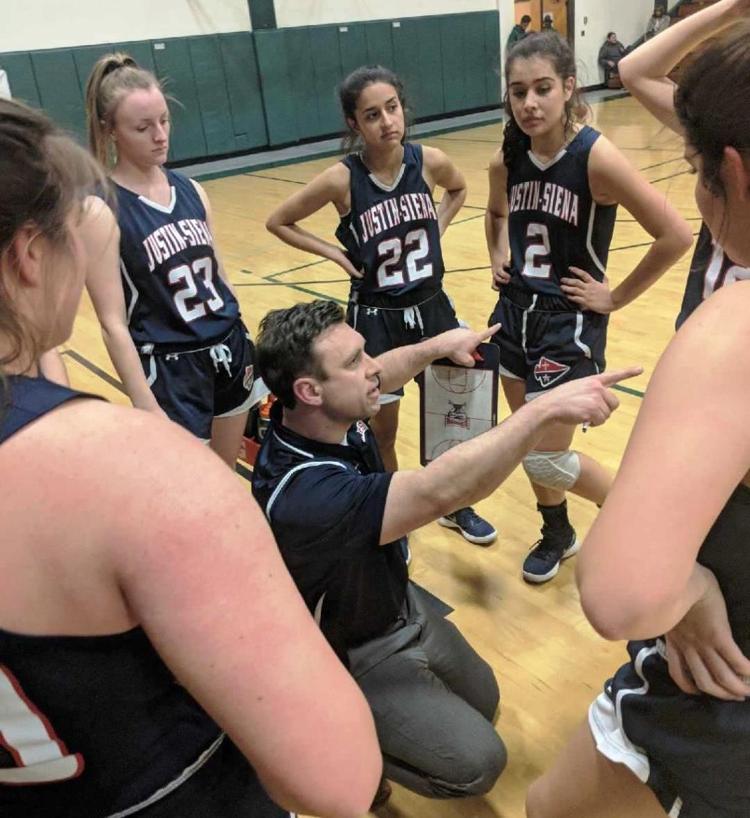 In her final game in a Justin-Siena uniform, Ally Jackson had a team-high 16 points while pulling down eight rebounds. The senior captain was the only Braves player to find success inside the paint all evening.
Fellow seniors Mary Minigan (seven points, one rebounds) and Emily Morrison (four rebounds, one assist) also had strong showings.
With less than a minute remaining in the game, an intentional foul was called to allow the three seniors to exit the game together. They did so to applause, and all gave Bettencourt a large hug at the end of the bench.
"Those three seniors are three-year varsity members and came to do about everything they could. They worked really hard and got up more shots over the years," Bettencourt said. "It was fun watching them each have big games this year and really take steps forwards. It was great to watch them all grow into leaders over the three years and that is something that I will always remember about them."
The Bruins led 21-9 after the first quarter, but the Braves never gave up fighting until the final buzzer rang out. Justin-Siena finished the season with a record of 13-14 and had a Marin County Athletic League record of 7-7.
The Braves should be returning eight players, a key one being junior guard Ashlee Whittemore. She came into the game with a team-high 19.2 points per game and finished with 11 points, six rebounds and four assists.
"Our kids kept competing and never stopped fighting and we're really proud how they competed – not just this game, but this season, "Bettencourt said. "This was a great group to be around. When you do this long enough, you realize each season isn't going to end in a state championship and you value being around a great group of kids."
Next year will be a new challenge for the Braves as they jump into the new Vine Valley Athletic League. It will be a step up in school size from the MCAL, featuring Napa, Vintage, American Canyon, Sonoma Valley, Petaluma and Casa Grande.
"Great year with a great group of kids. Definitely going to miss the seniors, but we have eight girls who were with us at the end of the season and looking forward to growing forward to the new league next season," Bettencourt said. "These nights are tough, having to say goodbye to the three seniors. But when you turn the page, we have some solid kids coming back."