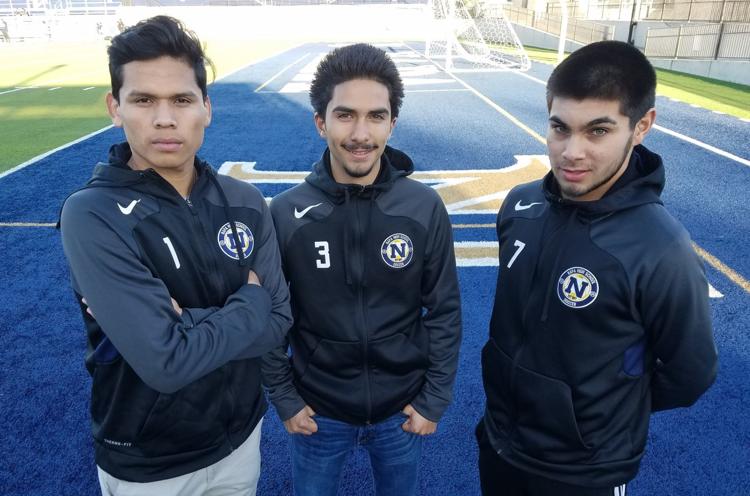 Playing goalkeeper in soccer can look as easy as playing outfield behind a dominant pitcher sometimes.
But when the opponents are as tough as what the Napa High boys have faced this season, manning the goal can be downright brutal.
"Goalkeeper is the hardest impact position," Indians head coach Rogelio Ochoa said. "He's got to come out and put his body on the line, and usually it's against a guy who's going full speed at him, towards the goal. It's not like other positions on the field."
Jonathan Perez had it down so well the last two seasons for the Indians, he was named Monticello Empire League Goalkeeper of the Year as both as a junior and senior.
When Perez was sidelined by injury for a few games as a senior last season, then-junior backup Julian Sosa made sure there wasn't much drop-off. Sosa studied his teammate carefully when the pressure was on.
It showed when he took his place as starter this season, posting eight clean sheets – including shocking shutouts of the No. 1 seed in the North Coast Section Division I playoffs, De La Salle, and perennial Sac-Joaquin Section playoff power Davis.
"Jonathan had a couple of injuries and Julian stepped in and had great games, and that experience helped him for this year," Ochoa said. "Unfortunately, this year Julian was the one with a couple of injuries, so he hasn't been 100 percent, and (fellow senior) Alexis Guiniga has stepped in and helped us a couple of times. They've both done great."
Sosa isn't trying to impress college scouts. With a 3.7 GPA and a plan to major in a computer science-related field, he'll likely attend a larger four-year university for academics in the fall rather than a smaller school to continue his soccer career.
"Our coaches," Sosa said of Ochoa and assistant coach Rafael Ayala, "really push us to get the best grades possible. They want the best for us."
So the Division II section playoffs, which begin for the third-seeded Indians against No. 14 Gregori at 4:30 p.m. Tuesday at Memorial Stadium, will likely be the last organized soccer Sosa plays.
"I didn't get a lot of playing time last year, but when I did I made sure that I played my best," Sosa said before Wednesday's home win over Vacaville. "I definitely looked up to Jonathan and learned a lot of stuff from him, especially on corner kicks and set pieces – how to come out and measure the ball right. I thought of him as a teacher because he was older and way better than me. I took it as an opportunity to learn from someone who's better than you and improve.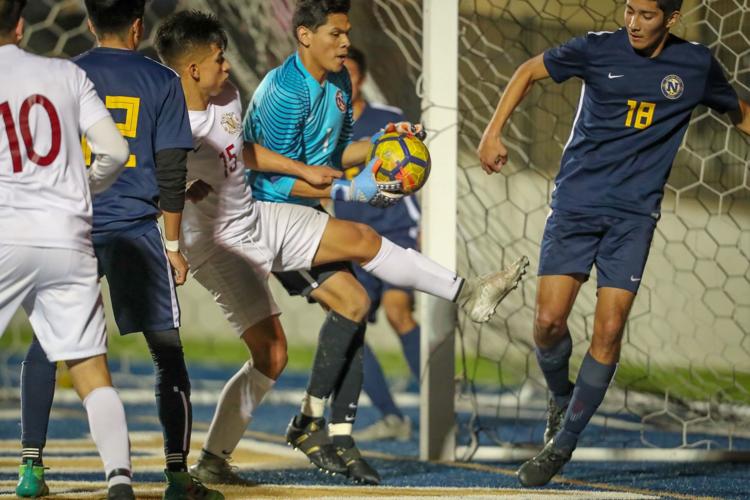 "When he graduated, I knew I had to step up big. So I would invite friends over every day over the summer to practice what I needed to work on. I also learned about communication. I have to talk to my center back and left backs if I want a clean sheet. That's one of the things I like about being a goalkeeper – you have to be a leader and talk to your whole team. You can't hide. You have to be big every game. Those shutouts of De La Salle and Davis really boosted my morale and make me want to keep improving."
While Napa stepped up against the Spartans and Blue Devils, they couldn't quite solve two other powers. Of the 30 goals they've allowed, more than half have been against just two teams – nine against crosstown rival Vintage, and seven against Montgomery of Santa Rosa.
But with fellow senior Javier Acuna at left back in front of him – along with junior Cruz Palafox at center back, and senior Jonathan Tellez rotating at right back with sophomore Angel Rodriguez – the Indians are giving up just 1.67 goals a game.
"The reason I like playing left back here at Napa High is that you not only defend but you get the opportunity to go up on the wing and attack," Acuna said. "I help out my teammates if I'm needed on top – a couple of times I've had chances to score on set pieces – but I also have the privilege of defending."
Ochoa said Acuna is not your everyday back-line player.
"Javier is a defender, but he has an understanding of when to go forward," Ochoa said. "He's made a lot of good runs, especially playing on the same side as (standout Eduardo) "Lalo" Blancas. Lalo would attract two, sometimes three players, and Javier would make runs on the wing and get the ball from Lalo to go toward the goal or make a couple of good crosses. It worked well and he understood that.
"But he's also a hard defender to get past. He understands his timing and positioning and that's why he's our only left back. He's a true left back, too, a left footer. He can kick with his left and his right just the same, and not many players can do that. Ironically, he scored his most recent goal with his head. He can do a little bit of everything."
Acuna, who carries a 3.3 GPA and wants to major in criminal justice, also plans to start college at the four-year level.
"It's hard managing soccer and an education, but it's always been a dream to play in college and if I get the chance, I'd like to do it," he said.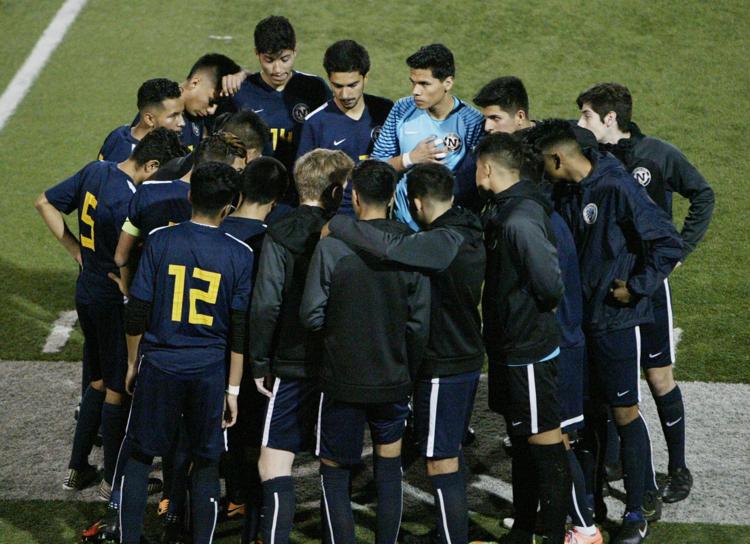 Playing college soccer is quite a bit more of a goal for junior Julio Alonzo. A varsity starter since he was a freshman, he led last year's team with 15 goals at forward and leads this year's squad with 12 despite moving to the midfield.
Already in his second year as a captain, Alonzo has even played on the back line at times.
"Julio's a versatile player," Ochoa said. "He can play any position, literally – center back, center mid, defensive mid, offensive mid and forward – and play it at a high level. He's grown a lot soccer-wise and he's grown a lot in the classroom. You can see his growth as a teenager, as a human being, and I'm sure he's going to grow next year.
"Players like Julio are a little bit of everything. They have the skill, but they're students of the game, so they understand the roles of every position – every line, when to go forward, when to go back, what to do when you have the ball, what to do when you don't have the ball."
The coach said Alonzo has gone to ID camps at five or six colleges, including Chico State, Sonoma State and the University of San Francisco, and plans to do one at San Jose State.
"This spring we want to really make sure he has those options and coaches know about him as a person, as a player and academically, so come senior year he has options to not only attend a four year university but also play, whether it's Division I, II or III," Ochoa said.
Alonzo seems to have really enjoyed facing some of the top programs in the NCS, which he and the Indians will be members of next season, including St. Ignatius and University High of San Francisco.
"Beating those top teams that are well known around California was a good feeling – seeing those victories on MaxPreps, so other schools know what we're about," Alonzo said. "Hopefully it goes well when we see those teams again."
Alonzo, who has a 3.2 GPA, said Acuna and Sosa have been great teammates both on and off the field.
"Javi and Julian really help me out being leaders on the field, and at school academics-wise," he said. "I'm looking forward to playing in college and majoring in psychology. It's caught my attention since my sister (Mayra) got into it. She's a psychology major at UC Davis and graduates this year."
Sosa thinks the MEL – which Napa will leave for the new Vine Valley Athletic League of the NCS next season – has prepared the Indians better for the playoffs this year than in years past.
"All the teams have improved and given us more of a challenge, like Rodriguez, which beat us," he said. "They've made a turnaround since I was a freshman and are now one of the best. But I think if we're there mentally and all of us want it, we can beat anyone."
How to they mentally prepare?
"In the locker room we try to talk to each other and get our minds somewhere else besides soccer, by cracking jokes," Acuna said, "so when it's time to take care of business we can be focused and playing our 'A' game."