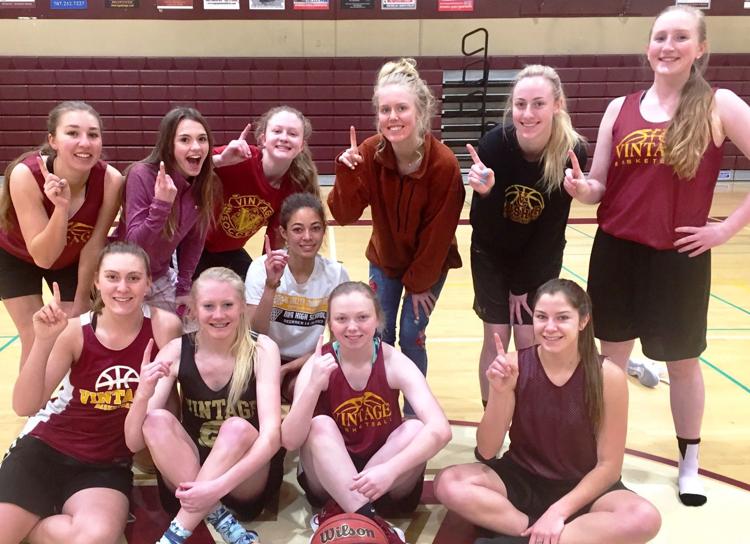 "It doesn't bother me playing in their gym or that we have no experience amongst us in the playoffs," Vintage High girls basketball head coach Joe Donohoe said about Tuesday's CIF Sac-Joaquin Section playoff opener in Elk Grove.
"Cosumnes Oaks is going to come after us and we have to weather that initial storm and do what we do."
The 14th-seeded Crushers, the Monticello Empire League co-champions, will step up to Division I to face the No. 3 Wolfpack (22-3) on the road at 7 p.m. Despite finishing third in the Capital Valley Conference at 11-3, Cosumnes Oaks is ranked 42nd in the state by MaxPreps.com. Vintage is ranked 408th.
"They come out of a really tough league," Donohoe noted, "but we will go in there with the confidence that what we do was good enough for a league championship. We're not going to change anything for one game. Obviously we are going to play to our strengths and hope that is good enough to get the job done. I guarantee we're going to fight and play hard just like we do every night."
The Crushers' leading scorer, Alyssa Andrews, isn't worried about their underdog status.
"I don't think our seed matters at this point. We'll take whoever we get and try to come out with the win. I definitely think we can get it done," the junior said. "I don't mind playing on the road. In fact, I kind of like playing in other schools' gyms."
Senior captain Bailey Loban said she would like to get the MEL the respect it deserves.
"We think the seeding committee underestimated us, and we're going to try and use that to our advantage," she said. "We're going to prolong the season for as long as we can."
"I think historically our league doesn't get a lot of respect, but I think it's logistical more than personal," he said. "The people who do the seeding just don't see our games much. But we're fine with the seeding. I'm just glad we are in and I promise we will leave everything on the court."
Nicole Gleeson, a lanky junior forward on the team, feels Cosumnes Oaks might be looking past the Crushers.
"I'm looking forward to Tuesday's game. I think we're ready," she said. "I don't think they will expect us to come out strong. It might come as a big shock to them to see we have a really good group."
Donohoe also isn't worried about not getting off to a fast start against the Wolfpack.
"That's not our M.O.. We've had very few games where we came out on fire. We're more interested in limiting the scoring," the coach said. "We have to take care of the ball and rebound well early in the game, and that's what we've been focusing on. We have to feel them out, and be ready for anything until we see them in action for a little bit."
Added shooting guard Megan Kuehl, the only senior in the starting lineup. "I think we have a pretty good chance on Tuesday if we play our best."
Junior forward Kate Ilsley said Cosumnes Oaks is a bit of a mystery to the Crushers.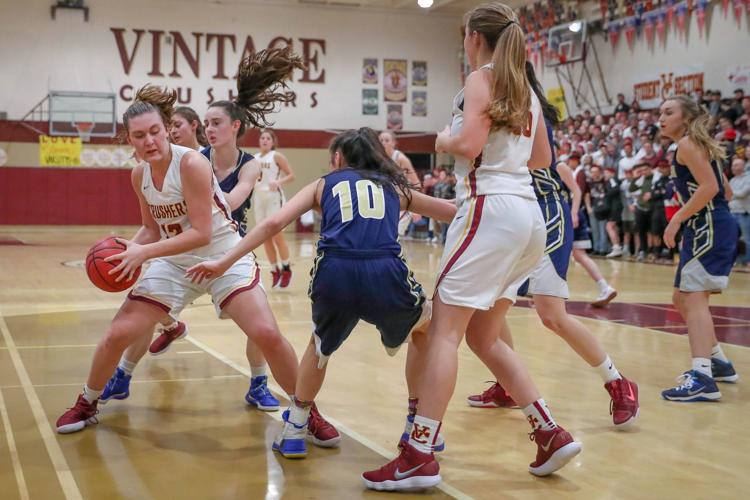 "We don't know a lot about them, but we know they have had a lot of success defensively holding teams to low point totals," she said.
Donohoe said that like Vintage, the Wolfpack holds teams to under 40 points a game.
No one should expect a high-scoring contest. Cosumnes Oaks' two top scorers average around 10 points a game, while Andrews leads Vintage with just over 13 points per game.
"I don't have a whole lot of info on them yet, but I will dig in over the weekend," Donohoe promised. "We're ready to go, we're feeling good about it and we've got nothing to lose. We're reacquainting ourselves with the postseason and I know we'll gain valuable experience, win or lose. They have a good coach and I'm sure they've checked us out a bit."
Of course, Donohoe has looked at the bracket to see what comes next if the Crushers get past Cosumnes Oaks.
"If we win Tuesday, we turn around and play another tough team on the road Thursday, the winner of (No. 6) Oak Ridge of El Dorado Hills versus (No. 11) Franklin, also of Elk Grove. This time of year, you're going to play a good team no matter what," he said. "But the other teams have to say the same thing about us; we are now in that conversation of good teams in the SJS.
"From the day I got here, we've been looking at the banner on the wall with those two lonely championship years from back in the 80's, and we all said we've got to change that as quickly as possible."
Donohoe acknowledged the contributions of his predecessor, current Napa High boys head coach Zack Cook.
"Several of the girls played for Zack. He needs to get some of the credit for our success because he got the program turned around," he said. "We're building on what he started here."
Like the Vintage girls last year, Cook's Indians just missed the playoffs this year.
"We set our goal to win the league pretty early," said Andrews, "and I believed if we all put in the effort, which we did, we could do that."
Added Loban, "I felt this team was going to do really good things and really dominate the league."
"We weren't surprised when we won the league," said Ilsley, "because this team really connects, on and off the court."
Donohoe said the team will leave for Elk Grove plenty early Tuesday.
"I'm a big believer in getting used to the lighting and the building, so we hope to get in the gym well before game time and get some shots up," the coach said. "They're a fun group to be on the bus with; they like their music and they like to sing.
"Win or lose, this is a successful season, no doubt. Everybody on this team cares about each other. We've made memories and relationships that will last forever."