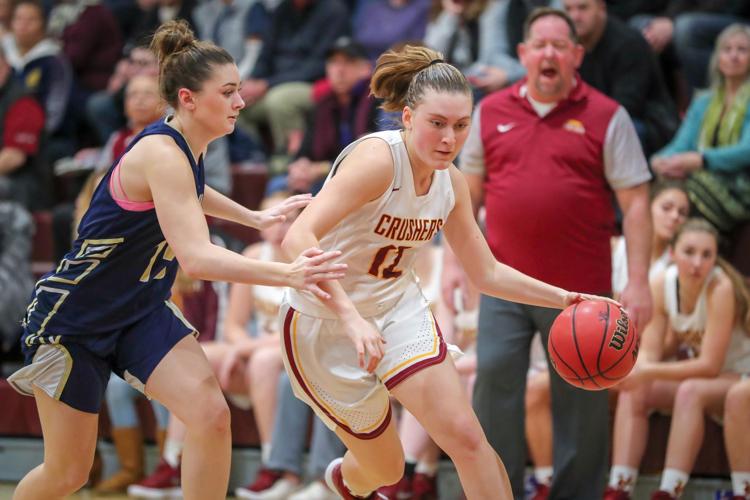 They don't call it the Big Game for nothing.
Big crowd. Big noise. And big performances from both teams.
In a game that came down to the final seconds, the Vintage High girls basketball team ran its Monticello Empire League record to 5-0 with a 50-48 nail-biter over visiting archrival Napa High on Thursday night.
Winning coach Joe Donohoe was more than a little pleased to come away with a victory that almost got away from the Crushers (15-7 overall) in the final quarter.
"That's the way a Big Game is supposed to be, right?" he said. "I can tell you 5-0 feels a lot better than when we were 2-3 at this point last year. We have a goal, and the goal is to win the league. We've taken care of business so far. But we have a long ways to go to achieve our goal."
Donohoe said he wasn't surprised the game came down to the final seconds.
"I expected this game to be close," he said. "Darci (Ward, Napa High head coach) is one of the best coaches I know. We needed everything and then some to get the win tonight."
The Indians (9-12, 2-3 MEL) had their chances, as Vintage went cold and scoreless for the final 2:25. Napa chopped away at the Crushers' lead little by little. Thanks to Vintage failing to take advantage of two straight one-and-ones, Napa found itself with the ball and a chance to tie or even take the lead with 13 seconds left. Unfortunately for the Indians, an errant pass never made its way to Siena Young and Vintage was able to run out the clock.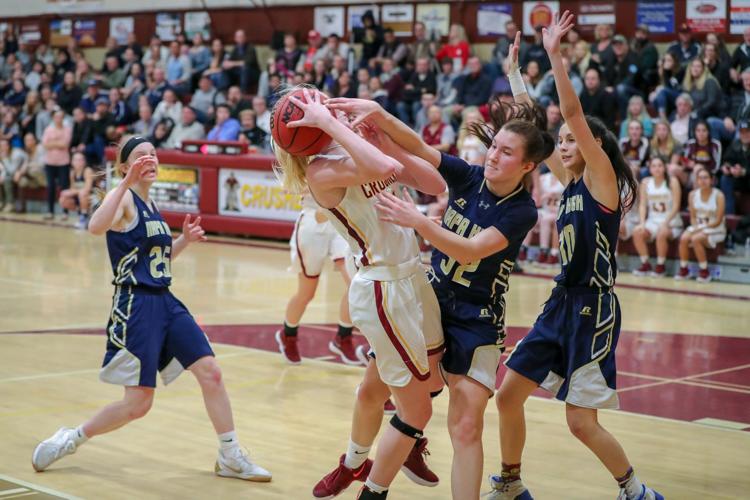 "We decided we were going to go for the tie," Ward said. "It could have gone either way, except the pass we needed didn't make it through. It was a heck of an effort and a nice comeback. We battled all the way."
Vintage had an 11-point lead at one point early in the third quarter, but Napa had no quit in it this night.
It was standing room-only when the game got started, and even an open spot to stand in was hard to come by at the Crushers' gym. The school bands were blaring, opposing spirit squads were on point, and the fans looked ready for some memorable action.
Before the game was something one doesn't see every day. Vintage player Lily Meyers sang the national anthem in uniform and was pitch perfect, drawing a huge ovation from the crowd.
When the Big Game finally began, Napa stole the opening tip and Anna Ghisletta put the Indians up 2-0 before the crowd could settled back into their seats. But Crushers star and leading scorer Alyssa Andrews went coast to coast for and was fouled as she scored, and made the three-point play for a 3-2 Vintage lead.
That was short-lived, however, as Jane McLoughlin scored in traffic to make it 4-3 Napa.
Both teams were looking nervous until Malia Blackmon swished one from the side for a 6-3 Indians lead with 5:30 left in the quarter. Andrews again scored for Vintage, but Blackmon answered that to keep Napa ahead by three, 8-5.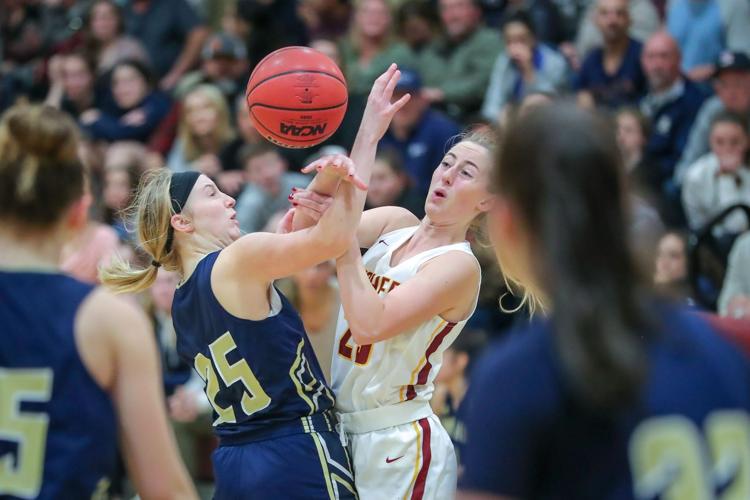 Then the Crushers got rolling with two Andrews free throws and a Bailey Loban putback to retake the lead, 9-8. Sofia Brandon stopped the Crushers' run with a deep three from the deep corner, which put Napa back on top 11-9 lead with three minutes to go. Blackmon again made her presence felt on a driving bank shot to extend the Indians' lead to 13-9.
Andrews answered with free throws and a jumper that found nothing but net and suddenly the game was tied at 13-13 with two minutes left. The crowds for both sides were going crazy with the back and forth action and multiple lead changes. Andrews continued the Vintage run with a sweet turnaround in the lane for a 15-13 lead, the first for Vintage in a while. But the quarter was far from over.
Carly Johnson, eventually Napa's leading scorer for the game, made her first entry in the scorebook on a long three to give Napa back the lead, 16-15. Loban was having none of that and scored again to retake the lead, 17-16, for the Crushers. Just when it looked like Vintage would walk off the court with a first-quarter lead, Brandon swished her second long one of the quarter to close the scoring with Napa up 19-17.
Andrews brought her best game and led all scorers with 13 in the quarter.
"Before the game I was so pumped – the music, all the fans here – I knew I had to put on a show," she said. "The name 'Big Game' just gets you going. There are so many more people that come. I feel like all the noise and excitement makes me play a little bit better."
Vintage reserve player Maya Sapienza opened the second quarter by tying the game, 19-19, with a nice bank shot. But Young answered with a tough shot from directly under the basket as the shot buzzer sounded, and Napa was back on top 21-19.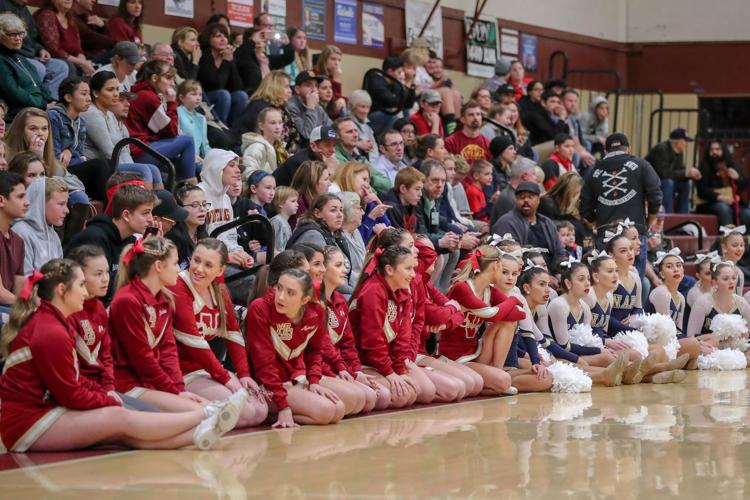 Kate Ilsley tied the game with a tough rebound and putback and was fouled, and made the free throw for a 22-21 Crushers lead. The play seemed to energize Vintage, and Loban streaked down the court on a fast break to extend the hosts' lead to 24-21 lead with five minutes to go. Moments later, Loban scored again with a bank shot and a Megan Kuehl free throw made it 27-21, before a long three by Johnson brought the Indians to within 27-24.
Vintage seemed to be getting more of the open looks and Ilsley, who would have a monster quarter, nailed a bank shot for a 29-24 lead. An Ilsley free throw made it 30-24, before a strong underneath move by Napa's Breck Hearn cut the lead to 30-26. Then it was Ilsley again taking the lead back to six at 32-26 before Indians reserve Christina Bottini canned a long two. Andrews again came alive for Vintage and a driving layup gave the Crushers a 34-28 lead.
After the cheer teams from both schools turned in stellar Big Game performances at halftime, the crowd settled in for some more great girls high school basketball action. As it almost always does, the Big Game would deliver.
Vintage came out of the locker room like it had something to prove. Back-to-back baskets by Ilsley and Andrews on a nice feed from Gleeson gave the Crushers their biggest lead of the night, 38-28. Napa came out ice cold and did not score for over four minutes, but Vintage could not put the scrappy Indians away. A long two by Johnson ended the Napa drought and drew them within nine at 39-30 with 3:30 left.
Johnson also scored the next four for Napa before Young added a putback from underneath. Suddenly the Indians were feeling it, trailing just 39-36.
Vintage ended its own scoring drought with a Gleeson layup on a pass from Andrews, and the third quarter ended with the Crushers' lead back at 41-36.
The game was far from over as the fourth quarter began, and everyone in the gym knew it. The action was fast and furious, back and forth, until an Andrews 3-point bomb from the corner gave Vintage a 48-42 lead. A Gleeson fast-break bucket moments later gave the Crushers a commanding 50-43 lead with 2:30 to go.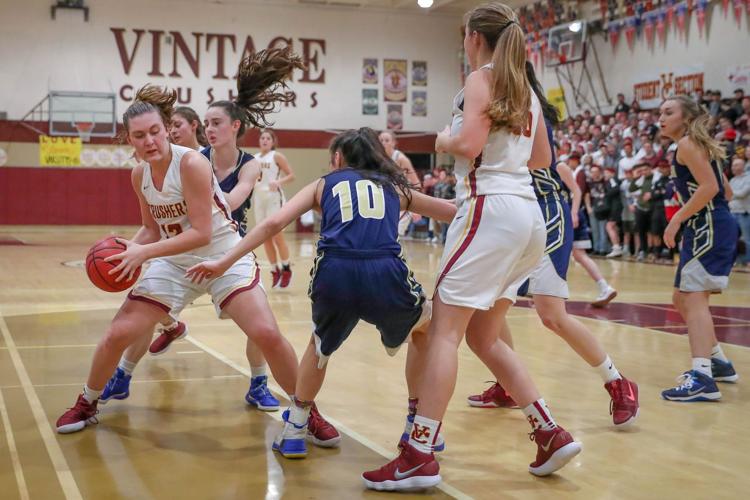 Game over? Far from it. Few would have expected the undefeated Crushers would go scoreless the rest of the way, but that's what happened. Did we mention this was the Big Game?
Donohoe moved to a full-court press and tough man-to-man defense. But the Indians still managed to score on a Johnson basket off a clever inbounds play and another two from Ghisletta, who hadn't scored since the first basket of the game, and the Vintage lead had shrunk to a mere two points at 50-48.
The Crushers could have put the game away, but two one-and-one opportunities went for naught and an Andrews runner rolled tantalizingly around the rim before falling away.
Fortunately for Vintage, Napa could not take advantage of its final opportunity and Crushers kept their league record untarnished.
Johnson, who led Napa with 14 points, was visibly disappointed with the outcome.
"It was a really tough loss," she said. "We should have won that game. It was a great comeback, though. It felt good to score some crucial buckets so we could catch up. It was super fun tonight. I love the Big Game atmosphere. We came in with a really positive attitude and I think we surprised them. We'll get those guys next time."
"Carly is a beast," Ward said. "She's been a consistent player for us all year long and is one of our best players. She's kind of quiet and doesn't always get the credit she deserves, but is very solid on both ends."
Andrews, who led Vintage with 22 points, credited her teammates and Donohoe.
"Our coach has been so dedicated with us. He comes up with new drills and new offenses. It's really been working for us," she said. "Kate and Nicole give the team a big boost as well. They are two of my best friends on and off the court and we work really well together. We've all played with each other so long, we just know what each other is going to do."
Ilsley finish with 11 points for the Crushers, while Loban added eight, Gleeson four, Kuehl three and Sapienza two.
"I couldn't be more proud of the girls," Donohoe said. "They come to work every day and they work hard. They love each other and they love the game of basketball. It's a pleasure just to be a part of this whole journey."
For Napa, Blackmon scored eight points, Brandon six, Hearn and Young five each, McLoughlin and Ghisletta four apiece, and Bottini two.
"Our team is improving and we have not reached our potential yet," Ward said. "We have to get better."
Vintage travels to second-place Wood (4-1 MEL) for a key showdown on Tuesday, while Napa is at home against third-place Rodriguez. Both games tip off at 7 p.m.