Ashlee Whittemore exploded for a career-high 36 points as the Justin-Siena girls basketball team defeated Orem of Utah, 60-48, in the seventh-place game of the San Diego Surf N Slam Tournament's Surf Division at Scripps Ranch High.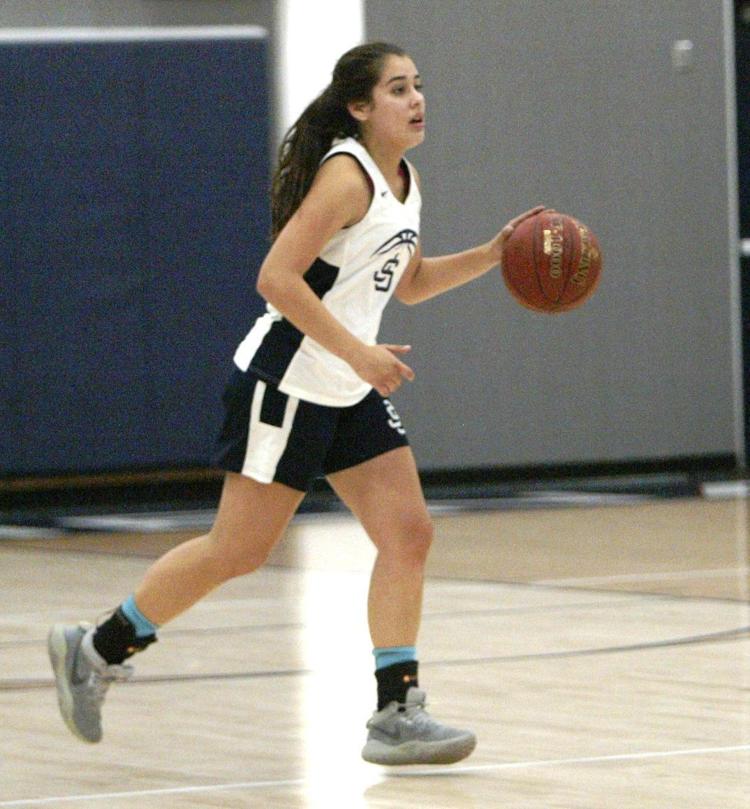 Whittemore's previous season high was 27 points, which she recorded twice last month. The junior canned five 3-pointers against Orem and added 11 rebounds for a double-double. She also had four assists and four steals.
Ally Jackson had eight points, eight rebounds and four assists. Mary Minigan had six points, three assists and two rebounds. Kiran Monteverdi had four points and four rebounds and played great defense.
Ella Thatcher supplied two points and four assists, Mikhaela Cepeda two points and three rebounds, Lexi Rosenbrand two points and two rebounds, and Emmy Morrison two points.
The Braves never trailed. Orem pulled to within one point in the fourth quarter, but Justin-Siena responded with a 14-3 run keyed by 12 straight points from Whittemore on four consecutive possessions – three 3-pointers and an old fashioned three-point play. The Braves kept the lead above 10 the rest of the way. They shot over 50 percent from the field as a team, including 7 for 13 from the 3-point line.
"Overall, this was a successful trip," Justin-Siena head coach Andy Bettencourt said. "The best part was that we played our best offensive game in the last game of the tournament. Ashlee really had it going, and it was a credit to our entire team for recognizing that and getting her open shots. We moved the ball really well as a team and were able to consistently take good shots, which led to a good shooting percentage."
Whittemore was named to the All-Tournament Team for Justin-Siena (6-5), which went 1-2 in the tournament.
The Braves opened Wednesday with a 53-25 loss to Mount Si of Washington state. They trailed by one point after the first quarter but were never in it after that, as they committed 29 turnovers for the game and shot just 18 percent from the field.
Jackson led the way with a double-double of 10 points and 10 rebounds. Whittemore had nine points, six rebounds and four steals. Minigan and Cepeda each had two points, Morrison had two points and five rebounds, and Thatcher added three rebounds and two assists.
In Thursday's 57-51 overtime loss to Kelso of Washington state, Justin-Siena trailed 19-9 after one quarter, but came back to take a lead into the fourth. Some late mistakes cost the Braves and they were down by three points with 10 seconds to go, when Morrison hit a buzzer-beating 3-pointer to send the game into the extra five-minute session. After neither team score for the first two minutes of overtime, Kelso scored nine straight and won by six.
Whittemore had 17 points, seven rebounds, three assists and two steals. Ally Jackson had 16 points, seven rebounds and two assists. Mary Minigan had six points, four rebounds and three assists. Morrison had five points, three rebounds and three assists. Monteverdi had four points, three assists, two rebounds and two steals. Cepeda chipped in three points, and Rosenbrand two rebounds and an assist.
"We would have loved to go 2-1, but some things didn't break our way in the Kelso game and we weren't able to pull it out," said Bettencourt, whose team will open Marin County Athletic League play at two-time defending league champion Tamalpais on Wednesday. "We are excited as we head into the MCAL season and know that, as always, every game is going to be a challenge."