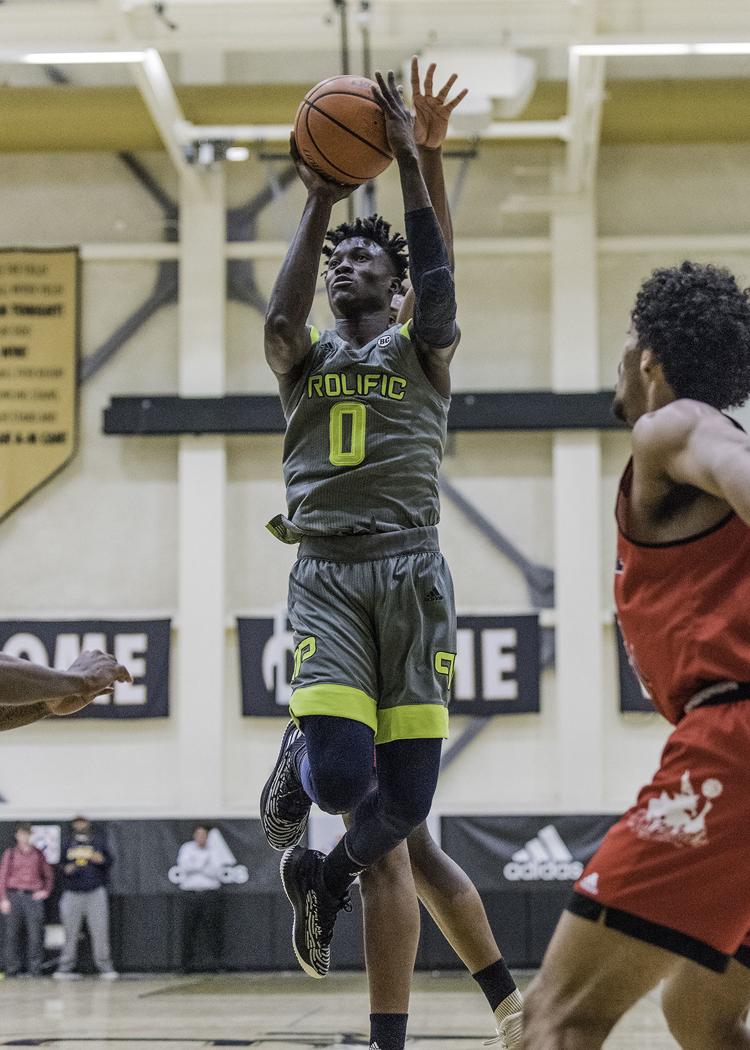 Prolific Prep Academy of Napa concluded its 2017-18 season by going 2-1 at the Grind Session High School World Championship in Owensboro, Kentucky last week.
The Crew (27-8 overall) reached the semifinals of the single-elimination tournament at Owensboro Sportscenter.
Prolific Prep beat St. Louis Christian, 78-52, in the Sweet 16 Round.
Jeenathan Williams scored 16 points and had five rebounds and four assists. Amadou Sow had 14 points and nine rebounds, Jordan Brown had 10 points and 10 rebounds, and Nimari Burnett had nine points, seven assists and five rebounds.
Prolific Prep beat Bella Vista College Prep (Arizona) in overtime in the quarterfinal round, 75-72. Sow led the Crew, scoring 29 points with five 3-pointers and 15 rebounds. Williams scored 20 points and had six rebounds and five assists. Burnett had 10 points, five rebounds and five assists. Sekou Toure had eight points, six rebounds, four assists and three steals.
Prolific Prep lost in the semifinal-round to Victory Rock (Florida), 68-61. Sow led the Crew, scoring 20 points with six 3-pointers and also getting 13 rebounds. Williams had 11 points, five rebounds and five assists. Burnett had 10 points, four assists and two steals. Brown had eight points and eight rebounds.
Toure received Grind Session Defensive Player of the Year honors.
Four players for Prolific Prep were named to All-Grind Session teams.
Sow was named to the first team. Burnett was named to the second team. Toure and Williams were named to the third team.
Prolific Prep plays a national tournament and showcase schedule.
Imhoff, Carroll head to nationals
The Carroll College (Helena, Montana) men's team, led by Napa High School graduate Ryan Imhoff, begins the NAIA Division I National Championship against Lindsey Wilson (Kentucky) on Thursday at the Municipal Auditorium in Kansas City, Missouri.
Carroll, the No. 2 seed, won Frontier Conference regular-season and tournament championships. It's the third consecutive appearance at nationals for Carroll.
Lindsey Wilson (23-8) is the No. 7 seed and is the Mid-South Conference tournament champion.
Imhoff, a senior guard-forward, was named the Frontier Conference Player of the Year.
He is averaging 19.6 points, 7.2 rebounds, 3.8 assists and 2.5 steals per game for Carroll (27-5 overall, 13-5 Frontier Conference), which is on a four-game winning streak.
Imhoff is averaging 32.1 minutes per game and has scored 626 points.
The 81st annual tournament goes through March 20.
The Master's (Calif.) is the No. 1 seed and has a 29-2 record.
Community College finals
City College of San Francisco won the men's title and Mt. San Jacinto College won the women's title at the 2018 California Community College Athletic Association championships on Sunday at Ventura College.
San Francisco beat San Diego City College, 82-72.
Mt. San Jacinto College beat Merced College, 81-52.