Old St. Helena photos come to life as 'History Becomes Art'
Sepia-toned images of St. Helena's olden days are coming to colorful life via watercolors, acrylics and oils.
For the second year in a row, local artists are contributing to "History Becomes Art," a fundraiser for the St. Helena Historical Society featuring more than 30 works of art based on historical photos.
The art will be auctioned off at 1-4 p.m. Saturday, April 21, at Brasswood, at an event that also includes live music, hors d'oeuvres, and wine. Tickets are $100 and available at historybecomesart.shstory.org.
Much of the work is already on display at the St. Helena Public Library. About 50 people attended Thursday's opening reception, where some of the featured artists talked about what inspired them.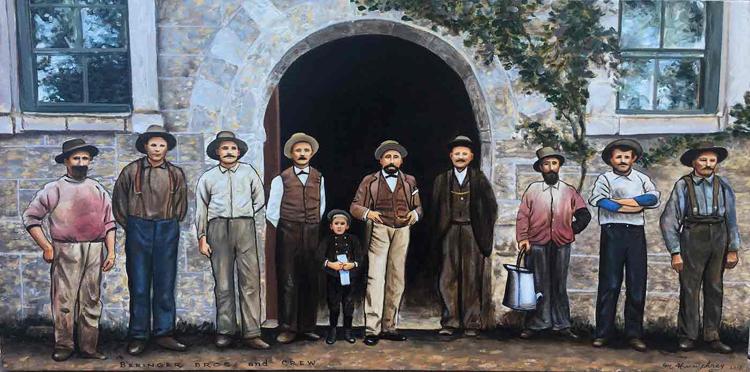 Artist Marvin Humphrey said an 1895 photo of the Beringers and their cellar workers had special significance for him because he worked at Beringer for six years, giving cave tours.
"St. Helena is such a unique little spot on the planet," said Humphrey, who contributed oil paintings of the Beringers, the Chiles Mill built by William Baldridge, the Chateau Chavalier winery on Spring Mountain, and the old Paulson home on Pope Street.
Wyn Ericson, an art teacher in Napa, painted Philo Grant, owner of Grant's Garage, sitting in his 1907 Reo roadster in front of the old Star building, and Police Chief Frank Simpson showing off the department's newest police car, a 1955 Ford V8 Mainline, in front of what is now Archetype.
Lin Weber contributed oil paintings of four local pioneer women: Maria Ygnacia Soberanes Bale, Mary Cyrus Nash (shown with her husband William), Sarah Esther Chase Bourn, and Luncinda Hudson York. The portraits, based on surviving black-and-white photos of the women, are surrounded by written text recounting their accomplishments.
Greg De Lucca chose photos of the old Napa Valley Co-Operative Winery and of Angwin's Linda Falls, which in the late 19th century was known as La Jota Falls. He said that when he arrived in St. Helena in 1977, the winery was a major force in the wine industry.
"It became an outlet for many of the small grapegrowers here in the valley," De Lucca said. "They sold their grapes to the Co-op, the Co-op made the wine, and Gallo bought it."
Christine Olivo's "Afternoon Siesta" is based on a photo of John Salvestrin snoozing on a bench, with one leg propped up on the bench beside him.
"I'm not one to do portraits, but I fell in love with this – he looks so comfortable," said Olivo, who also painted a vineyard crew based on a photo from the 1980s.
Salvestrin's grandson Mark Salvestrin happened to be another of the contributing artists. But instead of painting, he turned to photography and took a more abstract approach. The result, "Oxidation," bears a textural resemblance to a photo of a rusting old dump truck circa 1930.