Tuesday's grand opening of St. Helena's Ink House Inn
It's finally official. The grand opening of the historic 1885 Italianate home of Theron H. Ink at the junction of St. Helena Highway and Whitehall Lane was held Tuesday with friends and neighbors of the Castellucci family gathered to celebrate a formal ribbon cutting ceremony on the sweeping porch of the fully restored and reimagined inn.
The building has had a long history, first as the Helios Ranch of Theron Ink, and later as a bed and breakfast up until 2013 when the Castelluccis purchased the property. But, according to Antonio Castellucci, simply remodeling the old structure was not on the agenda. Instead, it has been restored to pay homage to the building's history but with a sophisticated, modern twist.
"We thought that we could retain the charm of the historic building, but elevate it to a five star luxury inn," he said, standing before the porch as the guests assembled.
"It was a large project," he added. Yet, because the building is on the National Register of Historic Buildings, Castellucci said, there were many challenges. "For instance, the windows of the building were all single pane and we thought that it was important to put in double pane windows. So we had them custom built. We worked closely with the Napa County and the Historical Society, and they were great to work with."
Each guest room seems to draw on inspiration from the past, reminiscent of the inn's remarkable history. The guest rooms are luxuriously appointed with designs that suggest the history of Theron Ink, the residence's original owner, his wife Harriet, and Helios, the name of the working ranch Ink established. There is even an "Elvis Room" which earned its moniker from Elvis Presley, who made the Inn his home during the filming of "Wild in the Country" in the Napa Valley in 1960.
The attention to detail of interior redesign spoke to the Castelluccis' commitment and exquisite sense of luxury. "We wanted to create a truly luxurious experience, " Antonio Castellucci said, during the ceremony. "It's something new on this scale. Something personal, to match the beauty of the Napa Valley."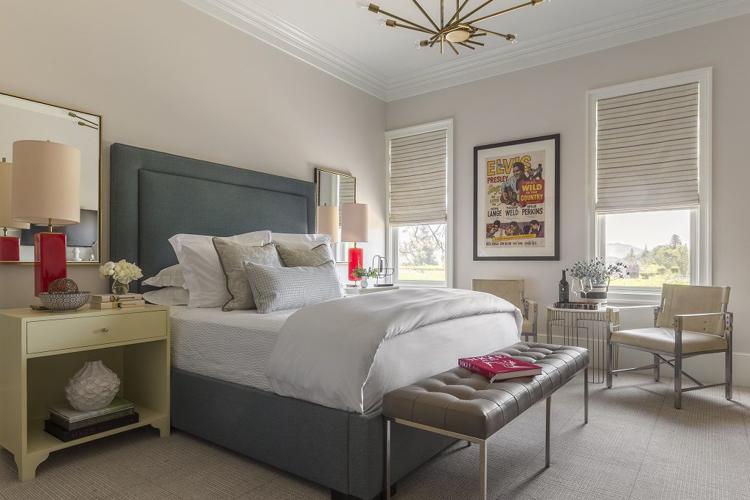 Indeed, walking through the inn, room by gracious room, one had the feeling of arriving in a home spectacularly designed for an intimate lifestyle, with sweeping views of the ranch, the vineyards outside the doors, and a special atmosphere of casual living.
"The Ink House was designed to make you feel like you've entered the home of your dreams," said daughter and proprietor Maria Castellucci.