Water was the subject of the first town hall meeting held by Mayor Alan Galbraith and the former proponents of the recall, who called off their campaign to remove him from office when he agreed to address their concerns at a series of public meetings.
More than 90 people attended Monday's meeting at the Native Sons Hall, which was moderated by retired Judge Scott Snowden, who also presided over the mediation sessions that led to the end of the recall.
Galbraith and the former recall proponents revisited many of the same issues the Ad Hoc Utility Rate Committee explored last year – such as the water rate structure and a court ruling involving tiered rates – as well as the expensive delay in removing the Upper York Creek Dam.
Snowden recognized various speakers who were allowed to talk at a podium with no time limits. He asked occasional questions for follow-up or clarification, but prevented the meeting from turning into a back-and-forth debate between Galbraith and his critics. As the meeting began Snowden said he didn't want it to "devolve into anything inquisitional or into a food fight."
Water rates
Tom Belt pointed out the steep increases in St. Helena's water rates since 2000, and challenged the determination by the council, city staff and consultants that it would be difficult to legally justify charging higher rates for customers who live outside the city limits or are served by one of the tanks near Meadowood and the lower reservoir.
Those tanks require expensive repairs that should be paid for by the same customers who use them, Belt said. By charging everyone the same rate, the city is unfairly forcing regular ratepayers to subsidize customers who are served by more expensive infrastructure, he said.
"I believe that the city could, if it wanted to, justify out-of-city costs to the people who live out of city, just as Napa has done and just as Yountville has done," Belt said.
Galbraith said the city's hands are tied by a 2016 legal ruling involving the city of San Juan Capistrano, which found that water rates must be strictly tied to the actual cost of providing service. The expensive studies and record-keeping that would be required to justify higher rates for outlying customers wouldn't be worth the small amount of additional money the city might be able to collect, he said.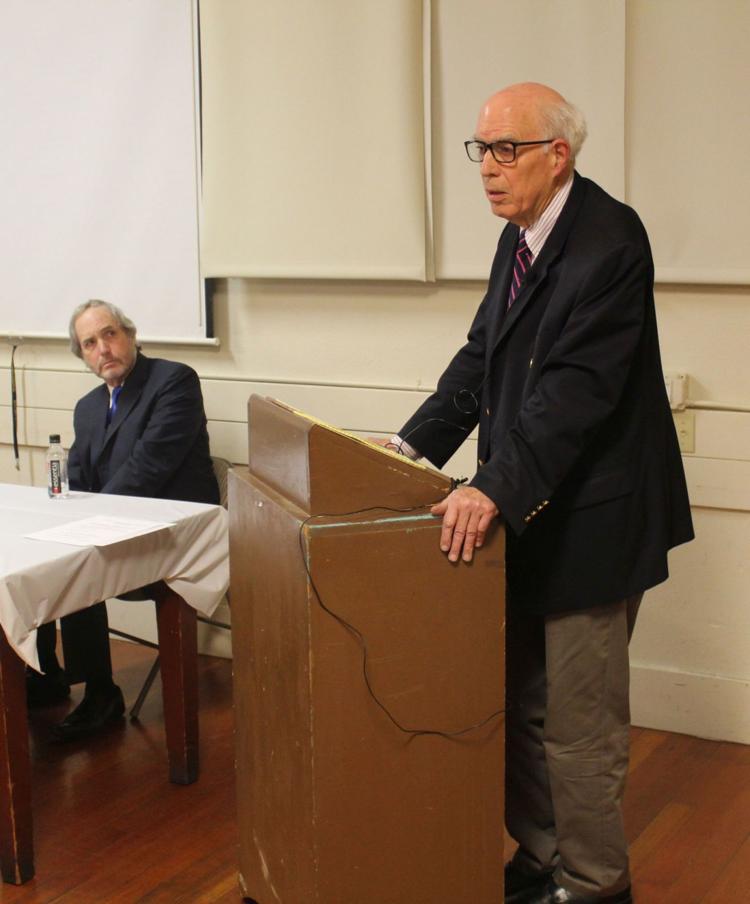 Although he doesn't like the San Juan Capistrano ruling, "The law is the law and we have to live under it," Galbraith said.
As for some customers subsidizing others, "I don't see it," he added. The most recent investigation of the city's rates "produced about as fair a result as we could come up with at that time," although the city might have to conduct another comprehensive rate study in as little as three years to ensure that rates are still matching costs, Galbraith said.
Belt and Kathy Coldiron questioned the council's choice of rate consultants and said they didn't feel confident that the city's water staff are looking out for the city's best interests.
"I think it's an issue of confidence," Coldiron said. "Confidence in the people that are leading us, that we've elected. And I don't have that confidence with the current mayor. I'm always questioning, are we getting the best bang for our buck? I don't think so."
Water contracts
Galbraith defended the council's split decision not to disclose the amount of water being used by customers – mostly wineries – that buy potable city water under contracts.
State law allows the release of that information only if the public interest in disclosure clearly outweighs the public interest in keeping it private, Galbraith said, insisting that this situation didn't meet that legal standard. The city checks annually on whether those customers are complying with their limits, he said – if they aren't, they could face major financial penalties.
Speakers at Monday's meeting, however, were highly critical of those water agreements. Lana Ivanoff said the public deserves to know how much water those customers are using, and called for the city to conduct engineering studies and an audit of its water enterprise.
Large water users, including those without registered water contracts like Beringer, "are going to bankrupt our city, Mr. Mayor," said Anthony Micheli, who represents a group of residents who are suing the city over the approval of Beringer's reconfigured tank farm.
Most of those water contracts were negotiated in the 1990s to set a cap on water consumption by major users who previously had been entitled to buy as much water as they wanted to, said Lester Hardy, an attorney, planning commissioner, former city councilmember, and member of last year's Ad Hoc Utility Rate Committee.
"They were put in place not to extend water use but to limit it," Hardy said.
York Creek Dam
Belt criticized the city's delay in removing the Upper York Creek Dam, which has forced ratepayers to cover $70 a day in fines incurred by the city since 2012. The dam is scheduled to come out this year, but Galbraith opposed the council majority who agreed to fund part of the removal out of the General Fund rather than put the burden on ratepayers.
"It was the city who basically didn't get the job done for over 25 years," Belt said.
Galbraith, who was elected mayor in 2014, said he doesn't appreciate the delay either, and he's committed to removing the dam.
"I wish it had been gone before I became mayor – what can I say? But that's not the fact situation with which I and other members of the council are faced," he said.
The next town hall meeting will be from 11 a.m. to 2 p.m. Saturday, Feb. 3, at the American Legion Hall, 1291 Madrona Ave. Snowden invited people to mail him possible discussion topics at P.O. Box 84, St. Helena, CA 94574.
The residents who called for Monday's meeting have formed a website, CPRStHelena.com, under the name Citizens Pursuing Representation in St. Helena.