St. Helena Chamber's Celebrate St. Helena will honor award winners on March 16
The St. Helena Chamber of Commerce will fete the annual Community Service Award honorees at 2018 Celebrate St. Helena, to be held from 11 a.m. to 2 p.m. Friday, March 16, at Hall Wines, 401 St. Helena Highway, St. Helena. Tickets are $65 and available at Eventbrite.com.
"We were thrilled to have many nominations of outstanding community members and businesses who are making a difference in St. Helena. It is never easy choosing the winners, because there are so many deserving people, organizations and businesses," said Chamber President and CEO Amy Carabba-Salazar.
This year's honorees include: Susanne Salvestrin, Lifetime Achievement Award; Sportago, Business of the Year; Janet Todd, Girls on the Run, Citizen of the Year; Kevin Gambill, St. Helena Post Office, Employee of the Year and La Boheme founded by Collabria Care, Non-Profit of the Year.
Susanne Salvestrin, Lifetime Achievement Award
Salvestrin's list of accolades seems to extend for miles, according to Mariam Hansen, who nominated her. "I'm speechless and grateful," said a shocked Salvestrin after being surprised with the news in mid-December.
In her nomination form, Hansen writes, "Susanne has been a St. Helena business owner in varied fields. She opened the Creative Needle shop on Main Street in 1981 and sold it in 1990. Later she became the chef at the Sutter Home Inn. When a new chef was hired, Susanne limited her job to pastry chef.
"Ed and Susanne Salvestrin restored the historic Dr. George Crane house in 1990 and opened Sunny Acres Bed & Breakfast in 1992. She prepared sumptuous breakfast for her guests. Sunny Acres is now the Inn at Salvestrin and guests still enjoy the delicious treats Susanne bakes."
Additionally, she spends most of her time volunteering her time with numerous organizations and serves on several different boards.
Here are some accolades for the other award winners, gleaned from nomination forms.
Business of the Year, Sportago
Sportago is a staple on Main Street and their new location has helped add to Main Street's success. Owners Ahren Trumble and Chris Patrick kept their doors open during the fires and worked with their vendors to get products to those in need. They are a huge part of our community. "Every year, it is hard to decide which business of the year to select with all the great nominees, but this year Sportago helped provide clothes and supplies for our community during the horrific fires. That is just one of the many things they did in 2017 that made them the best pick for business of the year," said the Chamber Board Chair Marcus Marquez.
Citizen of the Year: Janet Todd, Girls on the Run
Todd is the Executive Director/President of Girls on the Run, a non-profit that helps empower girls in the community. Girls on the Run Napa & Solano is a small nonprofit in its 10th year, with more than 4,800 girls participating. She has worked for over 10 years, empowering young girls to believe in themselves and pursue life goals. "The list of Janet's involvements is lengthy. She volunteers with numerous organizations across St. Helena, helping to make the community stronger," said Chamber Board member KC Garrett.
Employee of the Year: Kevin Gambill, St. Helena Post Office
Gambill has been a familiar face with the St. Helena post office for many years. His positive customer service skills are always greeting residents with a smile. One of the nomination forms states Gambill "is a fixture in St. Helena and a person like Kevin never asks for recognition but is so deserving of it."
Nonprofit of the Year: La Boheme founded by Collabria Care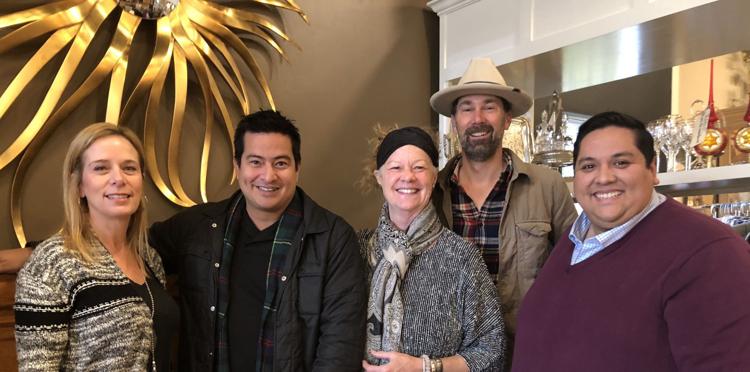 La Boheme is a great example of a boutique making a difference. The store is known for great merchandise, great employees and for their care and mission, serving people with great purpose. Proceeds from the store help support hospice and other programs offered by Collabria Care.