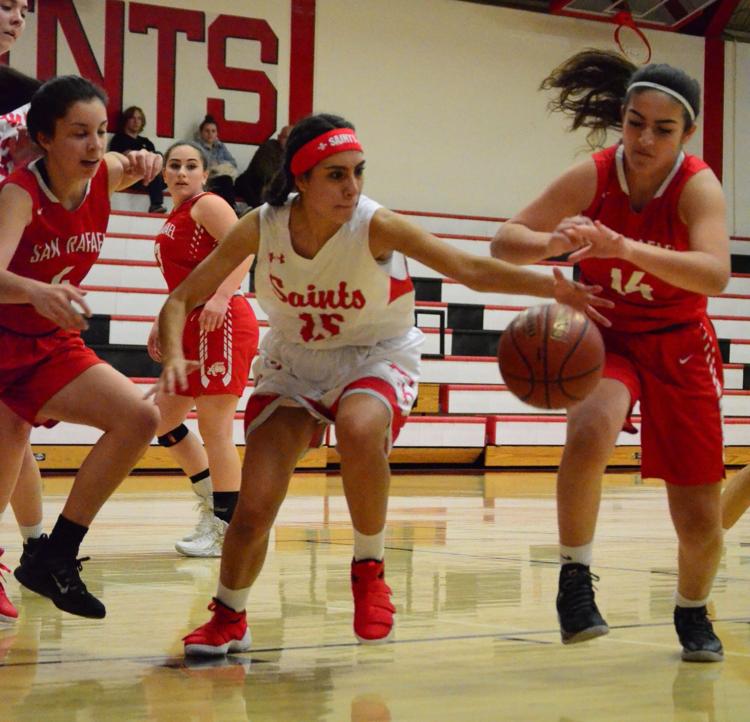 Kate Shipp-Roberts might not be an old coach with decades of experience under her belt, but she has proven she can turn around a basketball program.
After her first season with the American Canyon High varsity girls team, a campaign that ended with a 12-14 record and just two wins in Solano County Athletic Conference play, the Wolves went 17-8 in 2015-16. They finished second in league with an 8-2 mark, and the only losses came to league champion Vanden.
American Canyon won multiple tournaments that year, and fared well against Napa Valley opposition, too, beating Justin-Siena, Vintage and losing a close one to Napa High. The Wolves also made their first trip to the Sac-Joaquin Section Division III playoffs.
So St. Helena High's first-year varsity coach has some experience building up a program. The difference now is she's leading a program that's been glued to the basement floor for years.
The Saints have gone winless in North Central League I play three straight years. The last time they won a league game was in 2013-14, which was also the last time the team made the playoffs.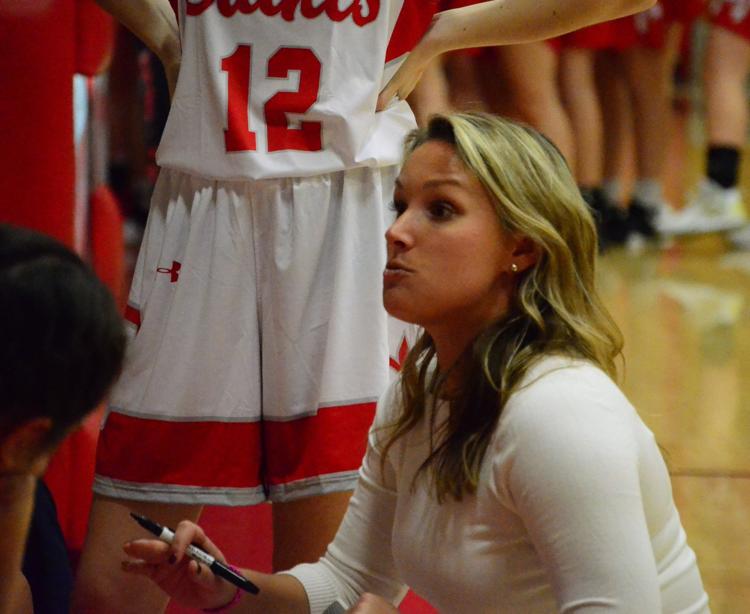 "It's a new position, to say the last," said Shipp-Roberts, who coached the JV team last year. "I've been part of teams that haven't had winning records before, but it's different. It's very different and it certainly has its challenges, but it's also exciting because you want to be able to leave a positive mark on not only the program, but the school, the community. So to have the opportunity to do that with this group being my first group, it's exciting."
The group she's inherited from longtime St. Helena coach Ouvidio Gomes, who returned to the volleyball staff, is a small one, in terms of roster size. The Saints (1-5) have eight active players and that's meant nearly nonexistent rest for some of them.
"It's certainly not easy," Shipp-Roberts said, "but the girls have totally bought into (the idea that) everyone's getting playing time, everyone's going to be tired, but you can't let the next person know it. They've done a really good job of playing four quarters."
The team is dominated by juniors, with only two seniors, Destiny Camacho and Jessica Rodriguez, on the roster. That duo, along with junior Citlalli Garcia, represents the three players Shipp-Roberts did not have at the JV level last season.
Rodriguez "is not big in stature, but she's one of the ones that will crash the boards, get the rebounds, score the garbage points, as I like to call them," Shipp-Roberts said. "She's not afraid to get in there with the rest of 'em." She added that seeing Camacho "improve each week has been fun."
Jovana Rodriguez is the team's primary ball handler at point guard.
"She's quick and, when she wants to be, she can be one of our better defenders," Shipp-Roberts said. "It's just writing it in sharpie or writing it on her hand a reminder to play feet-first defense, which she's capable of doing. She can be a real force for us on the defensive end."
Lauren Ridgway is a newcomer to the program, and joined in the offseason. Shipp-Roberts described her as a "go-getter" that has been as committed as anyone on the team.
Andrea Hernandez, the team's top scorer early in the year and an All-Tournament selection at last week's Red & Blanc Holiday Classic, is one of the team's fastest players.
"She just goes, goes, goes," Shipp-Roberts said.
Blayney Adamson, co-captain with Lisa Lord, provides the muscle for the Saints and is as versatile a player as they have.
"She can play underneath, she can play outside," Shipp-Roberts said. "And she's a lefty. That's fun – I've never had a left-handed player before."
Lisa Lord has shown the most improvement of any player from last year to now.
"She probably demonstrates the most self-discipline when it comes to defending someone, the shots that she takes during a game," Shipp-Roberts said, "and she's another one that's probably not had a break and doesn't leave the floor. She works her butt off and doesn't complain a lick."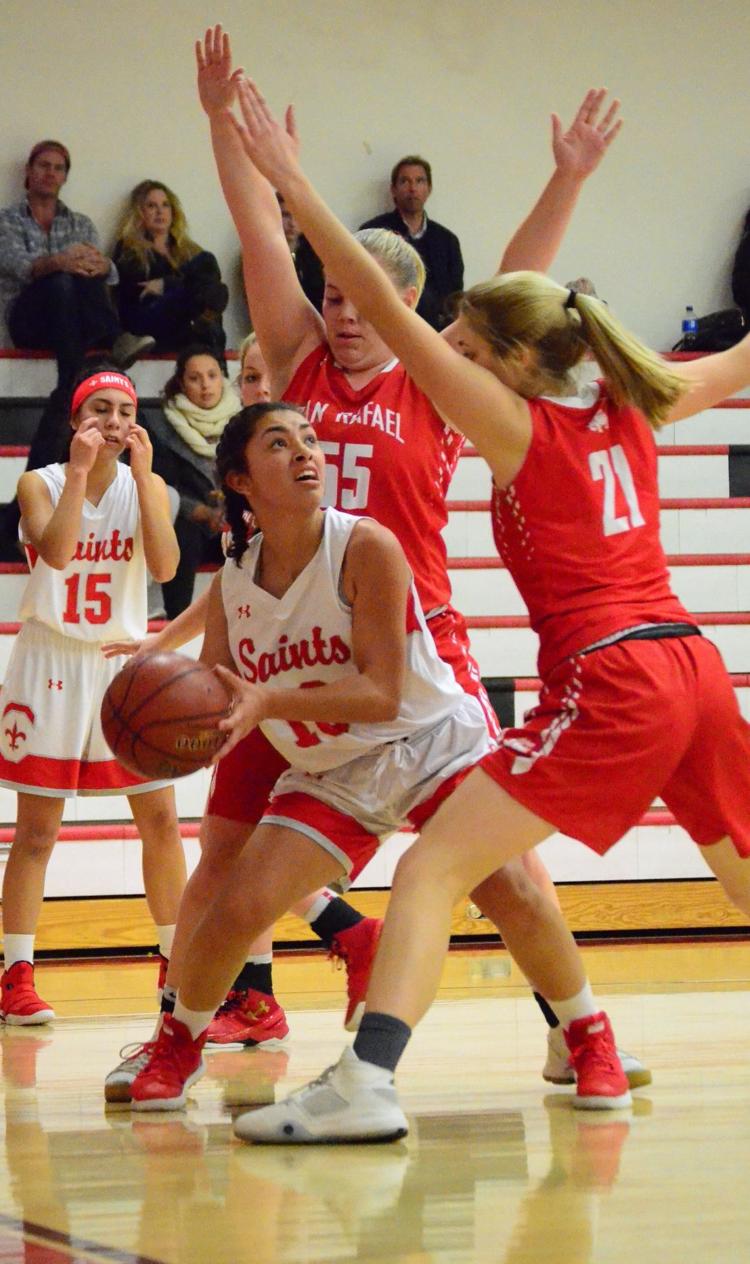 Garcia was on the varsity team as a sophomore last season and, with Lord, has played almost every minute of every game so far.
"I could put her anywhere and guard anyone," Shipp-Roberts said. "She naturally adapts to whomever she's guarding whether it's a 6-foot-1 post or a 5-foot-4 quick, guard. She makes the adjustments on her own and she's a natural athlete."
This small group of Saints isn't expected to transform into world-beaters overnight, but Shipp-Roberts does want to see character development, at the very least. She's focused on developing a competitive mindset, one that can carry them through more than just sports.
"One day at a time," Shipp-Roberts said. "Again, I stress little things like arriving on time and communication and commitment and all things that happen in a sports arena but also happen every day in the workforce and school. Can you show these traits elsewhere besides an athletic team? Right now they're with an athletic team so they need to show those every day traits whether they realize they're doing it or not."
It's been a challenge to maintain the pace of the opposition early on, and much of that is due to the limited roster. Tired legs make getting back on defense harder, and larger deficits can lead to poor decisions on offense.
But for the Saints coach, finding that confidence that they can be competitive is the best way to overcome the obvious hurdles.
"They're capable of so much more than they thought," she said. "I think it's just been a matter of poking them, as I like to say, and being a constant reminder of what they can accomplish and what they're accomplishing – even if they might not think that they can."