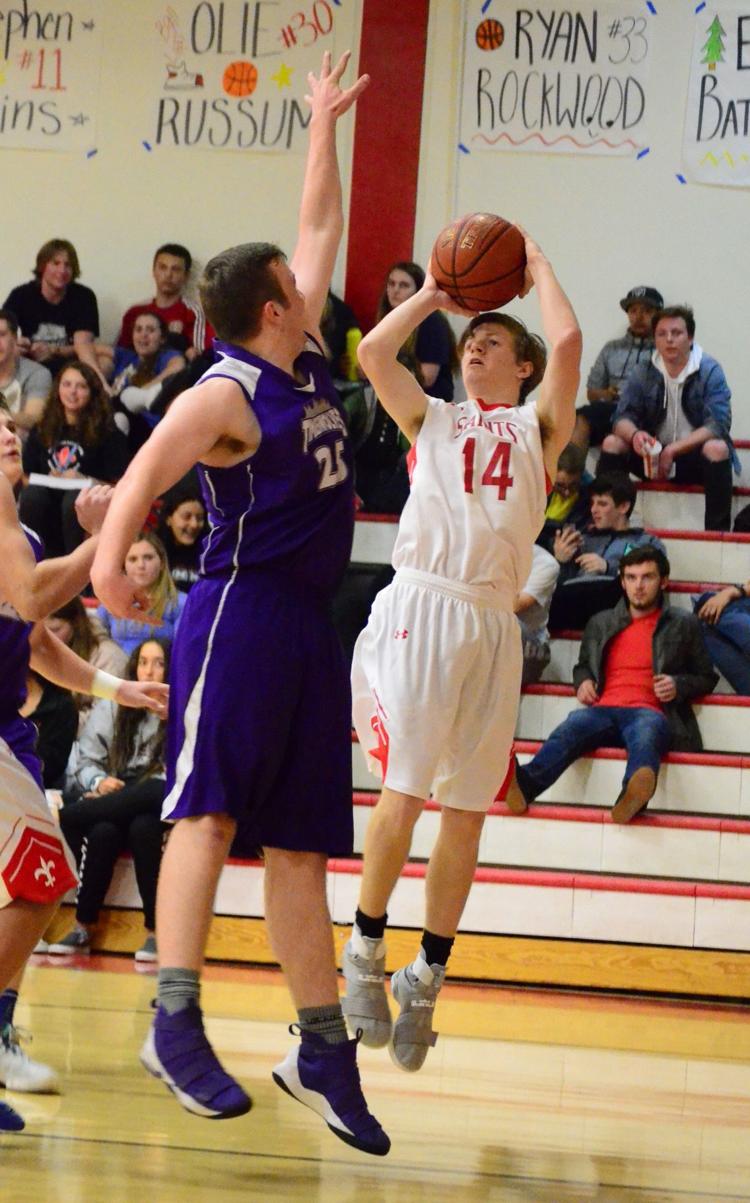 St. Helena needed a game like this.
North Central League I play had become a brutal exercise in mental fortitude recently as the Saints stomached one result after another that didn't necessarily reflect the team's potential.
Before Tuesday's matchup against Fort Bragg, they had lost seven out of their last nine games, and saw the offensive production taper off, scoring fewer than 40 points in each of their previous four losses.
So with Timberwolves visiting on senior night, the Saints exorcised some demons in a 69-45 win, built on a scorching first-half performance.
St. Helena (11-14, 4-9 NCL I) exploded for 35 points in the first quarter – their highest-scoring frame this season – starting the game 9 for 9 from the field as they sprinted to a 16-point lead.
Senior center Ethan Battistini did most of the damage at the start, netting 12 of his game-high 21 points in the opening period. Rounding out his final stat line were two 3-pointers, six rebounds, two blocks and a steal.
Much of the first-quarter onslaught came from behind the 3-point line, too. Ryan Rockwood and Stephen Collins both netted two 3-pointers, and Jonathan Gamble and Christian Iano each sank one.
That 35-point frame was even more remarkable considering St. Helena averaged only 40.5 points in each of its two meetings with Fort Bragg (5-20 overall, 2-11 NCL I) this season.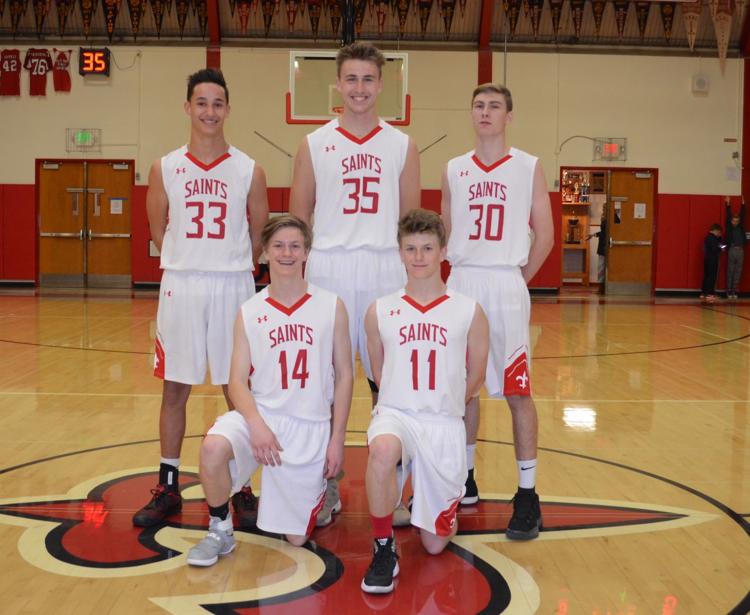 "That was our final score, and we scored 35 in the first quarter (tonight)," said St. Helena head coach Joe Densberger. "That's by far our best offensive performance we've had. When they were going in the way they were going in it was fun for the kids. We've had a couple games where one of those go in, we win against some really good teams. So it's fun for them to have a day like that to where everything they threw up was going in."
The hot shooting continued in the second quarter. Nick Jeworowski was active on both ends of the floor, tallying seven points, four rebounds, two assists and a steal, and Olie Russum added six points and two rebounds – part of an 18-point effort from the home team.
The Saints went into halftime with a 53-25 advantage behind 68-percent shooting and 13 assists on 21 baskets. They only turned it over three times in the half.
For Densberger, what made it even sweeter was the fact that it was senior night lineup of Battistini, Rockwood, Russum, and the twins Stephen and Doug Collins that propelled the fiery start.
"It was kind of nice that they could have a cohesiveness about 'em on the offense because we actually ran our stuff pretty good," he said. "We got good shots out of running our offense … we were launching threes but they were out of the framework of our offense. And they played pretty well on defense."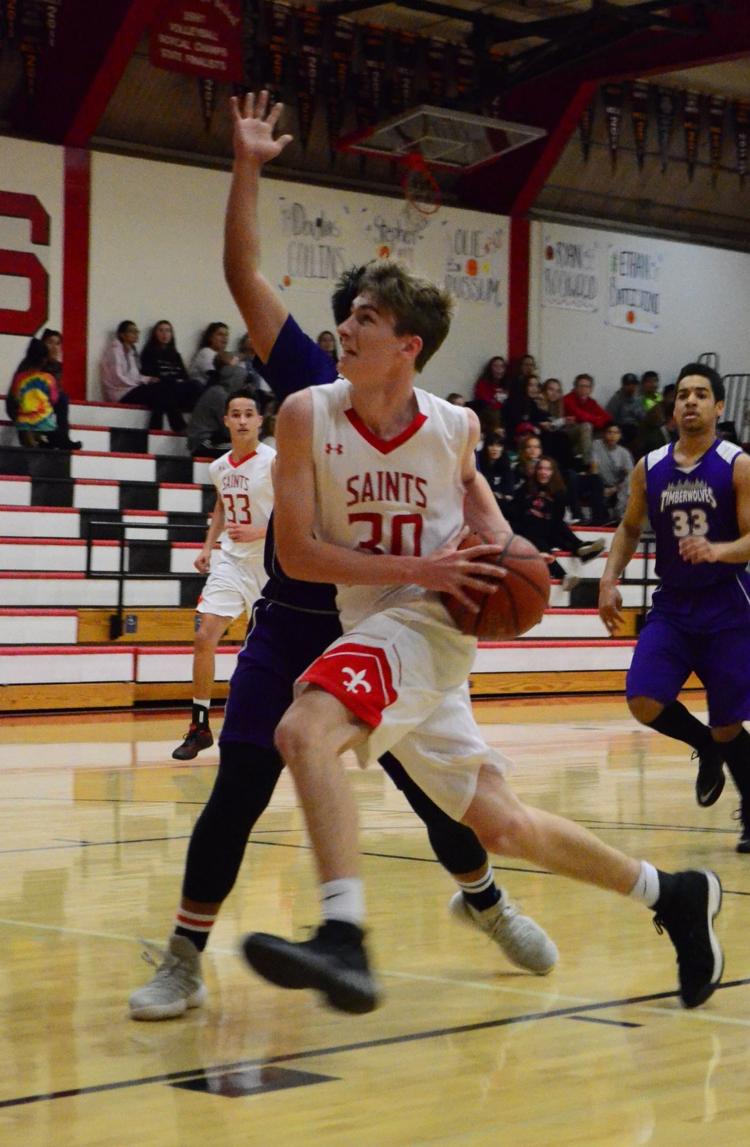 After halftime, St. Helena was outscored by Fort Bragg 24-16 over the final two quarters, hitting cruise control as the younger Saints saw extended minutes with a comfortable lead. They had a 63-30 lead entering the fourth.
Russum finished with 14 points, four rebounds, three assists and two blocks, Rockwood had eight points, four rebounds, three assists, and two steals, Iano seven points, three rebounds, Jeworowski tallied seven points, seven rebounds, four assists and two steals, Stephen Collins had six points and three assists, Doug Collins had four points and a steal.
"They're a great group. They're great kids," Densberger said. "I've never had a group at St. Helena that wasn't a great group of kids."
Reflecting on the season
The league schedule began with a flare of optimism for the Saints, finishing nonleague play 7-5 with a desire to return to the playoffs after returning in 2017 for the first time in five years.
The basketball gods had other plans, though. St. Helena started NCL I play 2-6, losing by an average of 5.0 points in losses to Kelseyville, Cloverdale, Clear Lake and Lower Lake – perennial contenders in the league.
But it was a rising Middletown club that humbled St. Helena in January, winning by 24 and 32 points, respectively, in their two matchups.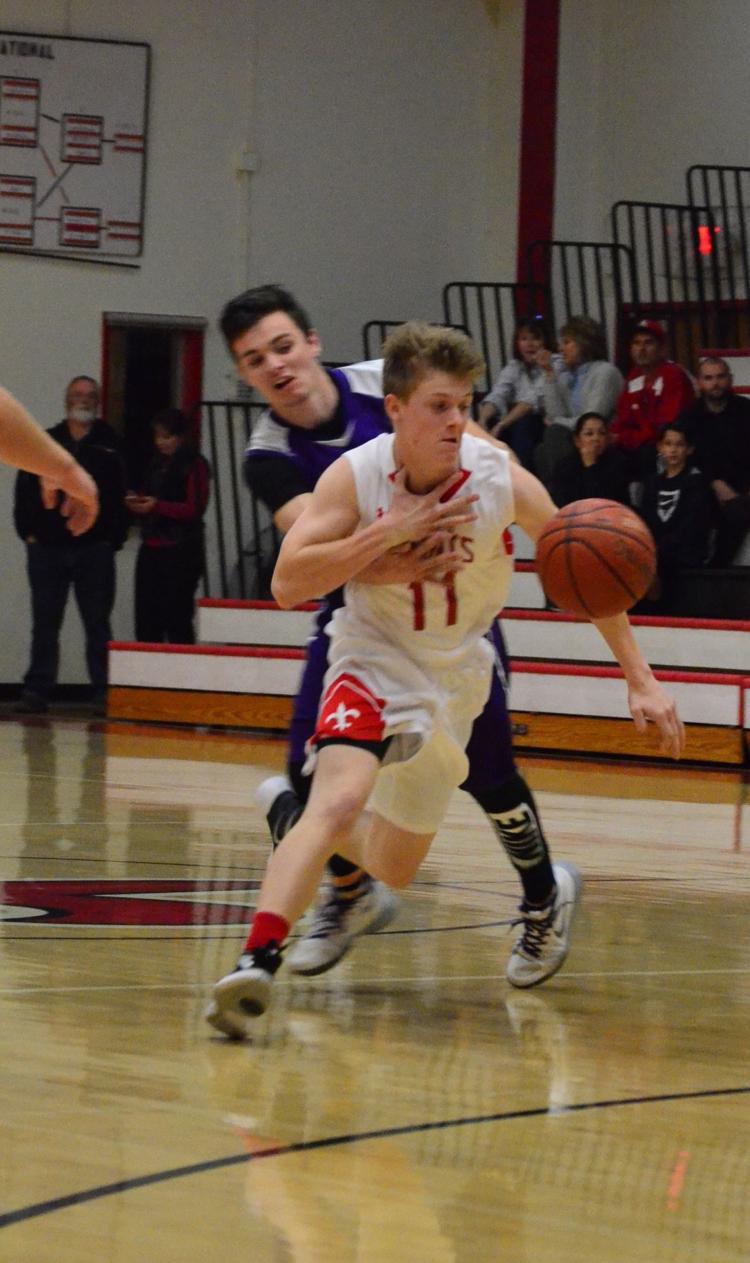 As the climb to a .500 record became steeper, acceptance followed and Densberger says some of the culpability for this group's shortcomings are on him.
"I'm disappointed for the kids. I thought we'd be more consistent than we are," he said. "I have to take some of the blame on that because I never could find a way to get them to be more consistent. I'm disappointed for them because I think they were a better team than we showed this year."
It was the elusive signature win that kept the team from actualizing its goals, he said. If St. Helena sinks a bucket in one of its three opportunities against Cloverdale in the final minute, or gets a stop against Kelseyville when it was a one-possession game late, maybe the confidence goes up and the know-how for winning tight games leads to more victories.
"You win one or two of those games, the kids figure it out and it clicks that switch on for you," Densberger said. "You never know how the season turns out after that. It's learning how to win those close games against good teams. It's too bad we didn't do that this year."