The Wine Exchange
Spirits & Spirituality: A rabbi at the distillery
Last summer, Rabbi Niles Goldstein joined Napa's Congregation Beth Shalom as its spiritual leader and brought with him a fresh approach with his leadership and expansive vision for the synagogue.
In addition to his skillful religious and educational guidance, Goldstein has launched a series of programs not only for the congregation but also for the community at large.
As he says, "My goal is to take Jewish life and religious wisdom beyond the walls of the synagogue, and to meet men and women [throughout Napa] where they are (and would like to be), whether that is an art gallery, music venue, nature, or even a distillery."
Yes, Goldstein did say "distillery," and that became the focus for last week's innovative "Spirits & Spirituality" event held at Napa Valley Distillery located in a hidden corner of Napa.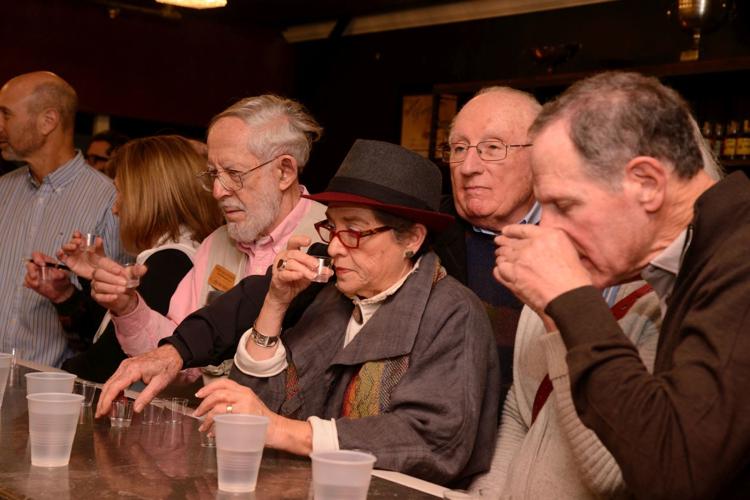 Proprietors Arthur and Lucine Hartunian graciously threw open the doors of Napa Valley's only functional and licensed distillery and Napa's first legal distillery since Prohibition. Unfortunately, the Hartunian's were unable to attend, and in their absence, we were warmly hosted, educated and "entertained" by tasting room manager and brand ambassador Paul Martin and his assistant, Tess Woodbury.
Years ago, Goldstein conducted a similar event in New York where he was a founder and rabbi for The New Shul in Greenwich Village that became the genesis for many of his "nontraditional" outreach concepts. The intent of Spirits & Spirituality was to express the interwoven relationship of spirits with moral and practical teachings found in Jewish history.
Between spirit flights, Goldstein read passages from "A Garden of Choice Fruit," a book that visually showed its age and illustrated years of wear and tear by surviving Rabbi Niles' continued study.
At the outset of the program, I quickly realized the significant differences between a spirits tasting and a wine tasting. Thankfully, I was not alone in expressing a lack of experience with spirits tastings as was clearly obvious when Martin asked for a show of hands as to who had done this before and only a couple went up from the sold-out event group of 50 guests.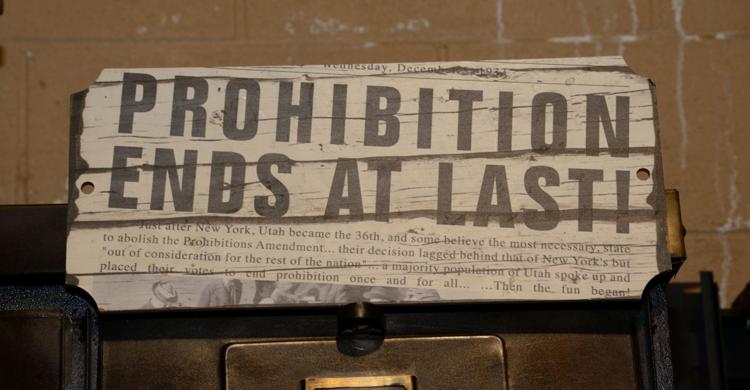 First of all, with spirits tastings, you don't swirl. With wine, swirling in the glass mixes air with the liquid and releases the aromatic compounds necessary in appreciating the wine. When you swirl spirits, you release more of the alcohol that adds heat to the palate, mutes the flavor and deters from its appreciation.
Next, unlike wine you don't swish spirits around in your mouth before swallowing. Rather, you take in a deep breath before a small sip and swallow it quickly. You then exhale through your mouth to release many of the flavor and aromatic components. And it does work.
There are no spit buckets (as in wine tastings) and the speaker cannot "clink" the glass to regain the attention of those in the group talking louder and louder as the tasting progresses. That's because they use very small plastic "shot-size" cups. Vive la différence!
After Martin's passionate, detailed and entertaining introduction to the spirit world, we embarked on our first taste with vodka. By California law, this beverage is officially referred to as neutral brandy, but elsewhere it is more commonly known as vodka. And vodka, we learned, can be fermented and distilled from any sugar or starch (potatoes, corn, grapes etc.), until a level of 95 percent alcohol is achieved and then watered back to finish at 40 percent (80 proof).
Interestingly, our vodka was produced by Napa Valley Distillery with Napa Valley Sauvignon Blanc grapes. As Martin pointed out with tongue in cheek, "This is the only single vineyard single vintage Napa Valley Sauvignon Blanc Vodka."
Next came gin that was made essentially the same as the vodka (Sauvignon Blanc grapes) from the first flight but with an essence of juniper added after distillation. When tasting this sample in the correct method, we clearly experienced the taste of cinnamon and clove when exhaling. Shocking but true, and very enlightening.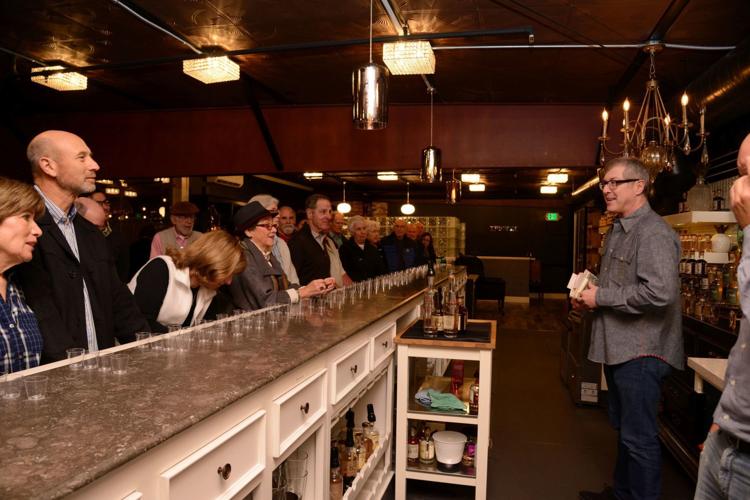 Goldstein then opened his well-worn book to read an 18th-century Hasidic (Hasidim are a sub-group of Ultra-Orthodox Judaism) story about Rebbe Ze'ev Wolf, an innkeeper from the Ukraine, who taught a traveler about the importance of having "an intentional mindset and an attitude of appreciation over a glass of brandy." This inspired an engaging discussion during which many of the guests related similar stories and stressed how sharing a spirit focuses attention and concentration on the event.
We next tasted a Pear Brandy made from a variety of local pears and available only seasonally, as Napa Valley Distillery just uses fresh fruit for its fruit-based spirits. Brandy is also known as Eau De Vie (Water of Life) and derives its flavor from the skin's essential oils. We were shown how to hold the tasting cup at about a 45-degree angle and sniff to observe the pear aroma the rising to the rim of the cup. When sipped correctly, the palate was filled with pear notes for another enlightening experience.
Martin pointed out that if the brandy is artificially flavored rather than made with genuine fruit, only alcohol will be detected when holding the glass in this way.
Goldstein returned to his treasured book after our taste of Pear Brandy to relate another Hasidic story that concerned two young students who, after a quarrel, learned to reconcile with each other through consultation with their Rebbe. They then went on to celebrate their friendship one Sabbath evening over schnapps at a local tavern. Once again, several in the group shared similar observations of how schnapps, spirits or wine are often present when people come together during both good and difficult times.
Goldstein concluded by saying, "My focus on these stories was to show the role that spirits can play in terms of helping us to both appreciate life and celebrate our relationships."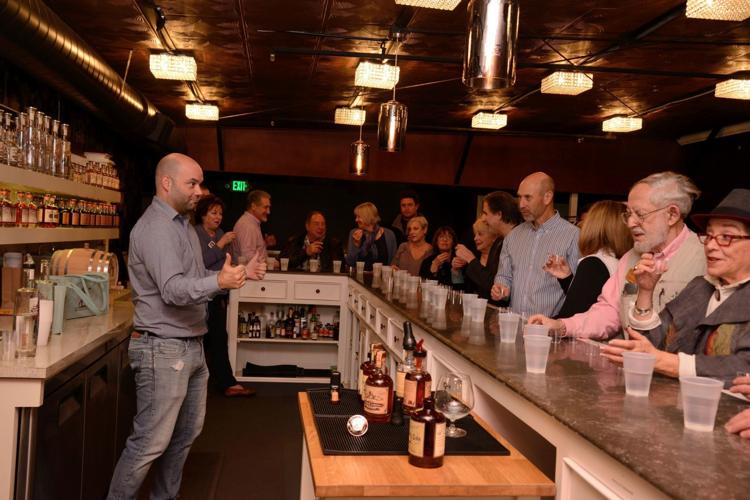 Our final sample was a highlight of the evening: A Bourbon "cordial" that everyone agreed was quite the treat and very unusual. Rather than the norm of 50 percent corn mash, this beverage was produced from 75 percent corn mash with a bit of added sugar to qualify as a cordial. But, its enjoyment necessitated a little modification in the spirit tasting routine we learned earlier. After swallowing, we exhaled over a count of five so that we could appreciate the intense caramel/butter flavor. A great way to end a meal with something not too sweet yet delightful.
I must admit that since discovering the wonders of wine several decades ago, my interest in spirits (that flourished in college and a bit after) had faded and is now mostly limited to an occasional Single Malt Scotch or a properly aged Cognac.
And I certainly never related spirits to Hasidic tales or their natural link to spirituality. I must thank Goldstein for his original and novel approach of linking religious teachings, history and our everyday life experiences.
And a special "thank you" to Napa Valley Distillery for providing the venue and "vehicle" while contributing to our understanding of spirits.
The success of "Spirits and Spiritually" demonstrates that the new rabbi certainly succeeded in his mission "to both excite Congregation Beth Shalom members about their community and identity while also reaching out to and engaging other Jewish and non-Jewish individuals in Napa Valley and beyond."