Mendocino County in the 1950s was known mainly for its forests, tiny population, and diverse agricultural crops including hops, pears, prunes, and marijuana.
The vast open spaces were a delight: amazing views of rushing rivers, lush valleys, a plethora of locally raised produce — and land prices low enough for a large home, which is what Bernard and Kathleen Fetzer needed. They had 11 children.
Barney, as he was always called, was a successful lumber industry executive who desired a lifestyle change. So he decided to leave trees and switch to growing grapes.
He saw his passel of children as an in-house work force, so the Fetzers bought a 700-acre ranch in the small community of Hopland, at the southern end of the county just north of Sonoma County, and planted grapes.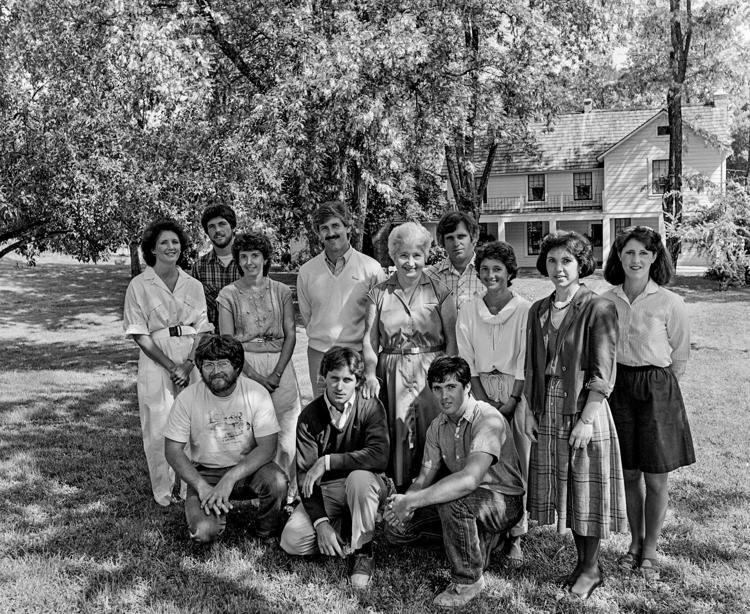 It was 1958, before wine exploded on the American scene. But it didn't take Barney long to realize how hard it was to make a living growing grapes — a topic that also irked a small Lake County grape grower by the name of Jess Jackson, a San Francisco attorney.
The two friends often would sit late into evenings chatting about the difficulties of grape growing.
By 1968, the grape-growing problems they both faced soon led them to the same conclusion: the only way out was to control the entire process and make wine. That year Barney took the leap by founding Fetzer Vineyards.
That year, the company made its first wines, a total of 2,500 cases of a Cabernet Sauvignon and a Zinfandel.
More than a decade later Jackson founded Chateu du Lac (later renamed Kendall-Jackson) in Lakeport, and today that company is one of the industry leaders in both volume and quality.
Fetzer's 50th anniversary this year is being "celebrated" in as low-key a fashion as you can imagine. No flashy ceremonies, no Super Bowl ads, no gold sprayed on the wine bottles.
In fact, one would be hard pressed to see much celebratory except in subtle ways. But what is evident is that Fetzer wines may be better than they have ever been. The winery is doing one thing as well as anyone ever has in California: make a lot of well-balanced wines that sell for far below what they're worth.
The winemaking team, which operates out of a portable building here, sees its role as an homage to Barney, Kathleen, the kids, and especially to former winemakers Paul Dolan and the late Denny Martin.
The company makes nearly 3 million cases of wine, most of it reasonably priced and it is available in every state and overseas.
In the early years, one of the difficulties of making the grape-growing part of the business a success was that Mendocino County was widely known inside the industry as a golden resource for quality fruit, but wine buyers didn't know how good that fruit, and the resulting wines, could be.
As a result, well over 80 percent of the county's grape production was sold to wineries in other regions, much of it for inclusion into blends on which the label appellation was "California."
Paul Dolan joined Fetzer in 1977 as head winemaker and quality improved markedly, which led to a production rise to more than 150,000, cases a year.
"Barney hired me for the white wines," said Dolan. The whites had been pretty bad to that point. I remember one reviewer said our Sauvignon Blanc smelled like scalded chicken feathers.
"I was sure I could do better than that."
As Fetzer grew so rapidly with Dolan at the helm, the demand for fruit grew.
"But Barney had good relationships with growers in Lake County," Dolan said, and he recalled getting some fruit from Jess Jackson.
"And Jess would chide Barney that he should raise his prices."
When Barney died in 1981, the winery was producing 200,000 cases of wine, and at a family meeting it was agreed that Kathleen and the children would continue making wine. The oldest, John, was named president.
Fetzer solved some of the visibility problems neatly by acquiring large acreage north of Hopland, planted Chardonnay, and named the parcel Sundial Vineyard. It was on Highway 101 and had a large sign proclaiming its name.
"Planting Sundial was a big deal for us," said Dolan.
Sundial also became the name on the wine it produced, and it became one of the best value white wines in the state. It remains an industry favorite for its style: nearly no oak aging.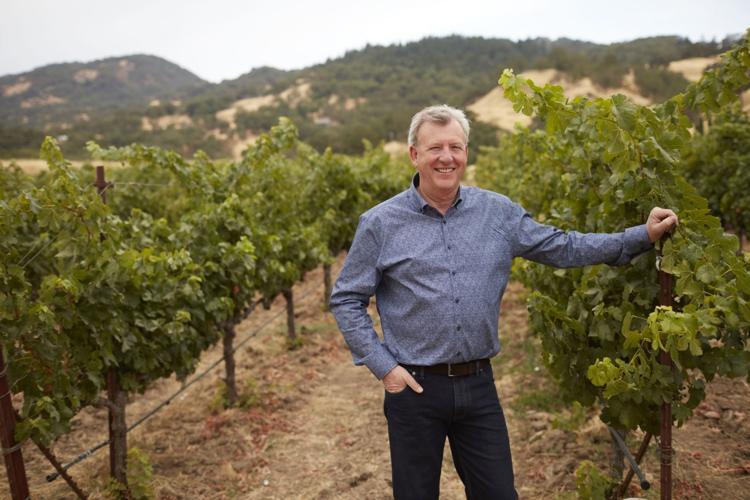 By 1984, John's knack for marketing had pushed case production up so fast the winery needed a major renovation, a nearly two-year project facilitated when Dolan hired brilliant wine strategist Martin as his assistant.
The renovation project was a crazy period, Dolan recalled.
"Things were happening so fast, he said. "One harvest, we were crushing grapes into tanks that we had set in concrete the day before!"
As the Fetzer image for great value wines grew nationally, the company developed a huge following by bargain hunters for two generic wines, Fetzer's Premium Red and Premium White. At the same time, the company began to focus on two separate themes: environmental responsibility and food compatibility.
To address the first issue, it developed the Bonterra line of wines in 1993, which has always been made entirely from organically grown grapes. Bonterra created a niche market that soon led dozens of other wineries, both here and overseas, to follow with environmentally sensitive products.
Bonterra today is the nation's largest organically farmed wine brand. More than 550,000 cases of Bonterra wines were sold in 2017. (Because of the relatively small acreage of certified organically grown grapes in the state, many other wineries avoid the term "organic," and choose to say they farm sustainably.)
To address the food theme, Fetzer built a superb pergola-shaped hospitality center and professional kitchen at its the Valley Oaks property, and hired Sonoma County master chef John Ash to prepare special meals, menus, and food demonstrations to illustrate how wine and food paired. Cookbooks followed.
Julia Child, among others, was a guest cook at Fetzer, and that sort of visibility gave Fetzer a national image as a culinary go-to center.
Moreover, the family hired organic gardeners to install what eventually became a two-acre herb and vegetable garden that supplied the chefs with sensational organic ingredients.
By 1992, Fetzer was still growing but with production now at 2.2 million cases a year, the brand was hard to manage, and some of the family wanted to pare down.
They did so by selling the company on Sept. 1 of that year to multi-national Brown-Forman, producer of Jack Daniels Tennessee Whiskey. Included were its 900 acres of land, 350 acres in vines. Of the 11 children, 10 took their shares of the proceeds and remained in the wine business, opening nearby wineries.
Martin eventually took the lead role in crafting the Fetzer style of wines during the Brown-Forman era, testing the market with various small-lot, single-vineyard, high-end wines that were always exceptional. However, the company seemed reluctant to move in the direction of ultra-premium wines.
One of Martin's passions was Pinot Noir, pre-dating the huge demand for that varietal by full decade. Some of his early Pinots from California's Central Coast (such as from the famed Bien Nacido Vineyard in Santa Maria) were among the state's star wines at the time.
But most of this wine was made in small quantities and were cult items sold mainly of savvy insiders.
Nearly seven years ago, Chile's Concha y Toro acquired the company and is in the process of restoring some of what once was part of the family's legacy.
Blue, the co-winemaker with Martin and his successor after Martin's retirement, to this day speaks of "Denny's European classic style," that relied on extremely subtle use of oak barrels for aging, and good acidity for food compatibility and balance.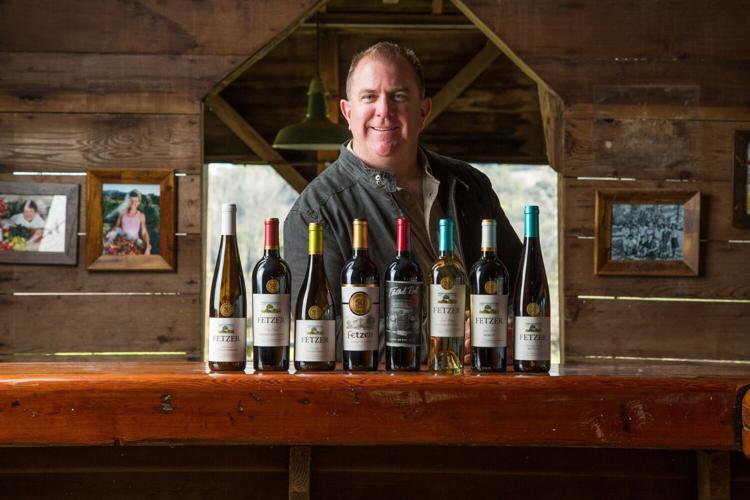 That style is what makes the Fetzer wine to this day such a delight.
"We had some great consultants over the years," said Blue, naming Chateau Lafite-Rothschild's Christian Le Sommer and Kendall-Jackson's founding wine maker Jed Steele.
One reason the current Fetzer lineup is so good is how Martin and Blue identified key growers in the North Coast who could help augment Fetzer's own vineyard production with grapes that have the flavors that allow them to replicate each varietal every year. To this day, though most of the wine still is from Mendocino fruit, some grapes come from Lake County, others from cooler areas of Lodi, and some from Monterey County.
In a slightly higher quality tier are specialty wines that carry fanciful names such as the 2016 Flatbed Red Blend ($10), a juicy, soft red wine that would work nicely with barbecued foods.
The company also makes a line of premium wines called Sanctuary, successor to Martin's experimental Pinots of the 1980s and '90s. Included are a Cabernet Sauvignon from Rutherford in the Napa Valley, a red Rhone blend from Paso Robles, and a Pinot Noir from one of Martin's favorite sites. (See Wine of the Week)
Today, Fetzer produces more than 2.5 million cases of wine, and still does so without artifice, high alcohol, oak flavoring, or exotic packaging.
In an interview last week, Blue and John Kane, director of winemaking and winery operations, both praised former wine makers Dolan and Martin for their vision and their respect for the land.
After tasting through the Fetzer lineup, I'd add "respect for the consumer."
Fine quality wines that over-deliver for the price.
Wine of the Week: 2013 Sanctuary Pinot Noir, Central Coast, Bien Nacido Vineyard ($42): The last Pinot Noir Martin made before his death, this sensational wine displays the classic central coast character of berries, herbs, tea, mint and perfect balance with a trace of Burgundian earth in the finish. Now showing hints of the complexity it will show more strongly in a few more years, it will delight Pinot purists who (now that the wine is nearly five years old) can see what it promised in 2015 when it was released. Limited stock remaining. Comparable Pinots today sell for $55-$60.