If you like the idea of a vacation living like a local in the heart of two of the world's most stunning and historic cities, surrounded by cafes, pubs, restaurant, museums, vast public gardens, food emporiums and outdoor markets, consider London Perfect and Paris Perfect, a company that specializes in renting magazine-beautiful apartments from studios to multi-bedroom size.
If, like me, you've been on vacation and swooned over all the gorgeous food in shop windows, open markets, and food emporiums, longed to buy it all, take it home and cook it, an apartment is the only answer. If you've dreamed of sitting on your private balcony/terrace/patio, sipping a glass of wine while tempting aromas waft from your kitchen in a foreign city, an apartment is the only answer.
Of course, there's more to staying in your own, gorgeous, centrally located apartment in Paris or London than cooking. Just being there, in the heart of city, hearing church bells ring, watching the streets come alive, and being a part of the ebb and flow of the neighborhood has an intense appeal that a hotel stay never quite satisfies, even with room service.
During a stay with London Perfect this spring, our apartment was on a narrow street a stone's throw away from the towering St. Mary Abbots' neo-Gothic church and a two-minute walk to Kensington High Street and its underground station. Two pubs were up one street and down another, just past the entrance to Kensington Gardens and Kensington Palace.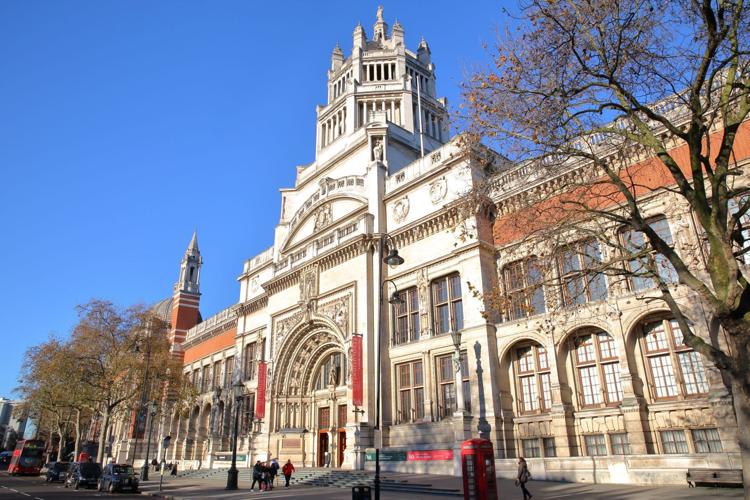 Farther along was the road that led to the Victoria & Alberta Museum, only half an hour walk away. On the corner of our street and Kensington High was the Ivy, a white tablecloth restaurant only discreetly noted by a small brass plaque and a framed menu. Directly across the street loomed none other than Marks & Spencer with an extensive food court on the lower level and almost next door, Whole Foods.
What did I cook the first night in London? I bought beef and mushroom pies from Marks & Spencer's delicatessen, watercress from the produce section, two different English cheddar cheeses, crackers, a white Burgundy and some sort of local ale. OK, I didn't cook the pies, I simply heated them, but I set a lovely table with tulips from the corner flower stand, candles (already stocked in the apartment), and made a big salad. I felt so at home.
On to Paris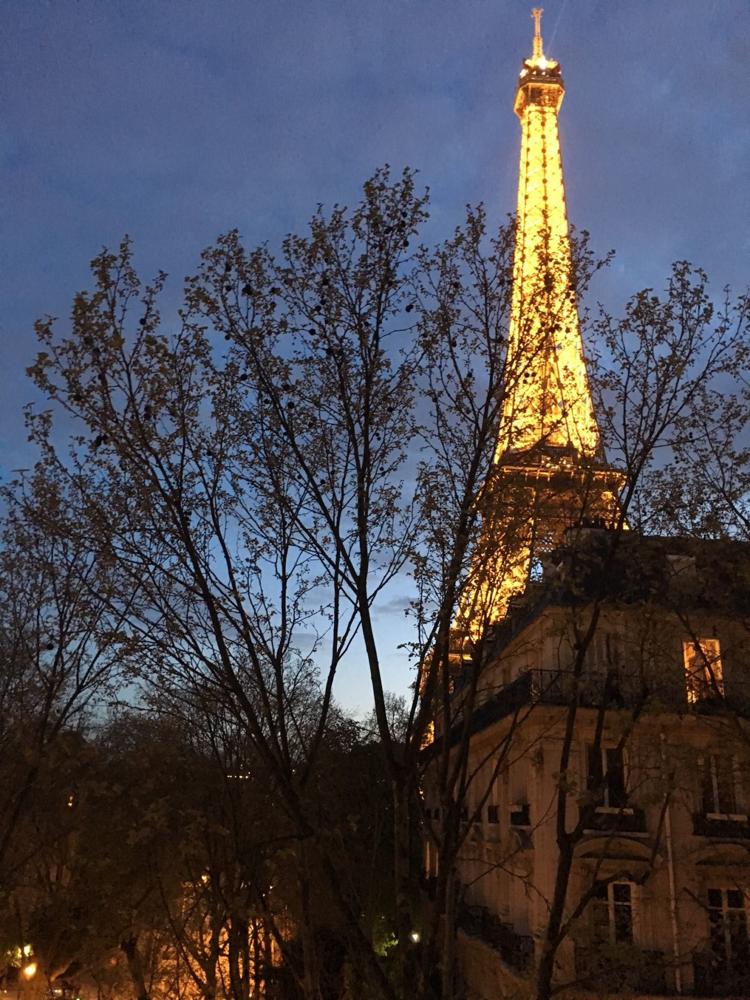 Across the channel, a week later, a Paris apartment awaited us. To enter, we first passed through a door in an immense carved wooden portal large enough to admit a carriage, and entered a large cobbled courtyard to reach a vintage elevator that took us to the fifth floor.
The trees along our street, the avenue de la Bourdonnais, just two blocks from the River Seine, were leafing out and framed the view from our balcony and windows of the Eiffel Tower. It was so close it felt like I could reach out and touch it.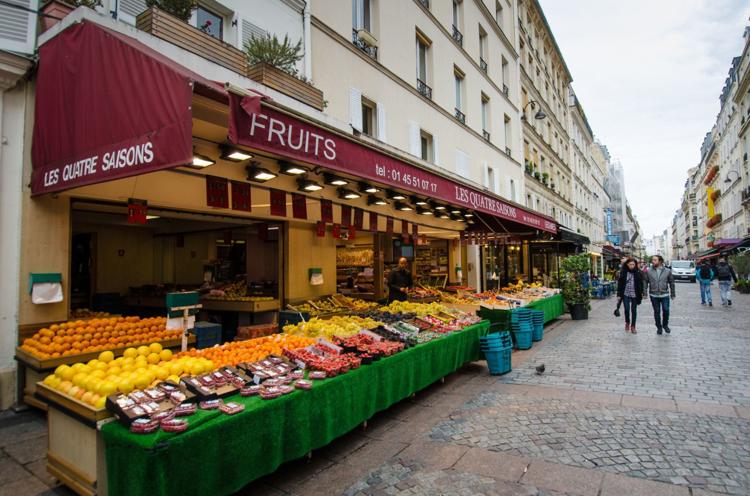 Our street was lined with cafes and shops, and in every direction there were more, but best of all, one of Paris' most noted market streets, the rue Cler, was only a 10 minute walk and that was directly where we headed after unpacking. I envisioned having an evening aperitif on our balcony — the weather was balmy — followed by dinner from the market, depending on what we would find on rue Cler.
The displays in the butcher and cheese shops, charcuteries, and bakeries were all as tempting as I remembered them from a previous visit. I finally settled on one of my favorite dishes which I only can get in France, vol-au-vent puff pastries stuffed with sweetbreads and mushrooms.
I bought a head of frisée for salad, fresh goat cheese from Poitou, a chocolate mille feuille and a bottle of Pinot Noir and one of sparkling wine from the Loire. Before heading back to the apartment with our finds, we stopped at a café for a drink — kir for me, and a 'pression', draft beer for my husband. We simply sat, along with everyone else, watching the parade of people go by, before heading back to our apartment.
I savored every moment of our balcony sitting and dinner, once again with candles and lovely crystal wine glasses. We went to sleep with the windows open, listening to the hum of city life on the streets below, all watched over by the Eiffel Tower.
In Paris it seems as if almost everything is walking distance. From our apartment we could walk to Notre Dame, Musée d'Orsay, the Ecole Militaire (our metro stop) and of course, all along the Seine. There is always something to see and do in Paris.
Early one evening we had a reservation at the storied bistro Allard, a favorite of Charles de Gaulle, where women chefs are the tradition. Founded over 80 years ago by Marthe Allard and her husband, the bistro, now part of the Alain Ducasse group, is considered one the last few authentic bistros in Paris, and yes, the chef is a woman. We set out for the restaurant, located in the heart of Saint Germaine de Pres, by ambling along the Seine, watching the barges and the bateaux mouches cruising the river, before turning up the narrow streets leading to the restaurant.
We had been told that the entrance to Allard fronted the kitchen , so we were prepared to be ushered into a foyer that backed onto white toqued chefs busily working behind the stoves. Stepping into the cream-colored, red trimmed dining room with diners seated shoulder to shoulder, silver wine buckets dotting the space and white-aproned waiters deftly weaving through the room, was like stepping into the old Paris of my imagination. Conversation was animated, but soft.
I had already viewed the menu on-line (not so old Paris) and knew that I had to order the Ris de Veau, sweetbreads, though I struggled with a deep desire for the Duck with Olives for two. For a first course, we opted for the French classic, Escargots en coquilles, beurre aux fines herbes – a dozen for each of us. Before they arrived we were offered a variety of amuse, including a slice of Duck Pâté en Croûte from the famous charcuterie Arnaud Nicolas, located, we discovered, on the same street as our apartment.
Since my husband and I both ordered the Ris de Veau, it came served for two, family style, with braised young vegetables. For dessert, Iles Flottants, fluffs of meringues floating on a sea of crème anglaise. It was a memorable meal. The service was impeccable, the food classic, the wines perfectly paired, the dining room beautifully appointed. The whole experience was Paris at its promised best, followed by a cab ride home to the avenue de la Bourdonnais, guided by the twinkling lights of the Eiffel Tower.