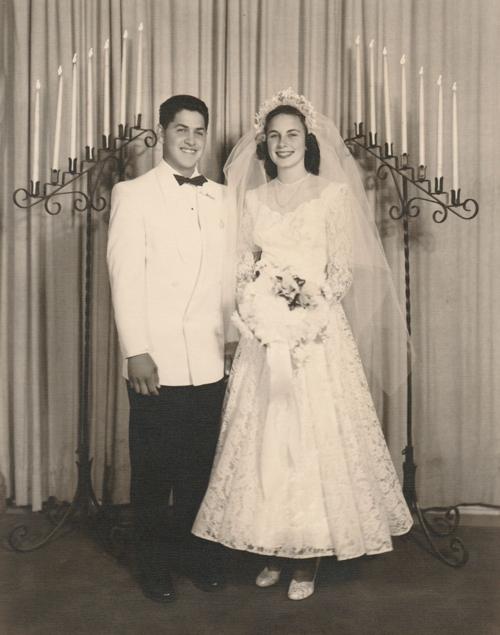 On April 14, 2021, the close family of Robert "Bob" Burrell and Isabelle "Rose" Burrell of Napa, gathered in the couple's garden to celebrate their 70th wedding anniversary following appropriate COVID-19 precautions.
Robert Louis Burrell and Isabelle Rose Silva married in a small ceremony in 1951 at St. John the Baptist Catholic Church. Both natives of Napa, the two met as teenagers at the Napa Fair.
Following their wedding, the couple resided for a short time in San Diego while Robert was stationed at Camp Pendleton prior to his deployment to Korea as a member of the United States Marine Corps. 
Upon his return from Korea, Robert and Isabelle moved back to Napa, building a house in Alta Heights in 1955 where they raised their three children, Steve, Mark, and Sandra, and still reside there today.
After his service, Robert worked at Napa State Hospital as a psychiatric technician, then as a plasterer, prior to accepting a position with the United States Postal Service where he would make his career. There was a time when Robert knew the location of every street address in the Napa postal area. Following 35 years of service at the U.S.P.S., Robert retired as the Station Manager of the Franklin Station in Downtown Napa.
Isabelle was a homemaker when their children were young, then started working part-time at the Napa County Health Department. Isabelle later started full-time work with the Napa County Treasurer/Tax Collector's Office. When the position for Treasurer/Tax Collector became vacant in 1980, Isabelle successfully ran for and was elected to that position. She retired from her work as an elected official in 1989.
Robert and Isabelle have enjoyed numerous hobbies together, including travel, golf, organic gardening, and bridge. The pair have traveled to all but one continent and only missed Antarctica due to poor weather conditions when traveling by ship around Cape Horn, South America. They also enjoyed many years of travel throughout the United States, Canada, and Mexico in their RV, often on the road for months at a time. Golf was a passion for the couple. Their travels allowed them to enjoy the game in a variety of locations when not playing their home course — Napa Valley Country Club. Both worked at gardening their whole lives, with a special passion for homegrown tomatoes, lemon cucumbers, and watermelons. Their fuyu persimmon tree still supplies many friends, family, and neighbors with its sweet fruit. Until recently, due to the COVID-19 pandemic, the couple also regularly hosted friends and played bridge.