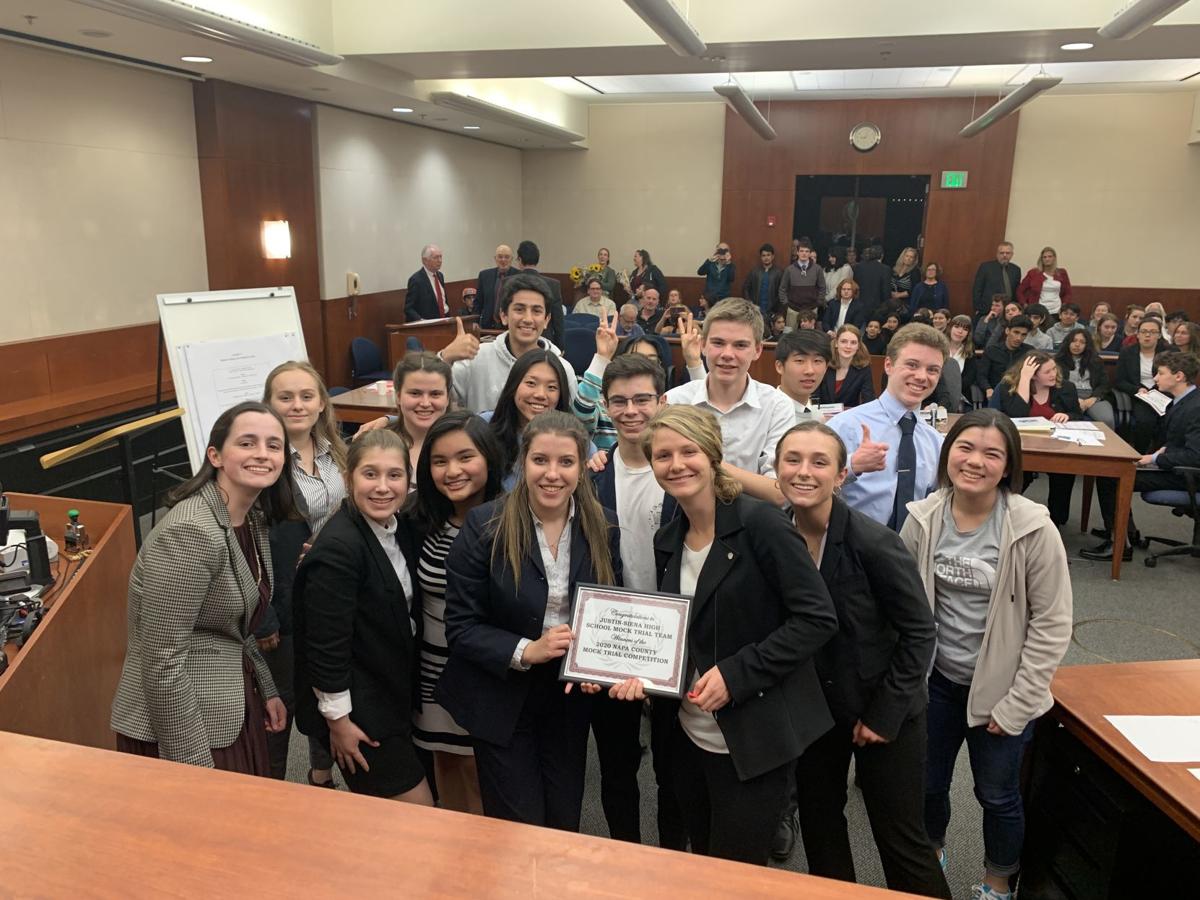 Eight years ago, Justin-Siena High School revived its dormant mock trial team. A year later, it started winning the annual county championship, and on Feb. 26, it clinched its seventh straight by defeating New Tech High School in a hard-fought battle at Napa County Superior Court.
It has been more than four years since Justin Siena has lost even a single trial at the two-county competition. None of the team members on the 2020 team has ever been on a team which lost a trial in Napa or Sonoma County.
Mock trial requires high school students to present a fully realized criminal trial in a real court before a real judge.
Students act as lawyers, witnesses, bailiff, clerk and even courtroom artists and journalists. The trials require students to think on their feet, organize their thoughts and advocate for their positions.
Each school fields defense and prosecution teams, which alternate in competition.
This year, the Braves' prosecution entry beat Napa High and the defense team beat New Tech in the clincher.
Justin also beat Sonoma and Santa Rosa high school teams. Next stop is March 20-22 competition in Los Angeles against champions from other counties across California.
This year's defense team was all female. Captain Whitney Powers led that team and gave a stirring summation to cap off the trial.
Mock trial has "…instilled in me a love for the law and advocacy," said Powers. A three year veteran, Powers said she believes mock trial has not only helped her develop skills in argument and critical thinking, but helped her foster those skills in fellow team members.
Opening the trial was Alexandria deLeuze following a successful argument on a pretrial motion by Amina Schnebelt.
Another senior member, Lauren Aubert, assumed the key role of a forensic pathologist testifying for the defense on the cause of death.
The prosecution team was led by Captain Dante Cavaz who delivered the summation and featured Tessa Bork and Alexandra Westfall as co-counsel. Cavaz, a senior, said mock trial has "…given me the skills to succeed in all aspects of my life."
Isabella Epperson, an enthusiastic freshman lawyer for the prosecution says mock trial sparked an interest in the law she didn't know she had.
The team has been coached by volunteers Alan Charles Dell'Ario, a local appellate lawyer, and Bill Hardy, a trial lawyer who practiced on the East Coast but lives in Napa now.
"We're not crafting lawyers; we're helping mold teens into confident young people who can stand on their own feet when confronted," said Dell'Ario.
"It's a competitive world out there for these young people," said Hardy. "Through mock trial they are learning to compete fiercely, but with civility."
Be the first to know
Get local news delivered to your inbox!