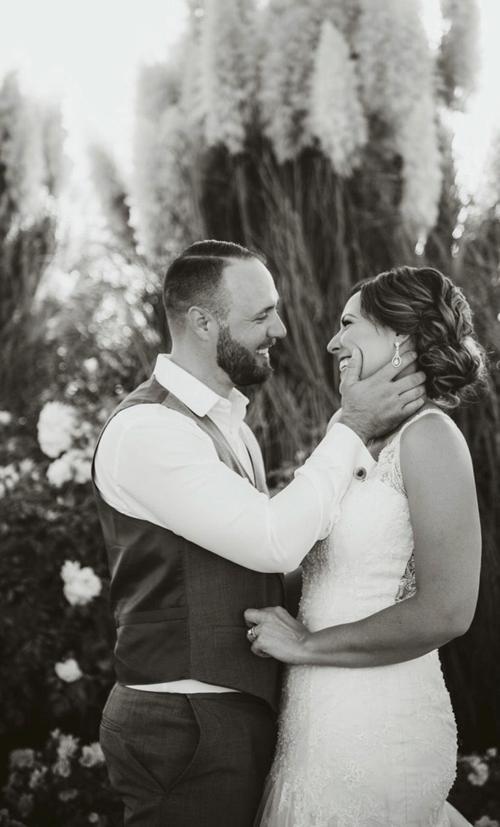 Daniel DeSimoni and Jaime Del Zompo would like to announce their recent wedding. The ceremony took place on Oct. 5, 2019 at at St Apollinaris church in Napa.
DeSimoni, of Napa, is the child of Mike and Karen DeSimoni, the grandchild of Mike and Terry DeSimoni, and Arnold and Phyllis Vallerga. DeSimoni is a 2002 graduate of Justin-Siena High School, works at Adobe and Channel Lumber, and is an avid hunter.
Del Zompo, of Napa, is the child of Rick and Robyn Del Zompo, and the grandchild of John and Agnes Del Zompo. Del Zompo is a 2004 graduate of Vintage High School, works at Bank of Marin, and is taking up hunting and cooking wild game.
The grooms attendants were Daniel Collins, Ricky Del Zompo, Danny Del Zompo, Dane Simms, Levi Cloud, Eddie Ramero, and Jeff Collins.
The bride's attendants were Kristin Aye, Jeni Aye, Bianca Simms, Gia Collins, Erin Collins, Courtney Heally, Emmily Hillard. The flower girl was Ceriani Simms. The ring bearers were Ryder Simms, Easton Simms and Gage Collins.
The reception was held at Eagle Vines Golf Club in American Canyon, and the couple will honeymoon in Maui, returning after two weeks to make their home in Napa.
Be the first to know
Get local news delivered to your inbox!