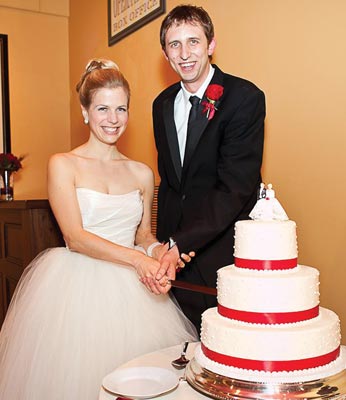 Megan Michelle Hemings, of Napa and Justin Blakemore Bolter, of Granite Bay, Calif., were married on Nov. 5, 2011, at the Napa Valley Opera House. As a surprise gift from some bridesmaids and guests, the Chamber Choir of the bride's alma mater, Napa High School, under the direction of Travis Rogers, sang the song "This Marriage" by Eric Whitacre during the reception. Megan and Justin spent two weeks in Kauai and Maui for their honeymoon.
You have free articles remaining.
The wedding party consisted of maid of honor, Erin McKee; bridesmaids, Cori Ochoa, Sarah Bolter, Shannon Oren, Alexis Bolter and Sonja Villegas; best men, Brandon Blom and Andrew Davis; and ushers, Matt Dufrasne, Joseph Bolter, John Katircioglu and David Drever.
Megan is the daughter of Joan and Michael Hemings of Napa. She graduated Napa High School in 1998, and the UC Santa Barbara in 2004, with a bachelor's in psychology. She currently works as a wine club coordinator for Frog's Leap Winery in Rutherford.
Justin is the son of Carol and Jonathan Bolter, of Granite Bay, Calif., and grandson of Mr. and Mrs. Robert Blakemore of Palm Desert, Calif. He graduated Granite Bay High School in 1999, and received a bachelor's degree in computer science from UC Santa Barbara in 2004. He currently works for Glam Media in Brisbane, Calif., as a senior software engineer and lead engineer of the Glam Mobile Division.