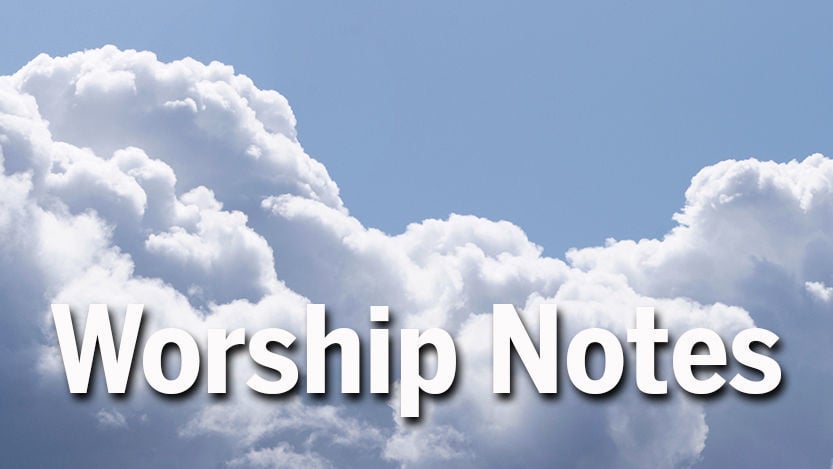 AMERICAN CANYON COMMUNITY CHURCH
Worship at 10 a.m. Programs for children and youth during worship service. 2 Andrew Road, American Canyon.
Join us Sundays at 5 p.m. Why 5 p.m. worship? It is a good time for busy people and young families. Kids' church and nursery available. 721 Trancas St., Napa. thearborchurch.org; 530-304-4704.
Messianic Jewish ministry of The Father's House is held the first and third Friday of each month at 7 p.m. Child care provided for ages infant to 7 years old. 2557 Napa Valley Corporate Drive, Napa. tfh.org/beitabba.
Sunday service is at 10:15 a.m. Spanish Church begins at 1:30 p.m. Sunday school and childcare are available at both services. Our midweek service is at 6:30 on Wednesday nights. There is childcare and children's activities at this service. Middle school and high school study meets as well on Wednesday nights at 6:30 in the Youth Room. 3305 Linda Vista Ave., Napa; 252-2909. Check out our website at calvarynapa.org.
Mass times: Sunday, 9 a.m.; Monday-Saturday, 8 a.m. Confession Days for English and Spanish: Mondays and Fridays, 10 a.m.-noon; 3-5 p.m.; 8-9 p.m. First Saturdays: Confessions at 10 a.m. followed by Mass at 11 a.m. 944-2454. oakvillecarmelites.org.
CENTER FOR SPIRITUAL LIVING
Services are 9 and 10:30 a.m. with Teen Group at 10 and Youth Program at 10:30. Please return green bags for the Food Bank. Guest speaker Kristen Moore will be joined by guest musician Jesse Powers. Course in Miracles on Tuesday from 6:15-8:15 p.m. Open Meditation on Wednesday from 6:30-7:15 p.m. Spanish Meditation on Wednesday at 7:15 p.m.  Center is located at 1249  Coombs, 252-4847.
Sunday service and Sunday school for youths up to age 20 at 10 a.m. The Wednesday evening service is at 7:30. Child care provided at all services. New hours for the Reading Room, located in our church building, open to the public weekdays except Wednesdays, 1-4 p.m. All current Christian Science literature, including the writings of Mary Baker Eddy and the renowned Christian Science Monitor, are available to all to read or purchase. 2210 Second St., Napa; 255-5255; christiansciencenapa.com.
CHURCH OF JESUS CHRIST OF LATTER-DAY SAINTS, NAPA — SECOND WARD
Sacrament meeting is each Sunday at 10 a.m., followed by Sunday School at 11:15 and Priesthood and Relief Society at 12:10 p.m. Young men's and young women's programs are on Tuesdays at 7 p.m. Corner of Trower Avenue and Dry Creek Road, Napa. 224-6496.
Worship service is held on Friday, Feb. 21 at 6 p.m., followed by a glass of wine at Oneg Shabbat. Join Torah Study on Saturday, Feb. 15 at 9:30 a.m.
On Sunday, Feb. 23, CBS will host "Education is the Best Medicine" from 3-5:30 p.m. Yvonne Baginski from Napa's Share The Care program and occupational therapist Robin Stearn will present "Don't Slip and Break A Hip, Don't Fall And Lose It ALL." Dr. Kathleen Healy will discuss "Medicare for all; the common good." Congregation Beth Shalom, the Center of Jewish Life in the Napa Valley, is located at 1455 Elm Street, Napa. Info, 707-253-7305; cbsnapa.org.
COVENANT PRESBYTERIAN CHURCH
This week at CPC, we'll sing one of our favorite hymns, "All Things Bright and Beautiful" and it certainly describes this time of year as we look through the windows of this sanctuary in this beautiful valley. As God made the birds and their tiny wings, He asks us to see and appreciate, and to be the salt and light of the earth. Liturgist, Liz Groelle, assists the Rev. Linda S. Powers with the Old Testament reading: Isaiah 58:1-12 and leads the Call to Worship. In the Gospel of Matthew 5:13-16 we're reminded to let our light shine. Rev. Powers' sermon title is "Flavor My World" and she'll serve up the words with gusto. Join us at 10:30 a.m., wherever you are in your journey of faith. All are welcome to worship and lead at Covenant Presbyterian Church, 1226 Salvador Ave. See you Sunday. (707) 255-9426; www.cpcnapa.org.
CREEKSIDE COMMUNITY CHURCH
Weekly worship service is Sunday at 10:30 a.m. Services and attire are casual with a blend of fellowship, music and teaching. Child care and children's church offered during service. 1050 Hagen Road, Napa. CreeksideChurchNapa.org; 255-7266.
CROSSWALK COMMUNITY CHURCH
What's ahead for CrossWalk Community Church in 2020 ... join us for services at 8:30 or 10 a.m. every Sunday. Our hope is to focus our vision this coming year around love. What does the love of God call us to do, call us to be? To help answer such questions, kids and adults will spend a good chunk of the year getting reacquainted with the ancestors of our faith. If you'd love to learn about those who shaped the path we're walking on, we'd love to have you join us. Children's programs available during the 10 service. Also available is Praxis on Wednesdays at noon and Wednesday evenings for Experiencing the Heart of Christianity.
We welcome you to come and experience a Sunday morning at First Christian Church. Be inspired and encouraged by a message from the Bible that you can apply to your daily life. Our Sunday service is at 10 a.m. Our Kids Ministry has a great time planned for your kids (babies through 5th graders). We are located at 2659 First St. fccnapa.org.
FIRST PRESBYTERIAN CHURCH
We have two services each Sunday. A 9 a.m. traditional service (with hymns) and a 10:30 a.m. contemporary service (with praise music). Nursery care is available during both services, and children are always welcome in worship. The PATH Sunday School for Kids, ages preschool through 5th grade, is at 10:30 a.m. and NEXT, a gathering for youth grades 6 through 12, is also at 10:30 a.m. Join us following both services for fellowship, coffee and something sweet in the visitor center (at the back of the sanctuary). Check out the online calendar for upcoming events here: https://fpcnapa.org/calendar-of-events/. We look forward to seeing you soon! 1333 Third Street; 707-224-8693; www.fpcnapa.org.
GRACE CHURCH OF NAPA VALLEY
Grace Church of Napa Valley: Worship service at 10 a.m. Adult Sunday school classes at 8:45 a.m.; Children's Sunday School at 8:45 a.m. and Children's Church at 10 a.m. Nursery and preschool care available. Junior High and High School ministry meets Tuesdays at 7 p.m. at 3765 Solano Ave.; Napa. 255-4033; GraceNapa.org.
HIGHLANDS CHRISTIAN FELLOWSHIP
If you're a regular church attendee, never been or maybe it's just been awhile, we invite you to come join us this Sunday and start the adventure with us at 10:30 a.m. Spanish speaking service on Sunday evenings at 6:30. Alcoholics Anonymous group meets weekly on Monday and Wednesdays from 6-7 p.m. 970 Petrified Forest Road, Calistoga.
HILLSIDE CHRISTIAN CHURCH
We meet at 9 a.m., 11 a.m. and 6:30 p.m. at 100 Anderson Road, Napa. 255-3036. hccnapa.com.
Holy Mass is celebrated at 9 a.m. on Sundays and in the traditional Tridentine Latin (Extraordinary) form of the Roman Rite, according to the 1962 Missal, at noon. Before Low Masses, there is a recitation of the Most Holy Rosary of the Blessed Virgin Mary at 11:30 a.m. Confession is available after every Low Mass. Holy Family Parish is a Catholic mission-parish of St. Joan of Arc in Yountville. 1241 Niebaum Lane, Rutherford. 944-2461.
HOLY GROUND CHRISTIAN CENTER
Sunday worship begins at 10 a.m., and Bible study is Wednesday at 7 p.m. 3860 Broadway, Suite 111, American Canyon. 373-2015.
We meet every Sunday morning at 10. 3305 Linda Vista Avenue, Napa. 226-5551.
You have free articles remaining.
MEMORIAL CHAPEL AT VETERANS HOME OF CALIFORNIA, YOUNTVILLE
Sunday worship service 10:15 a.m. Coffee fellowship one hour before service. Bible study on Wednesday at 1 p.m., Fellowship Room, with refreshments served; prayer meetings Thursday at 1 p.m. The memorial chapel is on the Veterans Home at Yountville campus on California Drive, across from the administration building. 944-4840. The public is welcome.
Roman Catholic liturgical services are open to all at the chapel of the De La Salle Christian Brothers at 4401 Redwood Road, Napa. Mass is celebrated every Sunday at 11 a.m.
NAPA COMMUNITY SEVENTH-DAY ADVENTIST CHURCH
We welcome you to join us in worship at 10 a.m. every Sunday. Pastor Dave Buurma presents God's Word to us each week after the music/worship time. The children are dismissed at this time for Sunday School and Children's Worship. After the service, we have refreshments and fellowship, and then we start a "Question & Answer" time (in lieu of adult Sunday School), for those who are able to stay and attend. Nursery is provided throughout. www.napavalleychurch.org. Napa Valley Community Church is a ministry of the Christian Reformed Church.
You are invited to worship each Sunday at the Napa Methodist Church at 625 Randolph St., Napa, where ALL are welcome. Sunday at 9:30 a.m.: sanctuary worship; 11 a.m. alternative style worship in café-type setting. Children ages 3 -11 welcome to "Sundays for Kids" activity time during 9:30 worship. Carol Choir Sundays 10:20-11 a.m. Group Meditation at 5:30 p.m. on Mondays. Thrift Store open 10 a.m.-noon on Tuesdays. Napa Methodist welcomes open minds and open hearts. Info, 707-253-1411; napamethodist,org.
NAPA FRIENDS MEETING (QUAKERS)
Sunday worship at 10 a.m. Silent meeting in the custom of Friends. Meet at the VOICES Youth Center, 780 Lincoln Ave., Napa. Enter at parking lot on left side of building, using door at end of wheelchair ramp. Quaker signs will be posted on Sunday mornings. We welcome visiting friends or those who are new to Quaker practice. Children's program available with advance notice. nvquaker@gmail.com; 707-253-1505.
Bill Davis will continue his series on the Gospel of Mark in the 11 a.m. We start Sunday services by remembering the Lord's death, burial and resurrection during a time of worship and thanksgiving at 9:30 a.m., followed by a fellowship and coffee time starting at 10:30 a.m. At 11 a.m., we enjoy a time of Bible teaching, and a class is available for children and youth during this service. On Wednesdays at 6 p.m., we meet for a brief Bible study and a time of prayer. 1559 Second St., Napa. napavalleybiblechapel.com.
NAPA VALLEY COMMUNITY CHURCH
We welcome you this Sunday to our 10 a.m. service. Join us this Sunday as we turn to the study of God's Word in Acts 27, where we find the Apostle Paul: "Sailing Along in the Will of God." When we follow the Lord, why do we still suffer the trials of life? When we are following the will of God, why do things in life go wrong? If we are in the will of God, why do our children die, turn from the faith, why do we lose our jobs or even our health? Why? Paul was certainly in the will of God, but his sailing was anything but smooth. If you have ever felt that way, we hope you will join us on Sunday for an encouraging study from God's Word. NVCC is a ministry of the Christian Reformed Church. Childcare and Sunday school provided. 4149 Linda Vista Ave, Napa. Info, napavalleychurch.org.
Napa Valley Baptist Church is now Napa Valley Life Church. Join us Sundays at 10:30 a.m. at 2303 Trower Ave. for exciting worship, relevant message and a safe and fun children's program. A well-staffed and trained nursery is provided. Tony Valenti is Senior Pastor. nvlife.org.
Sunday worship at 10 a.m. includes Children's Time. Fellowship time follows. All are welcome. The church is located at Jefferson and Elm. 226-8166, www.napavalleylutheran.org.
NAPA VALLEY UNITARIAN UNIVERSALISTS
At 9:30 a.m.: Leaders: Barbara McClish and Iris Craig host Friendships (Forum #4). Friends can make a big difference in our lives. Sometimes we find ourselves in new situations and wonder how we can ever get to know people. And then comes a moment when we sense a kindred spirit. Together we can explore ways we have nurtured a new friendship, let go of an outgrown or unhealthy friendship, or sustained a long-term friendship. Can you remember times when you really have appreciated a friend? At 11 a.m.: Traditional service with Rev. Ranwa Hammamy, and Celebrant, Anne Jungerman -- "Predictions, Prophecies, and Promises". Today's social and political atmosphere can generate significant fear, despair, and chaos. The course of our lives may feel uncertain and even out of our control. Drawing inspiration from Harry Potter and the Order of the Phoenix, we will explore the power of predictions, prophecies, and promises in these times, and how to deepen our resilience as Unitarian Universalists manifesting justice and love. Infant care, child care, and religious education provided. 1625 Salvador Ave., Napa; Info, nvuu.org; 707-226-9220.
Sunday school at 10 a.m., followed by worship service at 11. Sunday evening service the first Sunday of every month. Bible study on Wednesdays at 7:30 p.m. 2625 First St., Napa. 255-1062; NewLifeNapa.com.
ST. APOLLINARIS CATHOLIC CHURCH
All masses are in English. Visitors are welcome. Sunday Mass times: 7:30, 9 and 10:30 a.m., noon, and 5:30 p.m., Saturday evening (Vigil for Sunday); 4:30 p.m. Daily mass times: Monday-Friday: 7 and 8:45 a.m.; Saturday: 8:45 a.m. Confession: Saturdays: 3:30-4:15 p.m., Monday-Friday: 6:30-6:50 a.m., Monday-Saturday: 8:15-8:35 a.m. 3700 Lassen St., Napa.
St. John the Baptist Church holds daily masses in English at 7:30 a.m. and 12:05 p.m. Weekend masses are Saturday at 5 p.m. (English) and 7 p.m. (Spanish) and Sunday 8 a.m. (Spanish), 10 a.m. (English), noon (Spanish), and 5 p.m. (English). Wednesday evening mass at 7 (Spanish). Corner of Caymus and Yajome streets in downtown Napa.
ST. JOHN'S LUTHERAN CHURCH
Worship at 8:30 a.m. (traditional) and 10:15 a.m. (contemporary, communion, children's church). All are welcome. 3521 Linda Vista. stjohnslutheran.net.
ST. MARY'S EPISCOPAL CHURCH
Please join us for a celebration of new ministry for the Rev. Robin Denney, rector. St. Mary's Episcopal Church, Napa, 1917 Third Street, Napa. The Rt. Rev. Megan M. Traquair, Bishop of Northern California, presiding. Worship on Saturdays at 5:30 p.m. or Sundays at 8 a.m. or 10 a.m. (organ and choir). Children's Chapel (Sunday school) is at 9:50 a.m. Sunday. Nursery care is provided during the 10 a.m. service. Coffee hour follows the worship services on Sunday. 1917 Third St., Napa. 255-0991; StMarysNapa.org.
ST. STEPHEN'S ANGLICAN EPISCOPAL CHURCH
Sunday at 8:30 and 10:30 a.m., sing using the 1928 Book of Common Prayer. Refreshments and social time after the 10:30 service. 1250 Oakville Grade, Oakville. 944-8915; ststephensoakville.org.
ST. THOMAS AQUINAS CHURCH
Mass times are Saturday at 4 p.m. (English), Sunday at 8 a.m. (English), 11 a.m. (English) and 1:30 p.m. (Spanish). Daily mass is at 9 a.m., except on the first Friday, which is at noon and in English. 2725 Elm St., Napa. 255-2949; stthomasaquinasnapa.com.
Worship meetings every Sunday at 9 a.m. – breakfast included. Everyone is welcome and we always include solid Bible teaching. Need something less churchy? Try our 10:30 a.m. Coffee and Conversation time: A Bible study that allows anyone to bring their questions about life, spirituality, and Jesus to the table. Join us for one or both each week. Children's meetings are available too. The Salvation Army, 590 Franklin Street, Napa. 707-226-8150; Salvationarmy.org.
Service times are Saturday at 6 p.m., and Sunday at 9 and 11 a.m. Child care and "Kid's Church" are available (ages infant through sixth grade). Youth ministry "Encounter" meets every Wednesday night at 7. Celebrate Recovery meets on Monday nights at 6:30. 2557 Napa Valley Corporate Drive, Napa. tfh.org.
UNITY SPIRITUAL CENTER IN NAPA VALLEY
Sunday Services: Feb. 16, 10 a.m. This Sunday Unity welcomes LUT David McNair, his message this week is titled, "Unity 101, Part 3-The Law of Mind Action." His theme: Some consider this the most important of all Unity Principles. Understanding this principle and actively using it is a golden key to unlock our spirit from the grasp of limiting beliefs and ideas. It is a fundamental concept to create, manifest and maintain the health, happiness and prosperity, which we all desire. No Forum this week. Our Sunday Services and Informational Forum are held at the historic Welcome Grange Hall, 3275 Hagen Road (2 miles east of Silverado Trail), Napa, CA. Parking is next to the building. 707-255-6881; UnitySpiritualCenterNapa.org.
YOUNTVILLE COMMUNITY CHURCH
We have our weekly Prayer meeting at 9 a.m. in the conference center. The main church building is under repairs and we are meeting in our Sunday School classrooms on the North side of the church. Come join us for coffee, doughnuts, and learn about our Savior, Jesus Christ. Sunday School is for all ages. We have an Adult Bible class, Youth Group (fifth-eighth grades and high school students), and Children's classes "Jesus and Me", (Birth-Kindergarten) and first through fifth grades are offered. Church office hours, Tuesday, 8 a.m.-2 p.m., Wednesday-Thursday, 8 a.m.-1 p.m.; 6619 Yount St., Yountville; 707-944-2179.