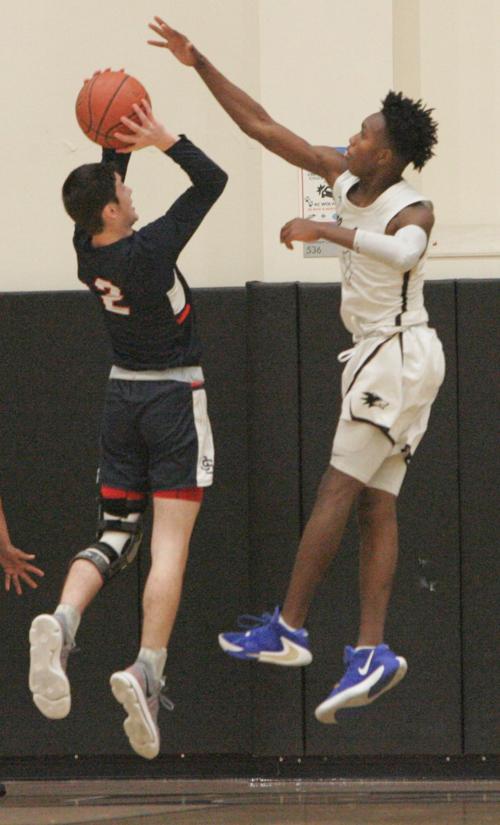 Gabriel Patrick had 18 points and Oliver Aandahl 11 with four big fourth-quarter free throws as the American Canyon High boys basketball team opened Vine Valley Athletic League play with a tightly contested 54-49 win over visiting Justin-Siena on Friday night.
The Wolves (5-6 overall) trailed 14-8 after one quarter and 21-16 at halftime before eight of them scored during a 20-point third quarter that gave them a 36-33 lead. Patrick had 13 points and Aandahl scored 8 during their 18-point fourth quarter.
Bishop Evans had 8 points, Noah Simmons 7, Khai Curry 5, Maximilian Parmigiani and Paulo Tiotuyco 2 apiece, and Andres Valderrama-Torres 1.
The Wolves won their third straight after beating former Solano County Athletic Conference foes Vallejo – 51-43 in the third-place game of the Fairfield tournament, and at archrival Benicia, 71-58, on Thursday night.
They visit Casa Grande for their next VVAL game next Friday night.
"We had good spirits, but we didn't play the way we would like to play, like we did yesterday, when we played more intense with the rivalry," said American Canyon assistant coach Chris Rapacon. "Tonight we had to find a way to make it like a rivalry, which we need to do every game. That's how we play better. Now we've got a week off (from games) to let them think about it."
For Justin-Siena, Liam McDevitt had 21 points, Robert Sangiacomo 9, Wyatt Humphries and Vincent Jackson 8 apiece, and Caden McDevitt 3.
"I thought we did a good job. We outplayed them for 85% of the game," Justin-Siena head coach David Granucci said. "But our margin of error is very small and we made mistakes. They took advantage of them and a couple of bounces didn't go our way. But our game plan wasn't to try to come in here and play at our speed. I felt like we did that for the majority of the game. When we didn't was toward the end of the third quarter when they took the lead. We started fouling in the middle of the third quarter and they eked their way back into it. They did a good job. They sped us up a little bit and turned us over a little bit, but also started really attacking us with their penetration, and that made it difficult for us to stay in front."
Next week the Braves will host Vintage on Wednesday night and visit defending VVAL champion Napa on Friday night.
"I was proud of how our guys played tonight," Granucci said, "and I feel like if we can play like that and continue to improve, we'll be all right."
Vintage 61, Casa Grande 53
The Crushers had eight fouls to Casa Grande's two to start the game, managed to take a 26-24 lead into halftime, and pulled away in the second half of their VVAL opener Friday night in Petaluma.
"The kids were ready and super aggressive to start, but the game was called a little tight," Vintage head coach Ben Gongora said. "The kids were a little frustrated at the half. I praised their efforts and calmed them down. We made an adjustment and came out with the same intensity to start the third. The plan worked as we outscored Casa 21-10.
"We control what we can control. There were 42 fouls whistled in the game. The fouls eventually evened out. They usually do."
Imani Lopez lead all scorers with 22 points for Vintage (7-7 overall), followed by Blake Murray with 19, Everett Mitchell with 6, and Josh McCormick with 4.
"A 61-53 victory is a nice start to league," Gongora added. "However, our focus is now on a tough Justin team that we (visit) on Wednesday. We're expecting a dog fight."
Varsity Boys Soccer
Ian Clark had a hat trick and Omar Campos added two goals as the Grizzlies rolled in Thursday night's VVAL opener at Memorial Stadium. Erik Vargas also scored for Napa.
You have free articles remaining.
The Grizzlies (5-3-1 overall) went on to fall to University, 2-1, in a nonleague game Saturday at The Presidio's Paul Goode Field in San Francisco. All three goals came in the second half, with Mateo Villanueva scoring for Napa.
Varsity Girls Soccer
American Canyon 1, Justin-Siena 0
Christin Locke scored in the first half off an assist from Aminah Hilliard, and goalkeeper Kaitlyn Mannor helped preserve the shutout at American Canyon on Friday night in each team's Vine Valley Athletic League opener.
While Wolves head coach Travis Behn's team improved to 5-4-2 overall, Eric Branagan-Franco's Braves fell to 3-2-1.
"It was not our best performance, but give all the credit to AC," Branagan-Franco said. "They outhustled us from start to finish. We just could never get on track or get our composure. We need to regroup and get ready for Vintage and Napa this coming week at Memorial Stadium (at 6 p.m. Wednesday and Friday, respectively) and we hope the student body will come out to support the ladies."
The Crushers (4-6 overall) dropped their VVAL opener Friday night in Petaluma. Vintage trailed 4-0 at halftime but nixed the shutout bid with a goal by Maile Sittler and assist from Katie Mason.
Varsity Girls Basketball
Casa Grande 67, Vintage 37
Down 20-12 after one quarter, the Crushers were still in it with a 32-20 deficit at halftime in Friday night's VVAL opener in Petaluma. But the Gauchos – who handed last year's league-champion Vintage squad its only league loss, also on the road – pulled away in the second half.
Eden Wood led Vintage (5-9 overall) with 12 points and 10 rebounds and had 3 steals. Ellie Savage added 8 points and 3 rebounds, Lizzie Qui 7 points, 7 rebounds, 4 assists and 4 steals, Olivia Kerr 5 points, Morgan Groves 2 points and 5 rebounds, and Perla Bautista 2 points.
"For the first five minutes we were dictating the pace and controlling both ends of the court, and gradually we lost our edge and ultimately lost big," Crushers head coach Joe Donohoe said. "We're a very young team, so these experiences are super valuable when kept in perspective.
"Nobody wants to lose by 30. I give Casa credit. They're a very tough opponent. We were again trying to overcome 30-plus turnovers. It's nearly impossible to win when you take 30 chances to score away from yourself and give the other team 30 more opportunities to capitalize. If we get that fixed, I'm confident we can compete with everyone in the VVAL."
Freshman Boys Basketball
American Canyon 68, Justin-Siena 29
The Braves (1-4), coming off Monday's 68-48 home loss to a strong Hercules squad, fell to a very talented and well-coached American Canyon team Friday night despite 14 points from Nathan Spare.
Justin-Siena will host two cross-town rivals this week as Vintage visits at 4 p.m. Wednesday and Napa at the same time Friday.
Vintage 53, Casa Grande 50
The Crushers opened VVAL play with a tightly contested win Friday night in Petaluma. Vintage led throughout, but never built a comfortable lead as the Gauchos kept them at arm's distance. After Casa Grande made a late push to tie the game at 50 with just under 30 seconds to go, Ben Jackson hit the go-ahead runner to break the tie and help the Crushers escape with a victory.
Vintage (8-3 overall) was led by Sam Gomez with a double-double of 20 points and 13 rebounds, Jackson with 14 points and 6 rebounds, Carter Haven with 7 points, and Elias Alvarez with 6.