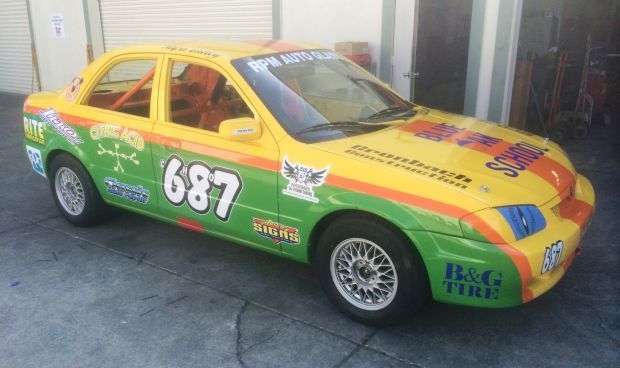 Blue Oak School of the Napa Valley is participating in the 24 Hours of LeMons Car Race.
Twelve middle school students have participated in an elective during the first quarter of 2015 called "The 24 Hours of LeMons."
This is a class that will build a race car from the ground up and race it in a 24-hour endurance race at Sonoma Raceway on Saturday and Sunday. Students performed tasks such as brake jobs, suspension, and engine work, welding, cutting, design and electrical work.
The seventh- and eighth-graders had to read the rule book and come up with a formal car theme and plan for the race. Their written plan and proposal was submitted to race officials for approval prior to the beginning of the race car build.
Blue Oak School is a 200-student K-8 independent school located in Napa. The students not only learn about science, but they devise their experiments and build their apparatus.
Rich Olivier, owner of TEM Performance Machine Shop, has taken the students into the shop two days a week for three months for the project build, which included stripping of the original car to outfit it to the LeMons specifications. The project called for students working through lunch time on several occasions.
A parent, Frank Dominguez, and teacher Greg Garrison assisted with managing from start to finish.
Several local businesses extended their resources and time. Assisting with the project were Lito's Auto Body, B&G Tires, Napa Auto Parts, Performance in Frame Tuning, Rite Fabrication, Aaron Signs, Classic Automotive, Cronbach Construction and Team Superstores. The Blue Oak also thanks Krider Racing and TEM Performance Machine Shop for their donations.
Be the first to know
Get local news delivered to your inbox!