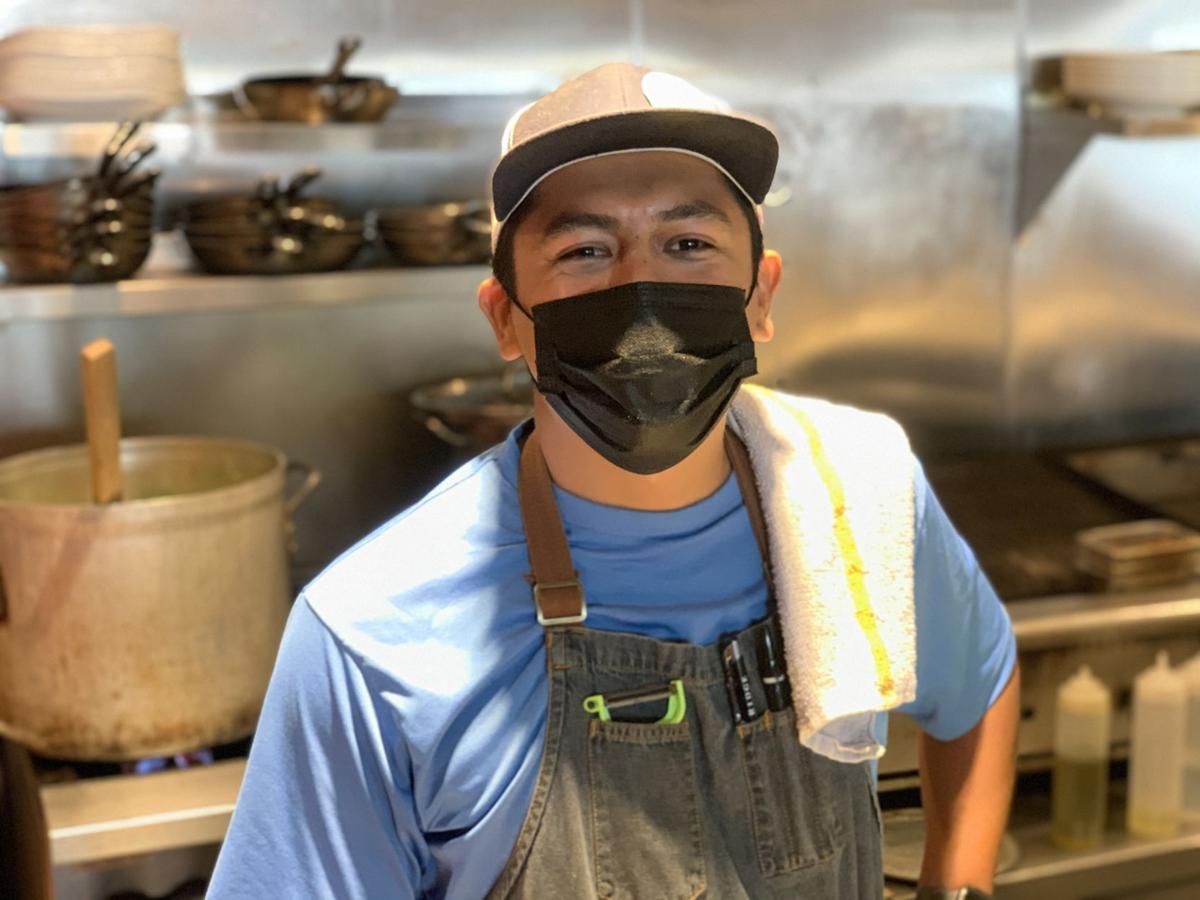 JC Luna-Morales said he always had a love for cooking. 
"I knew from a young age that I was going to become a chef and that was my dream," he said.
Support local news coverage and the people who report it by subscribing to the Napa Valley Register. Special offer: $1 for your first 6 months!
His mother worked at the CIA in St. Helena and "growing up and I would throw fits to get out of school so that way she can take me to work," said Luna-Morales.
"The chefs and instructors would take me around to their classes and set me up with a side station along theirs in the front of the class. I loved it all and was hooked!"
Luna-Morales has worked at Napa Palisades Saloon since 2015. Today, he is head chef.
1. What was your childhood ambition?
I was all about sports growing up. I played soccer, baseball, and basketball for 14 years. School was always important to me because if I had bad grades then my dad would not let me play. My dad was my coach; he would push me to be my best always. My parents were very supportive and always letting my sisters and I do what we wanted. They are the drive that keeps me going. Knowing the amount of sacrifices they did for us keeps me motivated.
2. What was your first job?
My 'first' job was at The Paint Works in Napa and St. Helena, I helped keep the store clean doing various tasks, yet I was still in elementary school so it was limited. A family friend owned the business and would pay me $5 an hour to help out.
3. What's the worst job you ever had?
Picking weeds on the weekends. Growing up, my dad would always put me to work around the house, teaching me that hard work will get you what you want. So, instead of paying for a gardener, he had me. I hated to do it but now looking back I can see the value that it instilled in me. I'm a jack of all trades.
4. What job would you like to try/not try?
Try: To become a nurse. I always say that if I didn't become a chef I would be a nurse.
Not try: Working in an office. I never stay still or sit while working; I love the excitement from the kitchen.
5. What is the biggest challenge your business has faced?
This never-ending pandemic; I'm sure that is everyone's answer. It's been a challenge adjusting to it all, from staffing to food ordering, every week was always another curveball but you just had to keep your head up and keep going
6. What's on your to-do list?
My to-do list is constantly changing and evolving. Right now I am focused on getting ready to expand our dining room into the YoBelle side. This has been a huge project of ours and getting the kitchen ready to feed 80-100 more people than normal is my first priority.
We also feed the homeless every week, ranging from 10-60 people. Depending on what we have in-house, we create various meals from enchiladas, lasagna, sandwiches, and chicken adobo too.
We have fun making these meals, trying to give them something that they would not normally eat. It is definitely a good feeling after we send out the meals.
7. Who do you most admire in the business world?
I admire the hard-working immigrants; they're the backbone to any business around here. My grandparents came here to California and settled in St. Helena where my mother was born.
I've heard many stories of the struggles they faced and the hard times they endured but nothing mattered as long as everyone was safe and healthy. It's the grind that I respect of them and any immigrant worker. My staff proves to me every day that anything is possible. Somos chingones.
8. If you could change one thing about your business, what would it be?
In my kitchen, I make it a point that we are all a team. There's sometimes where we fall behind and depend on each other to pick up some slack. If you're working the salad/fryer station, you aren't only working the salad/fryer, you might need to throw a burger on the grill or start a mac and cheese.
It's vice-versa and interchanging, that's something that's not often found in many kitchens. Normally your station is your station. Not here though, it's a reason why we are so successful and able to pump out the amount of food we do. It's definitely organized chaos.
9. What's something people might be surprised to know about you?
I am not fluent in Spanish. I practice every day with my staff so I'm learning but growing up we did not speak Spanish in my house. It's always a struggle learning a new language but everyone was willing to help me learn.
10. If you could be anywhere right now, where would you be?
Kicking back on the beaches of Mexico with my girlfriend, Mariana, drinking cocktails, and pigging out on all the food.
Catch up on Napa County's top news stories
Get unlimited digital access to the Napa Valley Register for just $3 for your first 3 months! Enjoy every article without restrictions and find tons of subscriber-only perks, such as access to our daily eEdition. Click here for details!
Napa Palisades Saloon is located at 1000 Main Street, Suite 100, Napa, CA, 94559.