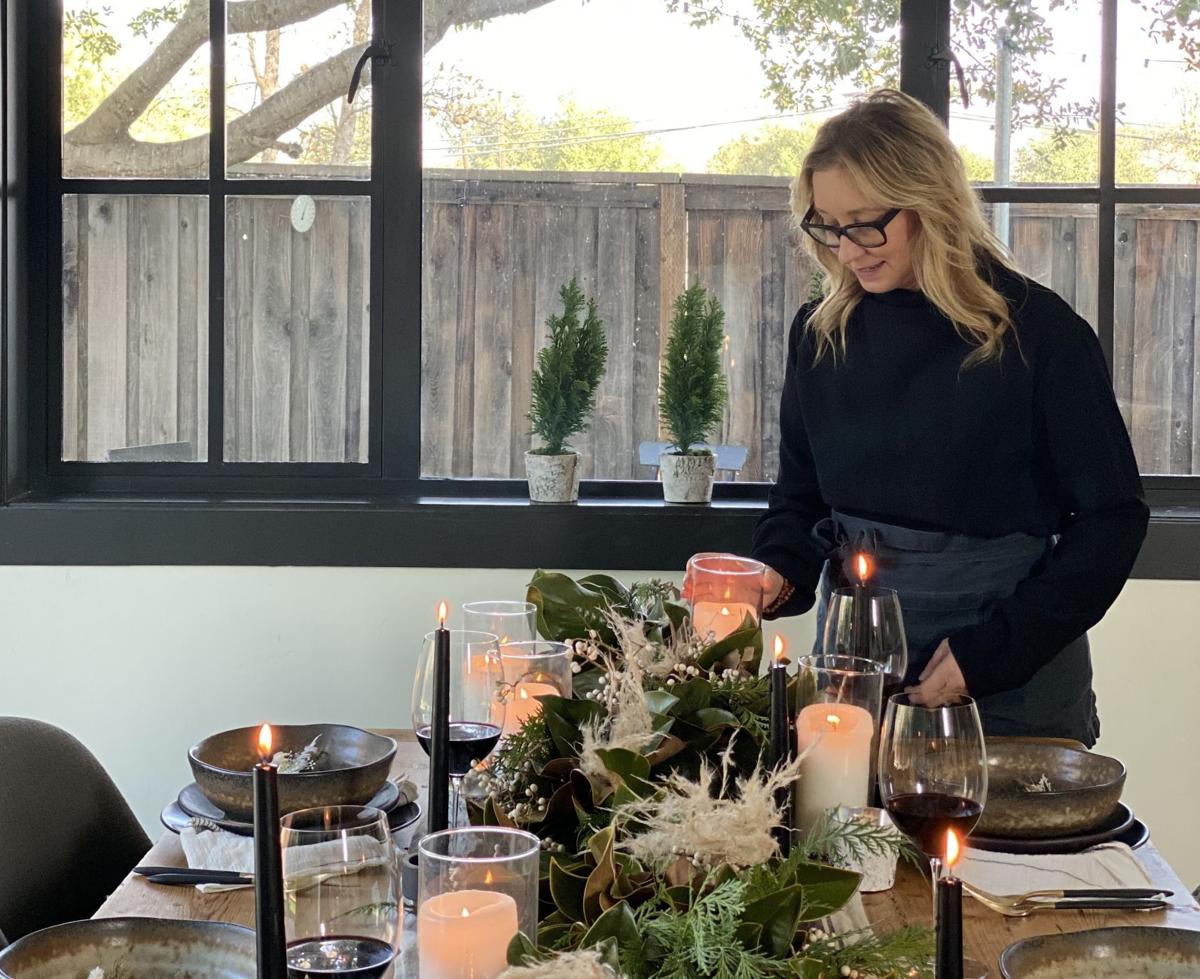 The pandemic brought Danielle Gibson to a pivotal moment in her career. 
"Prior to COVID I was a corporate event planner with 15+ years of experience," Gibson said. However, "In March of 2020, all my events were cancelled and I was forced to think creatively as to how to apply my skills elsewhere."
"Prop/food styling felt like a natural segue as I design all my own events and have plenty of experience working with some of the best photographers in the event industry."
Gibson started by organizing monthly pop-up bottle shoots for the wine industry creating lifestyle photos for direct-to-customer e-commerce, websites, and social media.
"I curate the design, secure a location, purchase the props, and hire the photographer," said Gibson. 
She's also working with several other wine brands, styling those products in addition to monthly shoots.
1. What was your childhood ambition?
To start my own business. My sister and I had a make-believe shop back in the 70s called "D+D's Variety." We had a "variety" of different businesses from lemonade stands to fix-it shops.
2. What was your first job?
I was an intern for Donna Karan (DKNY) in 1990 in the garment district in NYC. I was exposed to the newest trends, interacted with famous people visiting the showroom, and met Donna herself on several occasions. I also received a large employee discount so I was able to dress in Donna Karan from head to toe as an intern!
Support local news coverage and the people who report it by subscribing to the Napa Valley Register. Special offer: $1 for your first 6 months!
3. What job would you like to try/not try?
Try: I am trying it! Food and wine prop styling.
Not try: Being a firefighter. I would love to help and save people but would be so afraid of running into burning buildings.
4. What is the biggest challenge your business has faced?
Making sure our photoshoots are adhering to the highest COVID protocols. Everyone on set is tested in advance, wears a mask, and maintains a safe social distance. We also keep all the doors and windows open when the shoot is indoors.
5. Who do you most admire in the business world?
I admire women who own their own businesses and are also mothers. Running a business is hard enough, but adding children into the equation would take things to a place that I cannot imagine being able to juggle successfully.
6. What is one thing you hope to accomplish in your lifetime that you haven't yet?
Travel to more places around the world.
7. What's something people might be surprised to know about you?
I competed in mini golf tournaments as a child during the summer on the New Jersey shore. My grandfather was my coach (I was the only kid who had a coach).
8. Which three people would you most like to have dinner with?
Dinner would be with my three favorite females in business:
Style: Kate Spade
Food: Alice Waters
Business: Martha Stewart
9. If you could be anywhere right now, where would you be?
On vacation! After this pandemic, like most people, I am looking to travel. My first stop would be my parents on the east coast and then head to Italy.
10. Which other Napa County business person would you like to see featured in "10 Questions for…"
Irma Robinson, Southside Café.
Catch up on Napa County's top news stories
Get unlimited digital access to the Napa Valley Register for just $3 for your first 3 months! Enjoy every article without restrictions and find tons of subscriber-only perks, such as access to our daily eEdition. Click here for details!